To further enhance the sales and visibility for your company in the events and travel business, there are several worthwhile travel fairs and exhibitions hosted all around the world throughout the year. We've handpicked 10 travel fairs and exhibitions, often thought to be the best the industry has got, that you should get acquainted with. These same events are incredible to attend for those seeking to explore more companies, destinations and products from different corners of the world.
ITB Berlin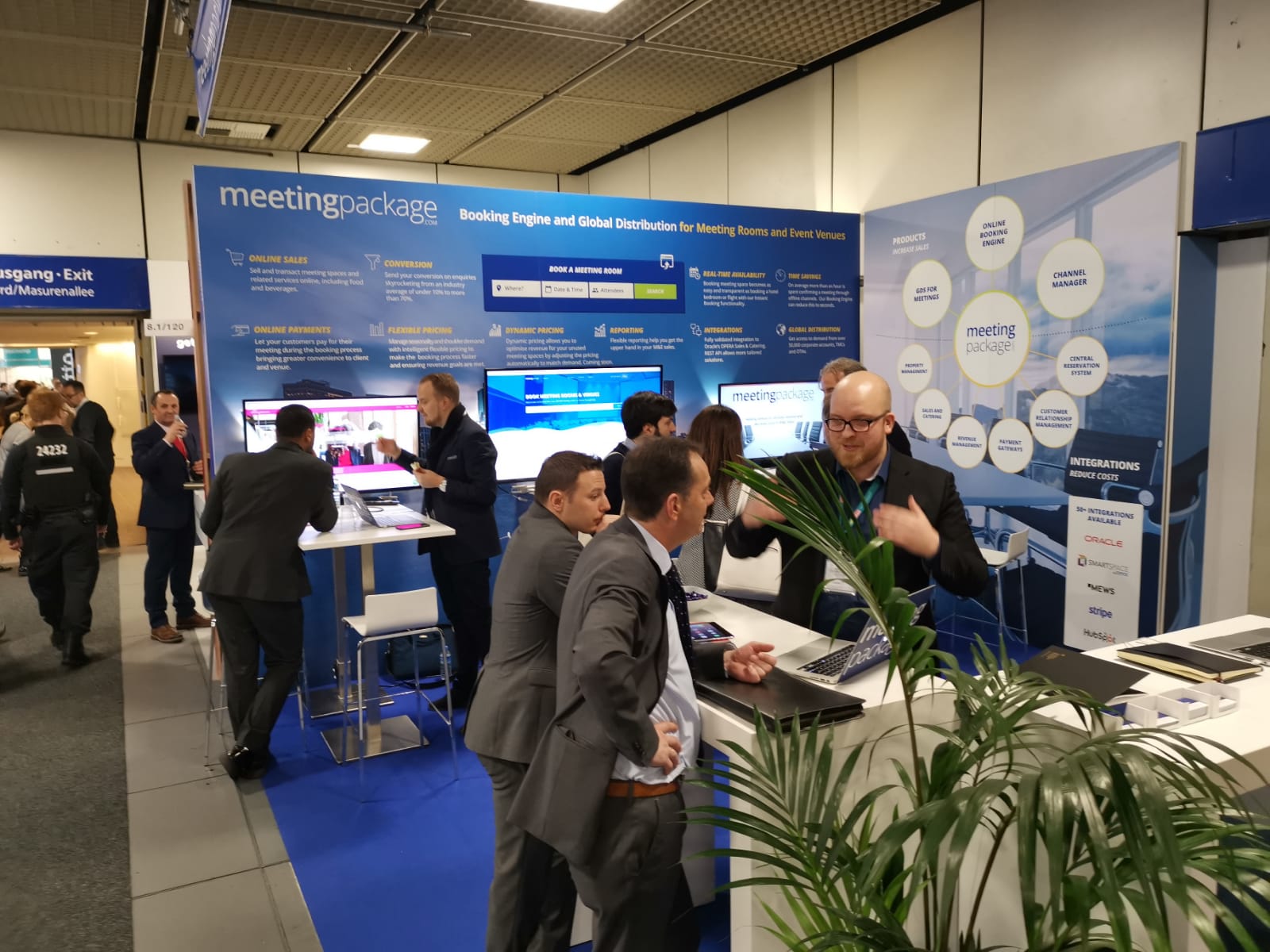 ITB Berlin is the world's largest travel trade fair. There are over 180 countries present at the event, with various stands for different cities, regions, tour operators, and so on, all in relation to tourism and travel – not to mention the top dogs of the industry will absolutely attend the event. At the core of the trade show is the opportunity to learn and share through personal interaction opportunities with international professionals from the top of their fields; ITB Berlin holds this as one of their brand's core values. If you are in the travel and tourism industry, whether as a newcomer or as a long standing professional, this is the one travel fair you won't want to miss up on. And for the general public, it's an interesting and fun show to attend, allowing you to leave with your heart full of feeling like you just met the whole world in a matter of hours. Held every year in March, the ITB Berlin fair of 2020 will be held from March 4th to March 8th, with industry professionals and trade visitors having access to the site on all days, while the general public can visit on 7th and 8th. Meetingpackage will also be returning to the trade fair with a stand this year – do come by to say hi us at Hall 8.1. and stand number 120!
MITT Moscow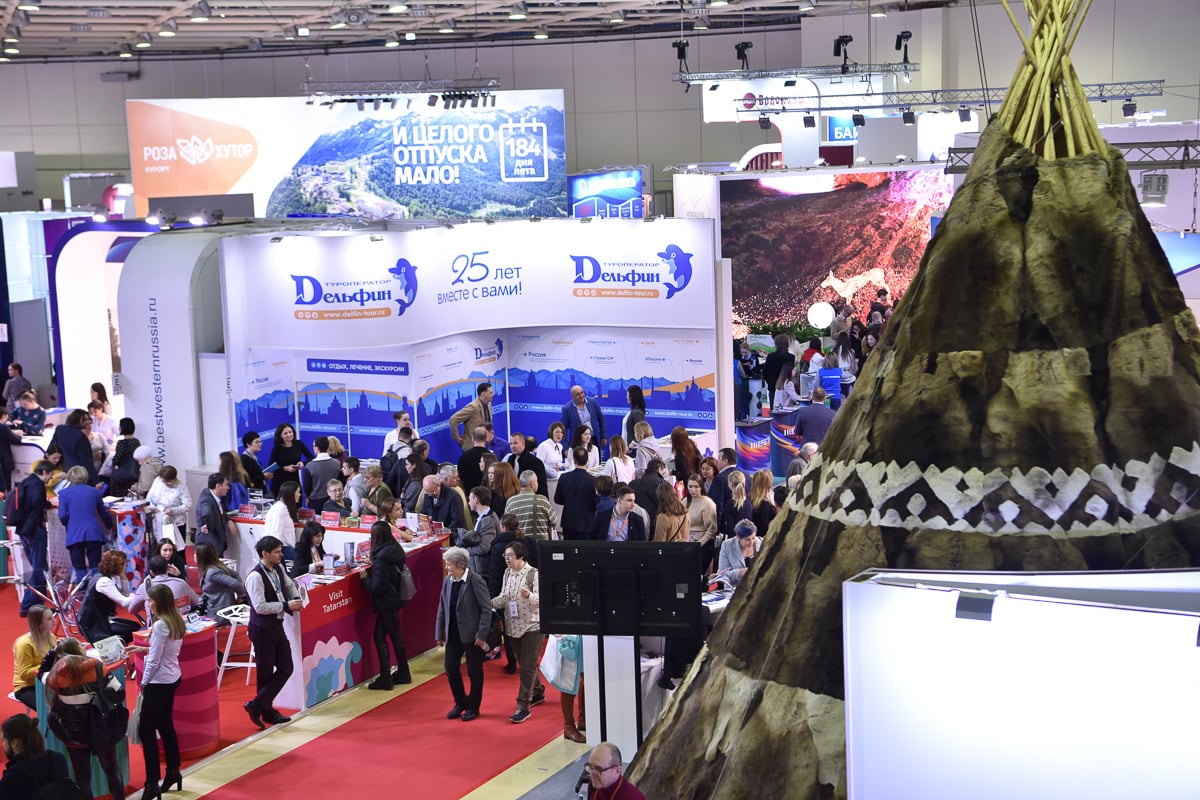 Held in Moscow from March 17th to March 19th of 2020, the MITT Moscow is often regarded as among the top 5 of the exhibitions in the world. There are currently over 200 regions and countries represented with more than 1500 exhibitors and the visitor list of top travel and tourism industry professionals already exceeding 20,000. It is undoubtedly the largest travel and tourism exhibition in Russia for the business to business sector. Every year, they are expanding on their industry events program, so even if you visit more than once, you can always expect to find something brand new and exciting at the exhibition. A wide range of industry professionals, from tour operators to IT companies, can be found at the exhibition site, and the way the exhibition is constructed enables and encourages for forming relationships with new clients and partners. For the exhibitors attending, they can collect feedback instantly for their new destinations and services. In addition, being an important event in Russia, the exhibition can also serve as a portal through which your foreign company can enter the Russian market.
Africa Travel Week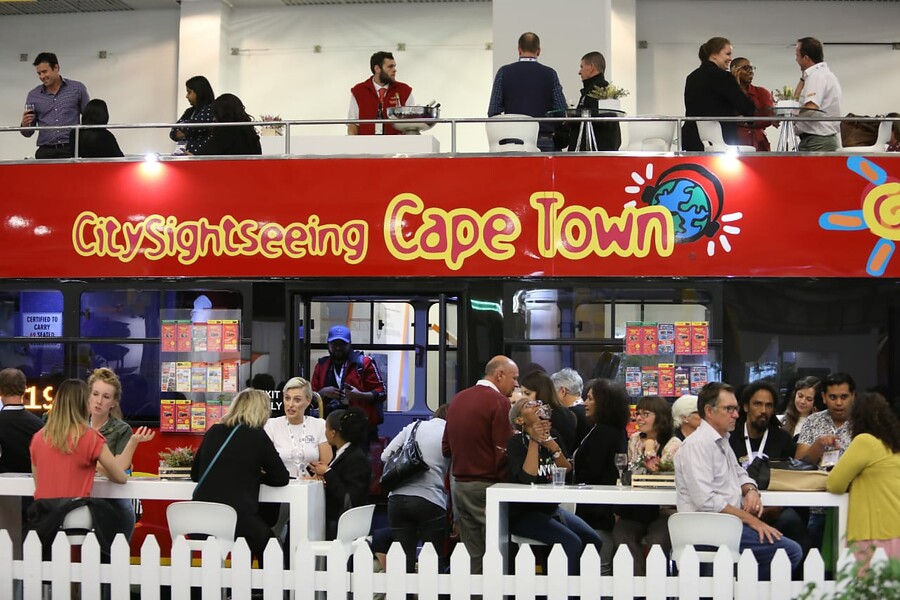 Africa Travel Week consists of three separate travel industry events, all located under the same roof in Cape Town International Convention Center: WTM Africa, ibtm africa and ILTM Africa. ILTM Africa is an invitation-only events for specialists, where the world's top travel agents and advisors gather together to meet with the most incredible luxury travel experiences in Africa. Meanwhile, ibtm africa focuses on bringing into one space businesses from all around the continent, to join meetings and events, through which the businesses can connect with one another as well as the travel industry's top meeting planners and buyers. Lastly, WTM Africa is a top notch quality B2B exhibition for those with interest in Africa's leisure travel industry. Unlike most other fairs, it accommodates both inbound and outbound markets for Africa. Here you can find new partner and client relationships, have a platform for a new service or product launch, wiggle your way into a new market, raise brand awareness and even gain additional attention from the press. This international travel show will be held from April 6th to April 8th in 2020.
Arabian Travel Market
In 2020, you can attend the Arabian Travel Market from April 19th to April 22nd, and it will be held in Dubai. It is Middle East's leading event in the international travel and tourism industry, with possibilities open for both inbound and outbound pros in the business. With already 27 years of hosting a travel fair under their belt, the yearly changing annual theme will be "Events for Tourism Growth" in 2020. The focus will be on showcasing how different events can impact tourism as a whole in different regions, and in turn it is hoped for these spotlights to encourage inspiration for next generation's travel and hospitality events. At the B2B convention you can find more than 2,800 products and destinations on display, with over 28,000 buyers and visitors attending. The organizers for Arabian Travel Market promise its attendees a host of opportunities to meet both well-established and new key players in the scene of international travel suppliers. There will also be plenty of chances to acquire travel knowledge from top professionals, for example in regards to travel trends, innovations, and research.
IMEX America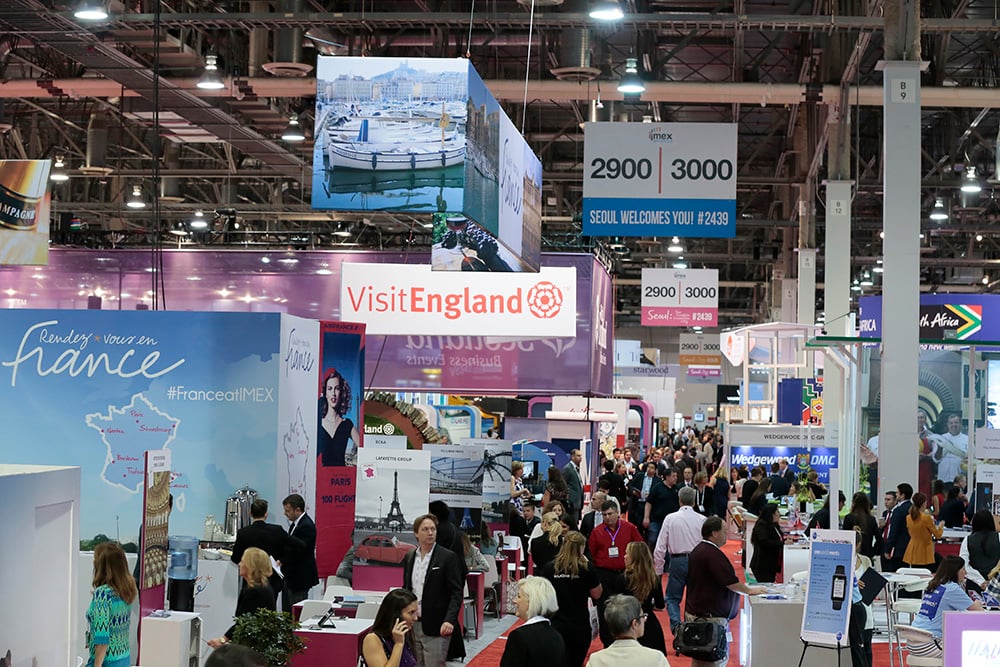 Hosted in Las Vegas, from September 15th to September 17th, IMEX America is an important exhibition to attend especially for those in the global meetings and events industry. Over 3,000 suppliers come together from a wide range of professional fields, including domestic suppliers from the United States, global tourist offices, hotel companies, cruise lines, airlines, event management specialists and so on. Thousands of prospective buyers come to this exhibition with the purpose of planning and booking both incentives and massive conventions. Naturally IMEX America also enables the possibility of forming new contacts that can develop into clients or partners. The organizers at IMEX America promise high ROI for your attendance, and they'll even help you calculate it after the fair is finished. They are also offering support in planning and arranging for the best quality booth for you for the convention. IMEX America has a return rate of 85% when it comes to exhibitors. Just last year, more than 13,000 professionals from events and travel industries showed up to exhibit and network at this show, with buyers from nearly 70 countries in attendance, and overall 76,000 appointments were booked between buyers and exhibitors.
IFTM Top Resa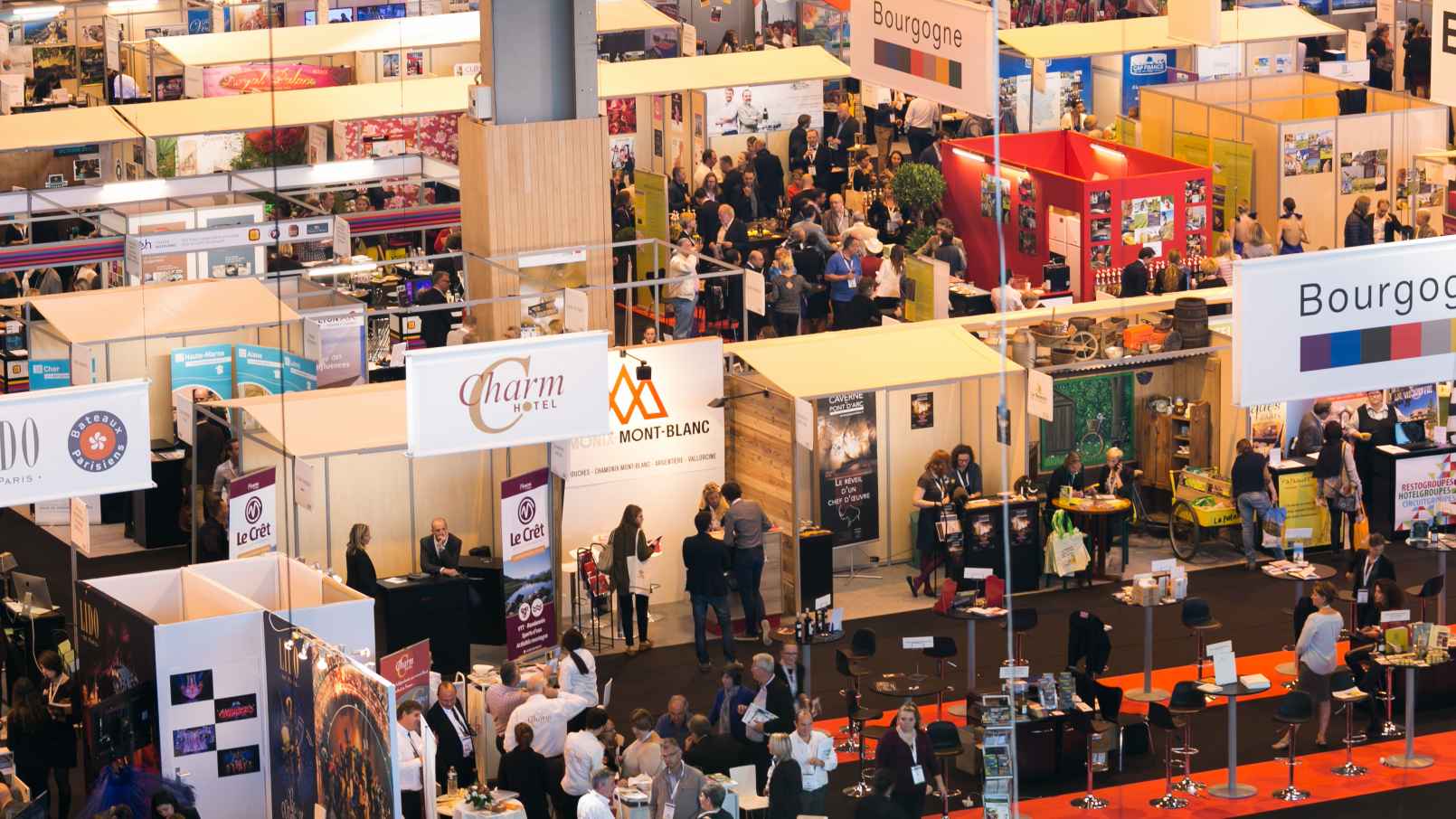 Held in Paris, this tourism and travel fair is another globally acclaimed one with plenty of importance to its attendees. For a few days every year, from September 22nd to September 25th in 2020, the travel show is put together, featuring all travel segments: leisure, business, group and MICE. Not only will its exhibitors promote travel destinations located locally within France, but from all around the world. It also hosts a range of demonstrations on recent technological advances, current innovations in travel industry, and other achievements accomplished by the tourism sector. At the IFTM Top Resa, attendees can expect to find different tour companies, travel agencies, airlines, coach operators, as well as event agencies, plus other companies and organizations with business in the industry. If you want to stay updated with the latest travel trends, this is a travel fair that can't be missed! This exhibition will follow a dozen of themes new to the previous years, ranging from topics like responsible tourism to luxury travel. In addition to the themes as well as zones, you can also expect to find competitions and awards ceremonies at this travel fair, quite uniquely to them.
TTG Rimini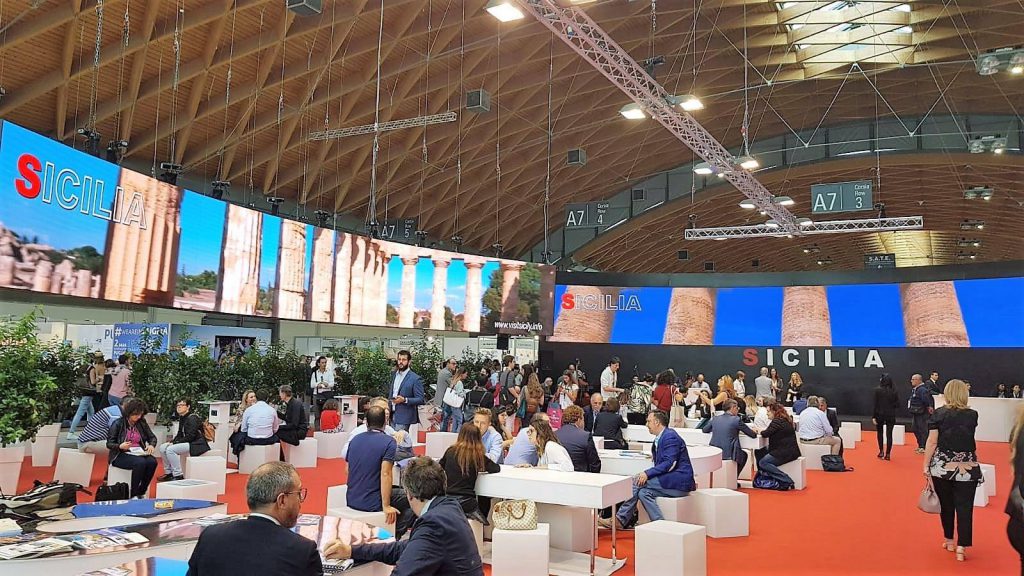 From October 14th to October 16th of 2020, it may do your business good to travel to Italy for one of its largest travel shows, which holds a high amount of importance worldwide, the TTG Rimini. It has been in business for more than half a century, with focus on promoting international tourism between the B2B sectors, specifically centering on tourism in Italy, while simultaneously showcasing the different sectors of the industry as a whole. Attendees to the fair will have ample amount of opportunities to investigate global trends in the travel industry, be introduced to the latest products on the market, and compare between different products easily to make their best educated decision. Especially for European businesses, TTG Rimini – TTG INCONTRI in Rimini in full – is considered an elite marketplace for the tourism and travel industry, enhancing trading and networking in Europe. There will be a wide range of exhibitors on display at TTG Rimini: tour operators, accommodations from luxury resorts to holiday homes, theme parks, museums and casinos, just to name a few. The previous year, the travel fair exhibited 130 different destinations, both in Italy's different regions and from all around the world. In addition to the main exhibition, there are plenty of supporting events at display for full convention experience.
ITB Asia, Singapore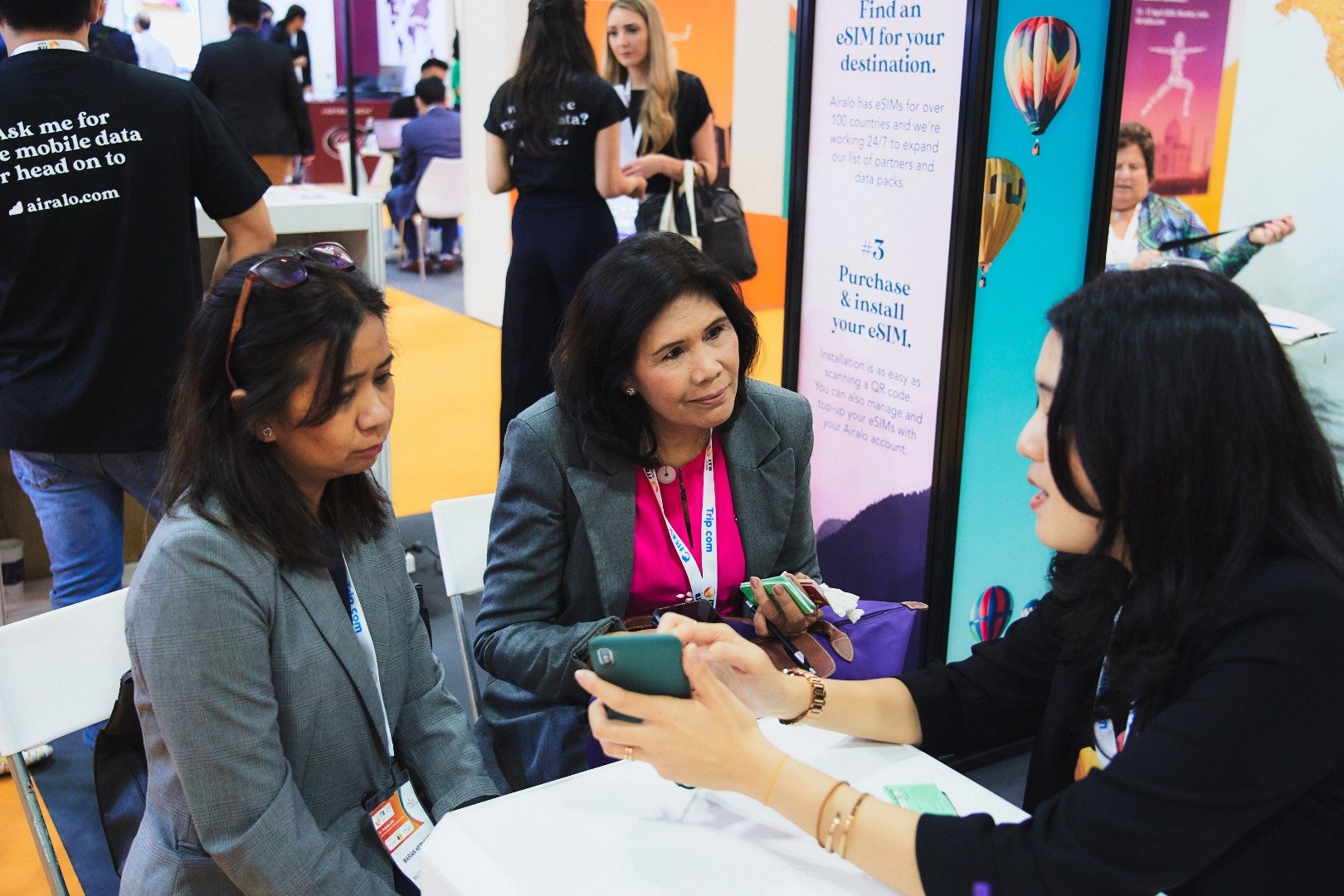 ITB Asia is the leading travel fair on the Asian continent, held annually in Singapore. In 2020, you can attend it from October 21st to October 23rd. Much like ITB Berlin, which ITB Asia is modeled after, it is intended to be the primary convention held for the travel industry in the Asia Pacific region. With experience of slightly over a decade, today this travel fair has already become among the most important events for key players in the travel industry to come together and meet in, aiding in forming new top quality contacts through networking, as well as encouraging operating your businesses right on the spot. At this exhibition, you can find exhibitors from all over the world and from all of the travel industry's sectors, including both the leading travel businesses in the Asia Pacific region as well as the newcomers of small- and medium-size. Buyers from leisure, business and MICE markets are also expected to attend. The specific target groups for ITB Asia are businesses and traders looking to do business specifically in the Asia region, with sellers from all over the world welcomed to attend and exhibit.
WTM London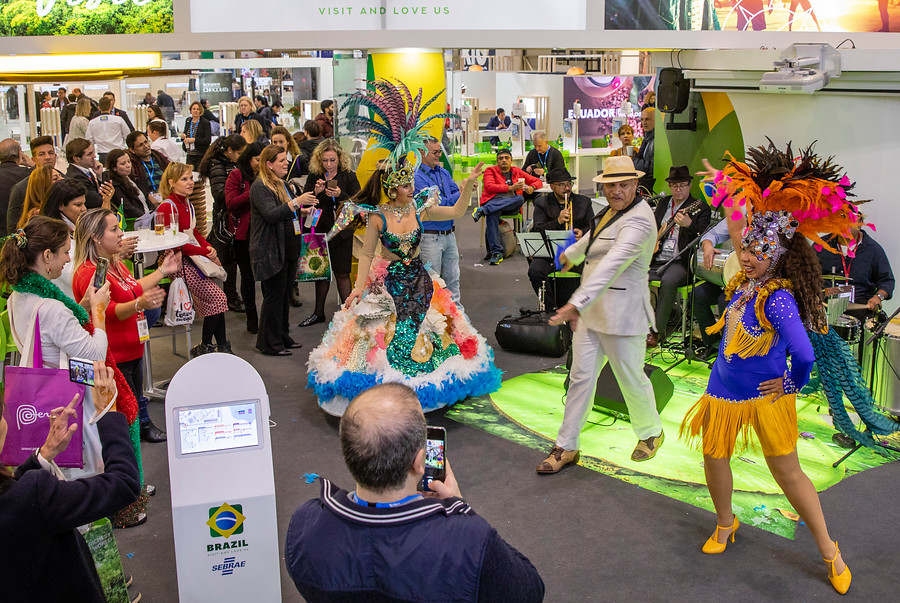 Held from November 2nd to November 4th in London, buyers and other visitors to WTM London can find more than 5,000 destinations and brands from all around the world being showcased. The travel fair specifically takes pride in being a leading convention for travel ideas, with purpose to offer observations and predictions on how the travel industry will look like five years from today, while encouraging sharing innovations. WTM London also works hard to form an infinite looking amount of business opportunities for the exhibitors and buyers attending. WTM London's conference program includes speakers, entrepreneurs and leaders from a range of tourism sectors, including wellness and music travel. The hosts and organizers for this travel fair are looking to inspire and evoke passion within its attendees, hoping to spark up the kind of travel ideas that can lead to real businesses, whether that's in the form of a new partnership, a new product, or a new start-up. Last year, 50,000 professionals from travel and tourism industry visited the event, with around a million meetings formed over the course of the three days the exhibition was held.
IBTM World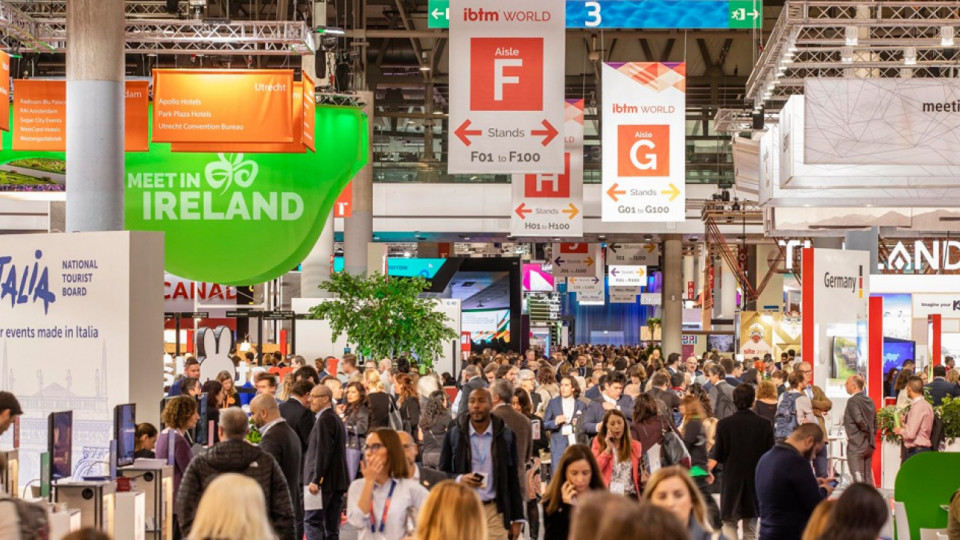 Last but not least is IBTM World, held in Barcelona, Spain, from December 1st to December 3rd. IBTM World promises its exhibitors a well worthy ROI for choosing to join the convention as a seller, in the form of increased sales on a global level, new invaluable relationships with clients and partners formed through in-person interactions, and exposure in general to the industry the exhibiting company operates in. There will be more than 15,000 professionals from the industry attending that you can swoon with your product and destination. Meanwhile, for buyers visiting the event in hopes of new discoveries, there will be over 3,000 destinations from all over the world presented. Thus, it's no surprise it's among the leading conventions for the meetings and events industry, with experience reaching beyond 30 years. Beyond tourism and travel, it is hoping to inspire sellers and buyers to create innovative content, products and services for their customers worldwide. During IBTM World, there will be a variety of different programs to attend and sections to visit; from special key note speakers to awards, and of course various networking events.
Now that you've read the introductions to each of these fairs and conventions, have you already made up your mind for which one – or which ones – you'd most like to attend? Have you registered for any of these previously? Remember that you can find us at ITB Berlin, in Hall 8.1. and stand number 120!
Read also these blog posts: