When it comes to sustainability and saving the environment, you can never go wrong. People desire to hear about and also be a part of it. However, the vast majority of us have been lazying around.
Anyway, at meetings and events, how often have you pulled back at how regularly there are paper cups, disposable coffee packs, and plastic cutlery – because we usually just head directly to the cuisine table at the event, get our food and start eating.
To be candid, it just wouldn't be a networking event if we were not sipping a beverage, a plate of cake, and several tempting business cards flying around.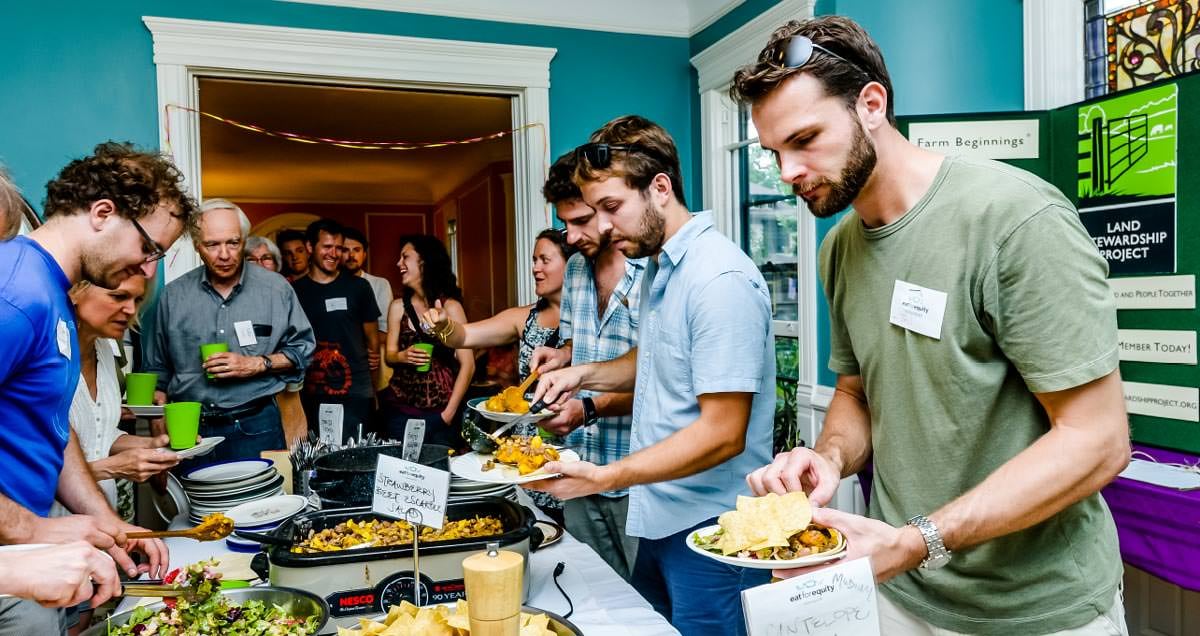 These things likewise occur at events that are as far as anyone knows themed 'ecological sustainability.' By what method can they really discuss environmental mindfulness when there's a cups or bottle water made with plastics and synthetic substances on the table of the special guest speakers – or while you transported from one state then onto the next utilizing a sort of transportation that causes more harm to the environment than good?
Oh, I won't neglect to register my disappointment over the heap of remains that are waiting to be disposed of after the event. Regardless of whether the participants have been too kind to even think about taking their second batch of food, or rather the cooks over-evaluated how hungry the participants may be at 5pm, there is quite often enough leftovers remaining to cause one to consider having cream cheese bagel for breakfast, lunch and supper for about three days just to stop them winding up in the trash can.
By prioritizing sustainable practices in your catering service, you will interest a more significant number of potential clients. Also, the additional advantage of saving the planet.
Yet, what would we be able to do as people and organizations to pursue a guide of negligible waste living? The thing is there's a great deal we can do, and all these little changes will subsequently have a significant effect on the long run.
Firstly let take a look at the significant sustainable food you ought to consider at your event.
Consider planning your event menu to incorporate sustainable nourishment choices.
These sustainable nourishments includes:
Neighbourhood and seasonal and Fresh produce alone
Consider Vegan foods
Organic produce
Consider tea, espresso, and chocolate, they hardly waste away
For food Supplies
Your caterer must make sure to provide the following:
Provide tap water as opposed to plastic bottled water
Food should be served in recyclable plates as opposed to separately packaged containers.
Linen napkins and tablecloths. If these aren't available or are impractical, request recycled content paper napkins
tablecloths and linen napkins should be distributed, and in case they are not available or are unrealistic, demand that your caterer provide paper napkins
The most effective method to Make Your Event Catering Increasingly Sustainable
Go For Food That Is Sustainable Food
Sustainable cuisines are food that cares for the community as well as the environment. To sustain the environment is to think about each part of food production, which brings about an increasingly cognizant approach to maintaining a strategic distance from waste and guaranteeing that all food is used in the most ideal manner conceivable.
It's additionally essential to remember things for your menu that are in season. At the point when you utilize seasonal produce in your community, it eliminates transport from places where certain menu things might be in season. When you choose to cut down on long food transports, you additionally reduce costs.
Consider Locally and Reasonably Sourced Produce
Become more acquainted with your nearby providers so that, with their assistance, you can work out the most ideal approach to utilize their produce. You can always get top-notch produce at a small amount of the cost by buying those that look ugly. Besides, you'll be helping the vendor.
Also, while going to buy minimal transportation implies a littler carbon impression to get the food to your event or catering venue. Likewise, supporting these neighbourhood ranchers helps promote indigenous agricultural production.
Manage Transportation
Focus on this if you are considering employing a caterer that may likely not be available at the location on the event day. In case the caterer is coming from a distant place, you must consider how much gas you are utilizing. If it is possible, you can request that your caterer and all of her team members consider carpooling instead of coming to the event separately.
More so, In the event that you have a central office, have a go at having everybody meet there, and use vans or other bigger vehicles for conveying everybody and the entirety of the equipment you need to the event venue. At the point when every individual takes their own vehicle, gas can genuinely be too much, and you may just find out there is no more parking space for the participants of the event themselves.
Control Every Food Portion
Food often left uneaten usually end up in landfills and, as such, produces methane as it rotted, which is multiple times more regrettable for the earth than even carbon-monoxide.
Also, for those of us that like to go to events either to have fun or to network, when you're a participant at an event, pay attention to the amount of food on your plate, the more it is, the likely it might want away if you can't finish it and try not to bite more than you can chew.
Weddings, for example, is one of those events were a lot of food waste away, and chances are there's another person who will appreciate the remaining food you are considering throwing away.
This also applies to those of us that shops excessively while on grocery shopping – in the event that you notice you're continually throwing away a large portion of a gallon of milk, think about buying a small container next time.
Think Reusable
This likewise implies lessening material waste. With plastic waste disposal continuously being one of the world's most critical environmental issues, it's significant that whatever material you plan to serve the guests with either glassware, tableware or other types of content must either be reusable at least. Be that as it may, with significant events like weddings, decreasing the measure of these materials is essential.
Besides, if you are an off-premise food provider, it tends to be extremely simple to simply discard everything after an event, then start new at your next one. You should consider things that you can use at numerous events before purchasing them, as this will help you save money.
You can likewise consider buying flatware that can be washed and reused or even table materials. These are materials that can be used over and over again. On the off chance that you have the time and space for washing and keeping these items, reusing such things will be useful for you and, most importantly, the earth.
Purchase Only What You Need
Slow and steady wins the race they say. When it comes to sustaining the environment, there's really no need rushing anything. If you go all out for starters, you could get fed up in the long run and cancel the more significant part of your ideas.
Consider what you can accomplish immediately, and what a future objective appears to a higher degree. Simple things would be how your menu is printed, and having a reuse receptacle inside your workplace.
Get Creative
There's an added perk if you are a farmer who grows your own vegetables or if you have excess produce. You can get creative with these vegetables.
If you have an excess of seasonal ingredients, tomatoes you've developed or an orange tree that is flooding, get inventive with them. You can convert the tomatoes into ketchup, for example. And in case there is still excess, you can also consider sharing it with your neighbours, we are sure they will appreciate it.
Refrigerating leftovers too, is a great option to help you conserve food. It's astounding how appreciative you'll be for that endless pot of turkey soup when you didn't plan to make supper and afterward find that it's in the cooler.
Train Your Employee on Sustainable Practices
It's insufficient for only one individual inside a business to make a completely sustainable business. Everybody needs to do their fair share for nature. There are various ways you can make your employees enthusiastic about sustainability in your industry.
You can carry out a healthy challenge amongst them to see who can do the most recycling or who has the most innovative idea for the various seasonal menus. Moreover, you ought to urge your employees to share knowledge about the diverse, sustainable practices the business practices.
Consider Computerizing All of Your Activities
This one is simple. Go computerized and discard the use of paper. In case you need paper, consider using reusable paper.
On the off chance that you plan on taking order at an event if you are caterer, why not do it on a mobile or tablet gadget instead of paper as you are not only saving money on excess paper, but you can likewise save any list or item you notice will be of help on either your phone or on the cloud, you will agree with me that these will help your business grow even better than it already is?
Also, you can consider using an event management or planning app. There are so many of them out there, at MeetingPackage also can likewise introduce one to you in case you are interested. These apps have proven to help spare event managers time and paper, in addition to keeping them organized out all through the whole event.
The Following Are Ways You Can Lessen Food Waste at Your Event
Consider using a doggy bag, it's that straightforward. You can offer a reusable bag to participants for their scraps. Perhaps not every person will be alright with carrying their extra food for the rest of the event, notwithstanding, be sure that a majority of them will do and they may be too shy to ask. With that, the more significant portion of the wasted food will not be going directly to the dumpsters.
Limiting consumer waste is crucial to keep costs and food wastage at a minimum or even totally eradicate it. A lot of this wasted food can likewise be given to food banks or charities productively to lessen the rate at which they are discarded. Food leftover that gets split also ought to be utilized for treating the soil, and essential anti-contamination procedure ought to be completed to lessen un-usable food.
Search for national or nearby food rescue projects and activities, food banks and pantries, destitute havens, or non-profit organizations in the area.
Fertilizing the soil – remains can be utilized as a natural fertilizer for soil, and likewise for cultivating. You can make fertilizer from vegetable and the natural product remains, coffee grinds, eggshells, however not cooked food, meat or dairy. If you do not know how to do these yourself, you can contact neighbourhood natural ranchers or connect with the nearby government.
In Summary
We realize it very well may be lumbering now and then to pursue an extensive rundown of things to stay aware of however these are what you should give your thoughtfulness regarding a sustainable catering event
Provide Vegan food
Provide Teas and coffee
Provide coffee in a cafeteria/pot/machine to maintain a strategic distance from plastic sachets
Make sure there's no use of non-disposable cups, glasses, and mugs
Make sure there's no use of non-disposable cutlery
Make sure there's no use of non-disposable crockery
Make sure there's no use of non-disposable utensils
Make sure you provide drinking water in jugs, or from a dispenser and also provide useable cups.
If you are providing liquor, make sure there are non-alcoholic options also for those that don't drink or are sober.
Wine or later also should be sourced locally.
Try to avoid giving out milk in sachets, consider providing it in jugs.
Make sure food products are sourced from neighbourhood vendors
If you are providing snacks, make sure they are all sustainable and healthy options
Finally, make sure your caterers pay their staff a living wage.