SILO meetings. by TALENT in Basel, Switzerland is digitally transforming their Meetings & Event sales process.
We talked with Christian Bossard, the General Manager of SILO TALENT company based in Basel, Switzerland about digital transformation on their Meetings & Events sales. Read from below what they have learned, what obstacles they faced and overcome, and what kind of victories have been achieved so far.
Can you give us a brief description of Silo by TALENT and what you guys do?
The first part is that it's kind of a talent factory. There is no better word in English. A dual system with education, so you've got people going the university route and people who do apprenticeships which are very big in Switzerland.There's enough vacancies, but after you finish apprenticeship or school it's very difficult to enter the job market.
we try to be different from all the other local meeting venues.
Even though you are trained and highly skilled, it's very difficult to enter the job market overall in the hospitality and gastronomy sector. We wanted to be a part of the solution to really get only people who have finished their education in the last three years to work with us.
How did you first hear about the MeetingPackage service?
We decided to use Mews as our property management system and then with the help of Mews, we tried to find all the other bits and pieces we would need. And then we asked Mews, if they have any recommendations for the whole event planning and meeting space part of it, and they gave us three platforms that are integrated with Mews and that they think would work very well for us. One of them was MeetingPackage. So we decided between those three that MeetingPackage was the one that was the best for our property.
And why did you choose MeetingPackage out of the three options?
First of all, we needed something to really just organise ourselves. So, we needed a platform to create our three meeting rooms and the content around it and to track all the bookings we would get. This was the first problem, and I thought that would be the biggest obstacle I wanted to solve by having a platform like MeetingPackage.
I want to be as automated as possible
I thought the direct booking engine would solve a lot of problems for us as well, because we are a very small team and I want to be as automated as possible. So all our sales processes should be automated as much as possible.
That's really the one area I thought MeetingPackage could help us a lot. And because, the whole event and meeting sales at this time is still very manual. Lots of emails going back and forth. Lots of Word documents being created. I really wanted to cut this all out and have one platform to do the whole sales process, creation of BEOs (Banquet Event Order) and offers in one place with the least amount of clicks possible. And because MeetingPackage was the only platform offering a direct booking engine for meetings that was integrated with Mews at this time, really the choice was very easy to go with MeetingPackage.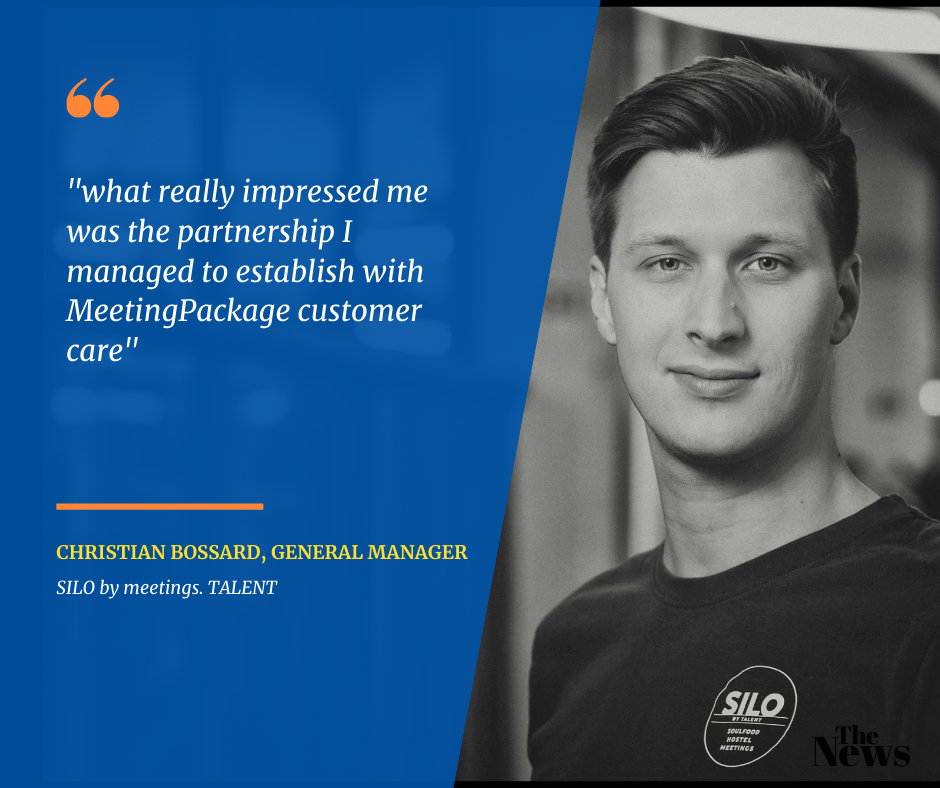 In your opinion, what are the upcoming industry trends going forward?
I think it's going to end up in direct bookings but very, very, very slowly. So I think change is something that will come. But it's a slow change. It's the same way with the customers when then the meeting & event planners that are booking these meetings, they are used to sending emails. They are used to picking up the phone and calling a team and talking to somebody to get an offer or to get a proposal for their next meeting. And I think it will take some time for them to understand that it's much easier to just send the request online, already choosing all the aspects they will need for their meeting. But again, there's not many platforms that offer this kind of service at this time so how can we expect the customers to learn?
The digitalization and automation is coming to the meeting industry
So I think it's a process that has started. The digitalization and automation is coming to the meeting industry but it's not as quickly as I would like. It is just something that will take some time, but it's the direction that the world is moving into.
What was your experience with regards to the implementation and introducing the solution to both customers and to Silo employees?
The implementation was very easy, there was good support from your team, and it was quite quickly done after we've decided to start in May 2020. Requested changes were implemented by MeetingPackage, it got better and better and we are now at the point that we use it with customers and we don't have to create Word documents anymore.
What always worked was the booking engine. We did get bookings or requests for proposals from guests through the booking engine. Also, lots of people looked at the booking engine, but then still picked up the phone or wrote an email. Sending eProposals from the Venue Sales Management tool has saved a lot of time and effort and our customers like the easiness too.
most important thing was really to have somebody that was there to help
Overall, it was nice to have somebody to talk to from MeetingPackage support and somebody that was ready to help. I think that the whole process was very well done. I would change nothing in the implementation process. Actually that was one of the reasons that I decided to work with MeetingPackage because the team is in Europe. There's just a small time difference. And if the team would be in another continent like Asia or North-America it would be more difficult because then you might get to time-zone issues with the answers and it would always take a lot more time to get help.
What are you looking forward to with MeetingPackage product suite?
The basis of the MeetingPackage product suite is great and that's really something. Lots of hotels can save a lot of time by using this platform because if you've got all your packages, all your items, all your extra services at one place, you just need to click the button and it's in the proposal you send. So, no need to create complicated Word documents or PDF's but just send the eProposal to the customer.
Lots of hotels can save a lot of time by using this platform
The customer could actually change minor details themselves before the event is happening, you just click one button and you get your function. As I've said, I've worked for Marriott in the past and we had 16 meeting rooms and one ballroom. We had multiple things every day at all hours and we made nearly 17 million a year with just the meeting part of it. Point being, there were a lot of meetings and I've seen how much paper gets printed, how many short notice functions and BEOs had to be brought to all the different departments. So I guess that's where the upsell potential lies and a lot of time to be saved.
And what do you like most about MeetingPackage service offering?
I really have been impressed by the potential that the booking engine and the direct eProposal offers. But at the same time, I see MeetingPackage as a work in progress and we are growing together and basically what really impressed me was the partnership I managed to establish with MeetingPackage customer care. Really! MeetingPackage listening to my concerns, trying to adjust a little bit, maybe implement new features because of feedback I gave...this was very impressive. This was not really the product itself, but yes, that was very impressive.
Is there anything else you'd like us to know at this point?
I love the fact that when there's something missing it will get developed very quickly
I told you everything I wanted to or I think that is important. Again, I really love the potential and I really think it's great. If you grow even more on that potential as it seems as the changes I'm seeing every week are very good and I love the fact that when there's something missing it will get developed very quickly. It makes me feel that customer feedback is really important and looked after in MeetingPackage. And what I really can't stress enough is that it's great to work with you and I think you should really keep on listening to your customers and keep on being there for your customers, to grow and develop your product.
---
Join us to help make meeting booking as efficient as possible