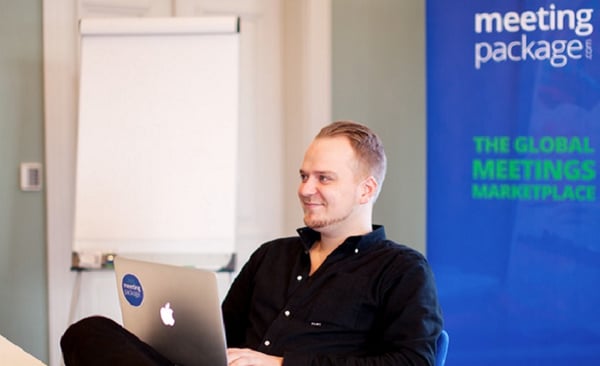 MeetingPackage and Advantage Meetings & Events today announced a strategic technology partnership that will make MeetingPackage's innovative M&E booking platform available to all member agencies in the Advantage Travel Partnership, the UK's largest partnership of independent travel agents.
MeetingPackage is a technology provider that connects to venues' meeting spaces and allows users to search, book and manage their off-site meetings and events more easily. Users can review detailed information about a venue's availability, pricing and services before they make an enquiry or booking. The booking platform is user friendly which makes the process of organising meetings easier. The booking process resembles popular hotel booking websites but is focused on meeting facilities and services.
The partnership will be formally launched at this week's Business Travel Show in London's Olympia where MeetingPackage will be demonstrating the platform to Advantage agency members. Following successful trials in recent months, from February onwards, agents will be able to sign up to the service and have a dedicated M&E booking platform created for their agency.
According to Joonas Ahola, CEO of MeetingPackage, "Cooperation with Advantage Meetings & Events is part of our vision. We want to offer member agencies a global platform, where agents and their clients can search, book and manage meetings without having to send e-mails or time consuming RFPs"
"The booking process for meetings and events has remained largely unchanged for decades and we want to bring this space into the twenty-first century by delivering a process that is preferred by clients, agents and venues – a modern service offering for a modernising industry", he continued.
Ahola believes the time has come for online booking of meeting rooms. It is estimated that more than EUR 100 billion is spent in Europe on small meetings of under one hundred delegates. The total UK M&E market is worth more than GBP 21 billion annually.
"Automating the sale of small meetings allows bookers and venues to focus their energies on the more productive task of managing the larger, more complex and more valuable events," says Ahola.
Ian Quartermaine commented on the partnership, "With decades of experience in the field of M&E, I've never seen the rate of change in the industry that we witness now. Travel agents and their clients are increasingly looking for transparency and simplicity when it comes to researching and booking meetings and events – we believe our partnership with MeetingPackage will help to deliver that for Advantage member agents."
MeetingPackage
MeetingPackage.com is a Finnish technology startup company established in 2014.
Its objective is to offer all clients a single booking site to search, book and manage meeting rooms & packages. Currently, MeetingPackage offers more than 200,000 meeting rooms available around the world. The site features eight different language versions.
The CEO of MeetingPackage.com is Joonas Ahola, and the company has offices in Espoo, Finland and London, UK.
The Advantage Travel Partnership
Advantage Travel Partnership is the UK's largest independent travel agent partnership. Advantage leisure and business travel agents who are part of the group are each independently owned, but as a collective they produce over £4.5bn of travel sales each year, making members experts in every aspect of the travel industry.
Advantage Meetings & Events is a division of the Advantage Travel Partnership launched in June 2018 to address a growing need in the organisation for a robust provision in the domain of M&E for Advantage member agencies. The division is led by Ian Quartermaine and Andrew Winterburn.
Media contacts
Brian Garvan, VP Strategic Partnerships, MeetingPackage
Tel +44 (0)7930 928756
Email: brian.garvan@meetingpackage.com
Ian Quartermaine, Director, Advantage Meetings & Events
Email: iquartermaine@advantagetravelpartnership.com
Strategic partnerships
Read more about our partnership possibilities
Contact us to discuss more about partnerships