We're excited to announce that MeetingPackage has ranked #1 overall on Hotel Tech Report's Global Best Group Sourcing & RFP Software list in the 2021 HotelTechAwards. The HotelTechAwards are produced by Hotel Tech Report, the leading authority on hotel software and digital transformation in the hotel industry. The HotelTechAwards rank the world's best hotel software companies and products based on authentic, timely reviews from real users.
With over 1,760 software companies on Hotel Tech Report, MeetingPackage is honoured to be recognised in the competitive Group Sourcing & RFP Software category for 2021.
"This recognition from Hotel Tech Report validates the work we're doing at MeetingPackage to help venues to increase their Meetings & Events sales by digitalising the sales process," said Joonas Ahola, the CEO at MeetingPackage. Ahola continued: "We are honoured to be recognised as the global hotel industry's best technology provider and we sincerely thank our customers for their vote of confidence in our platform's ease-of-use to the increase in revenue it provides by digitising meeting and events in an increasingly difficult market and, of course, the excellent customer experience that we proudly offer to help hoteliers when they need it most."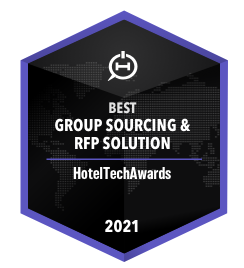 The lists are based on data from over 10,000 verified customer reviews during the HotelTechAwards period. These reviews were written and published between September 1, 2020–December 15, 2020, with participation from every major hotel brand and thousands of independents.
"This isn't a subjective list based on a few peoples' opinions," explains Hotel Tech Report CEO, Jordan Hollander. "With the highest traffic and engagement, largest selection of product and services, and highest quality data, Hotel Tech Report analyzes more than 100,000 data points to determine the best products in the market."
"We are building an online booking environment for meetings. MeetingPackage is supporting us in every step of this journey with a high business knowledge, a "we'll fix this"- mindset and an appetite for customer success. They are "always on", they dare to challenge our opinions, they are unpretentious, humble and have become a trusted partner. We are looking forward to a long and fruitful partnership with them.", says eBerry Operations Director from Stockholm, Sweden.
Browse dozens of verified MeetingPackage reviews and view the official press release or book a meeting with our specialist below to discuss how MeetingPackage products help venues to increase their Meetings & Events sales.
ABOUT HOTEL TECH REPORT
Hotel Tech Report is the world's largest online community for technology insights and digital transformation strategies in the massive hotel industry. Our mission is to arm hotel owners and managers with the tools they need to leverage modern digital technologies and solve real-world business problems. Everything that we do is built upon a foundation of trust and transparency provided by authentic verified peer and expert reviews. Each month we help nearly 100,000 hoteliers learn about technology solutions and strategies that make their properties more efficient and solve their most pressing business problems.