We interviewed an industry specialist Rebecca Bain, Head of sales from Meet In Place, to hear her take on the current business climate and to learn some good tips for recovery in the near future.
So without any further delay, first of all, thank you so much for taking time out to chat with us. If you could give a brief intro about yourself and your position in Meet in Place and what you do,
I look after the sales for the UK for Meet in Place. We are very simply - on demand, luxury meeting rooms to hire by the hour/day with venues in London, New York and Tel Aviv and a lot more to come around the world.
At the moment we have two venues in London (Soho Square and Monument (The City) and opening our third one at the end of October in the Blue Fin building in Southwark.
We have two different set ups - board room or a more comfy style, Hi Tech AV, ergonomic seating, luxury tea and coffee, still sparkling water and a team on hand to assist the client with any requests they may have while in Meet In Place.
Online booking means we are super easy to use and pay for what you need when you need it!
Is the restriction on events until the 1st of October affecting your business also?
Our spaces are individual rooms (like a hotel), so we are focussing on small meetings.
To ensure we adhere to social distancing within the spaces that we have, we have halved our capacities meaning each guest has a meter between them in their room to ensure our guests and staff stay safe.
Our new venue has space for larger events, however this shall be opening in October so at the moment this has not affected us particularly.
From your point-of-view, how the crisis will transform the type of meetings that we're having at the moment?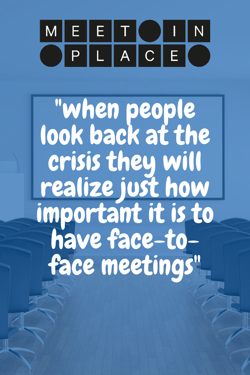 Meetings are a little bit less formal as people at the moment are beginning to interact with each other again properly. Guests are a bit more relaxed and also just happy to see each other.
I do think when people look back at the crisis they will realize just how important it is to have face-to-face meetings in business - all of the clients I have spoken to are now so keen to meet and want that social interaction.
Building relationships is very much so something that needs to be done face-to-face and people have really missed that.
How would businesses like yours that offer meeting spaces amend their services and service offerings to fit "the new normal"?
First of all, we will take all precautions necessary. It's incredibly important for us, whether in London, or in New York or Tel Aviv to make sure that our staff and guests are safe and do feel safe and comfortable coming into our meeting venue.
We have had to make sure that we have COVID guidelines in place. We have one seat in between each guest to adhere to the 1M social distancing, masks are necessary in all of the communal areas, and we have sanitizer in many points in the buildings to make sure that we do keep everybody safe,
As we're not a co-working space but on demand meeting space every space is purely set out for that meeting. Guests don't tend to mingle together as they would perhaps in a co-working space.
We have made sure that we've got single use recyclable cups and sachets and all the rooms are Self Service.
We know that we have less interaction between the staff and customers at the moment, and that's absolutely fine. If someone needs something we make sure that we leave it outside the room so the guests can get it themselves so that we don't need to interrupt their meeting and we don't need to interact with them.
It's very important that the COVID policies that the venues have are very simple, concise and that the client understands what they need to do before they come to the venue to make sure that they stay safe and they keep our teams safe. So I think it's very important for the venue to have that.
For example, we make sure that our housekeepers between every meeting fully sanitize the room and everything is cleaned, before the next client comes in. Once sanitized we have hangers on the door to say "Cleaned" ensuring no one enters the space until the next guests come for their meeting.
Any tips you'd like to you give how to keep employees motivated and energized when working from home office during these times?
I think for most people it has been a really strange transition. But the way that we've made sure that everyone feels part of the team is to regularly have a virtual catch ups with everybody to keep up to date with what the company is doing what colleagues are doing and also, to check in on a personal level to make sure that everyone's morale is kept up. Also, setting achievable weekly goals has proven to be good tactic for us just to keep everyone going in the right direction. Overall, everyone is so much looking forward to coming back to business together again.
How do you see business travel evolving in the near future?
Perhaps business travel may be less but more concise, people need to have face-to-face meetings to have meaningful interactions.
Global business rely on travel for communication and leadership.
Yeah, we strongly hope that it starts sooner than later. How do you see the recovery might start?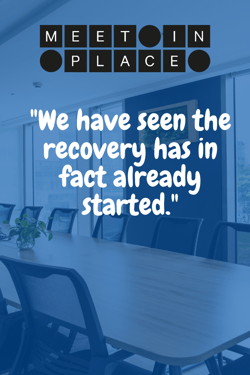 We have seen the recovery has in fact already started. Our venues in New York, London and Tel Aviv have been closed the last few months, but we are open now and people are inquiring more and more every day. It seems to be that people are really needing to be meeting each other. Perhaps their offices aren't quite COVID compliant.
So they need a space that is and we welcome that because we've made sure our spaces are compliant on all aspects.
Many businesses are now also finishing their leases as they see their teams work well from home but need to meet a couple of times a week - so we are happy to bring this to life!
We've seen that September seems to be a bit of a buzz word in terms of London and businesses slowly coming back.
So something you already have answered but is there more indicators as a company to follow the recovery?
I guess at the end of it's the amount of bookings that best indicates to us that things are coming back to life and thankfully that has picked up a huge amount especially over the last couple of weeks, which is fabulous news! We are also having inquiries from other areas and industries that we perhaps didn't work with before pre COVID. So, that's really exciting for us as well.
...And what is the common booking interval for you guys?
We do have quite a few bookings at the moment but more it's for September and October as people are looking in advance to get staff and business moving again.
And last but not least. What is the role of digitization in surviving this crisis how do you think digitization would play its role?
First of all, without modern digital tools none of us have been able to speak to each other or to our clients in an efficient enough way. It's been massively important to us and to all businesses. If you can't visit or meet someone it is the next best thing for sure. Regards to our business, we've noticed that our online bookings have increased tremendously.
Whereas people before COVID perhaps wanted to speak to someone on the phone or use email to book meetings. So that's interesting to see that flipped around as well. Of course, bigger events still require human interaction for multiple reasons but smaller straight forward bookings are definitely shifting to the online world.
Book your next meeting from Meet in Place venues