For food lovers (and wine lovers as well), Italy is a must. Every single region in Italy has its own speciality, and every single region is probably also claiming they have the best food.
So when it comes to hosting your next meeting in Italy, no matter which city you choose, you will always be surprised by the stunning dishes. Who hasn't dreamt about a culinary tour in Italy? I mean tasting the fresh ingredients all the regions have to offer, sightseeing thousands of landscapes, drinking coffee with the locals...
So for this week, MeetingPackage.com is taking you on a culinary tour in Italy and introducing you to four hotels with unique venues, professional meeting team, flavour explosions and wonderful landscapes.
Kolbe Hotel Rome – Bar & Lounge****
Located in the centre of Rome, within a walking distance from the Coloseo, Kolbe Hotel Rome - Bar & Lounge will make you fall in love with Italy and the Mediterranean culture. The hotel, Winner of the prestigious Luxury Hotel Awards for "Best Hotel & Conference Centre 2015", provides over 700 square meters of event spaces for up to 200 attendees.
WIth its garden restaurant Al Palatino, Kolbe Hotel Rome offers you a place to taste the best delicacies and enjoy gourmet meals. All your senses are meant to be excited and spoiled, to achieve an unforgettable tasting experience.
Want to run away from the noise? The private garden is a lush open-air oasis brimming with flowering trees, centuries-old olive and citrus trees, as well as a beautiful pond and will guarantee to bring you some peace of mind.
Probably most famous dish: Cacio e Pepe
The Klima Hotel Milano Fiere****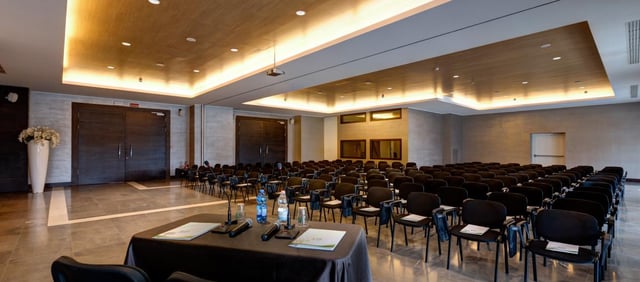 Our next step destination/stop is The Klima Hotel Milano Fiere, the first green hotel in Milan. This venue boasts an extensive conference centre which can accommodate up to 300 guests and offers 5 fully equipped meeting rooms which can host congresses, conferences, product launches, meetings, exhibitions, seminars and all types of corporate events.
The main plenary room is particularly suited to host meetings and international conferences with simultaneous interpretation. It is therefore equipped with interpreter booths.
The hotel offers a wide selection of Italian and international cuisine, wishing you could bring this cuisine back home. Their menu features a rich selection of dishes where, for example, you could start with a smoked loin with carrot carpaccio and horseradish mousse, followed by a veal cutlet Milano style with rocket, cherry tomatoes and potatoes and then perhaps ending with a chocolate mousse or apple pie with almond crumble. Done with dinner? No problem! The Sforzesco lounge bar, offering a modern and elegant decor is the perfect place to relax after a long meeting day.
Probably most famous dish: Risotto alla Milanese at Ratanà
DB Hotel Verona****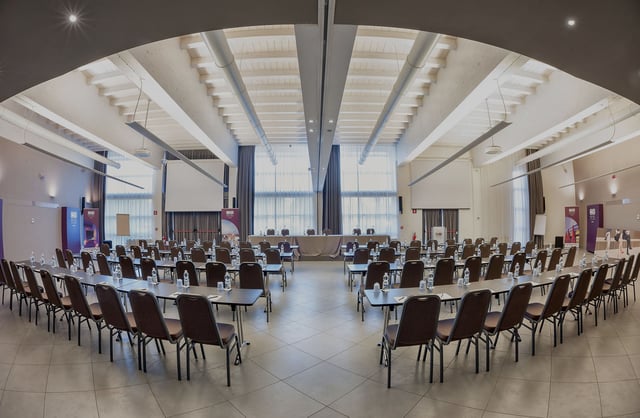 DB Hotel Verona will make you feel at home the minute you walk in with its warm hospitality and welcoming/charming environment. We can already tell you that your stay will be unforgettable. The hotel is located in a strategic position, only one minute away from the Verona Villafranca Airport and near the motorway exits.
The conference centre has 7 meeting rooms, all illuminated with natural light and equipped with Internet Wi-Fi, video screen projector, sound system with their largest room accommodating up to 280 attendees in an auditorium format.
We told you your stay would be unforgettable. Well, not only the DB Hotel Verona offers a luxurious wellness area with sauna, but you will also have the opportunity to go on a culinary journey at the "Barone Rosso" restaurant, with a selection of traditional dishes from the local area, or even relax at the DB44 bar.
Probably most famous dish: Risotto all'Amarone
Hotel Quirinale****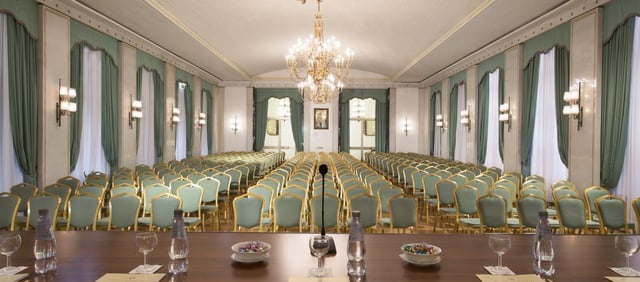 Hotel Quirinale, built in the second half of the '800 with the Opera House, will show you that dreams can come true.The hotel has four meeting rooms of various sizes, fully air-conditioned and wired with free WiFi and if you are looking for some special meeting room, the private garden is available and here it is possible to organize events for up to 250 people from April to October.
When it is time to sit back and relax, let the hotel treat you to a culinary journey with the best regional and Mediterranean cuisine prepared by their Chef: a well-proportioned match of flavours in a perfect balance between tradition and innovation. To spend relaxing moments, at the Green Bar, you can taste delicious snacks and famous cocktails like "Cosmopolitan".
Probably most famous dish: Carbonara
These wonderful meeting venues will definitely leave you hungry for more. Not only they all have the latest meeting equipment, they also offer delicious traditional dishes while enjoying the historical landmarks and gorgeous landscapes. A professional event team will be ready to assist you for your meeting arrangements. Italy has so much more to offer, so we will definitely have to come back and take you on another tour around the country, with more venues and more delicacies.