Amsterdam is the largest city in the Netherlands, no doubt. It is also the commercial, banking, and industrial centre of the country and the official capital.
And when strolling around Amsterdam, you can't miss the great beauty of the canals the city has to offer: there are more than 50 canals and 500 bridges in the city. But that's not all, Amsterdam is the perfect city for music lovers: from indie to jazz, Amsterdam has it all! The music is mostly dance music like house deep house, techno, hip-hop, dub, dubstep, but there also festivals listed for minimal music, pop music, indie, jazz, reggae, classical music and Latin music like salsa and tango festivals.
Amsterdam is also one of the most important and successful cities in the world! It is a city of endless options for meetings and conferences and events. Whether it is a meeting for just 10 people or a major business event for 300 people, you will find the perfect venue in Amsterdam.
And let's be honest, it's a place everyone wants to visit!
1.
Landgoed Duin Kruidberg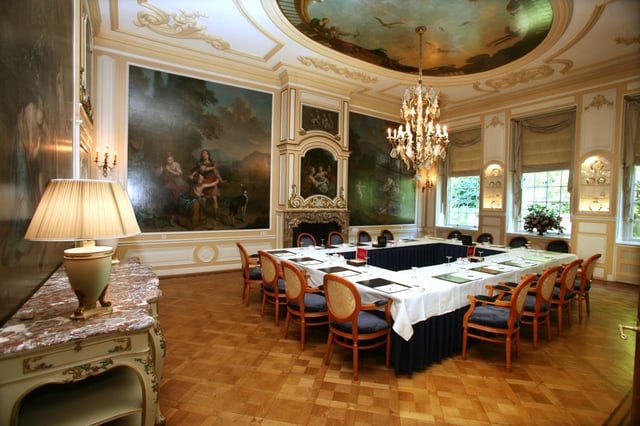 At Landgoed Duin Kruidberg**** there is plenty to discover and enjoy here: from the classic country house and the lovely English estate garden to the exceptional natural beauty of National Park Zuid-Kennemerland. The classical country house has a rich history – and every room has a story to tell.
Will you opt for the more intimate, industrial atmosphere of the Nova Zembla carriage house or would you rather hold an informal meeting outdoors? There are endless possibilities for your business events. One example that might suit your needs is the Amsterdam room. The room is suitable for large meetings as well as dinners and events and can also be divided into two smaller rooms with a total of 230 attendees.
Book meeting rooms at Landgoed Duin Kruidberg**** with MeetingPackage.com
2.

Hampshire Hotel - Amsterdam American
Hampshire Hotel - Amsterdam American**** has a rich history. In 1882, the first hotel guests stayed at this unique location on Leidseplein and nowadays the current building dates from 1902, showcasing a wonderful example of Jugendstil.
The Hampshire Hotel - Amsterdam American is located in the heart of Amsterdam. For business meetings, there are four stylish banqueting halls and three of these can be interconnected. In the various rooms, you can host a meeting for a maximum of 110 people, dine with 125 guests and give a party for 225 people.
Book meeting rooms at Hampshire Hotel - Amsterdam American**** with MeetingPackage.com
3. Grand Hotel Amrâth Amsterdam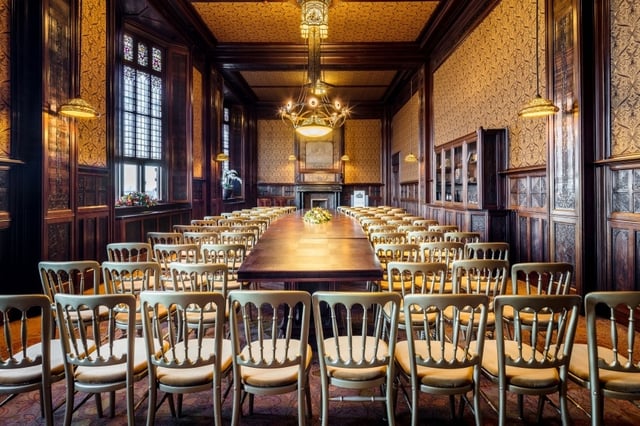 Hotel Amrâth Amsterdam***** is located in the former Scheepvaarthuis, a decorated monument and perfect example of the Amsterdam School architecture. The hotel has 8 conference/banquet rooms and also a Spa & Wellness centre where you can enjoy moments of pure relaxation.
Grand Hotel Amrâth Amsterdam is located only 500 meters from the central station, where you will find bus, tram, and metro connections to all areas of the city. One of the eight meeting spaces is, for example, Ray's Club. It is the biggest space available, and with its private bar, this room is perfect for festive occasions and receptions.
Book meeting rooms at Hotel Amrâth Amsterdam***** with MeetingPackage.com
Do these hotels seem to be the next meeting venue you are looking for?
All three above mentioned hotels offer excellent meeting facilities and are part of the history of Amsterdam. The choice is yours! Would you prefer a modern, multifunctional room in the centre of Amsterdam, in the heart of the action, or would you prefer to organise your next meeting in one of the sumptuous authentic meeting venues located in peaceful parks and garden? Create your own atmosphere; there are endless possibilities in Amsterdam.
Check out our other excellent blog posts about meeting destinations:
3 World-Class Meeting Venues in Gdansk, Poland
7 Outstanding Meeting Venues in Riga Centre
5 Reasons to Hold Your Meetings in Singapore