We chatted with one of our customer Tomas Sabolt from The Loft Hotel in Bratislava about everything related to Meetings & Events sales. How has Covid affected the business and what changes does The Loft Hotel see in the future.
Can you describe what LOFT Hotel does?
We are a mid-sized boutique hotel in the middle of Bratislava. On top of the obvious accommodation services we also offer restaurant, and Meetings & Events services. And, we even have a small wine shop within the hotel for our customers.
What was the situation before and what was the problem you were trying to solve?
Initially, we didn't see any problems in our M&E sales but once we got to know MeetingPackage we decided to switch from our previous system as MeetingPackage is so easy to use. At the end it was an easy decision once we saw how to manage Meetings & Events sales with MeetingPackage software.
What is the situation now and how did MeetingPackage help to solve the issue?
It's a main feature for us that our customers can book a meeting room directly from our website. We're not doing that much active marketing so conversion rate optimisation from our website becomes pivotal to turn the visitors to customers as efficiently as possible. Clearly smaller meetings like workshops and board meetings are being booked online whereas larger events need a human engagement from the beginning. But this is only natural from my experience.
What are your expectations for the future?
I read a lot about how M&E business will change after the Covid and clearly a trend towards hybrid events and easiness to buy services will be one of the biggest topics. We're basically entering a new era after this pandemic. People still prefer to call or email us but it's mainly because few know that you can actually buy M&E services online. Of course, this will change as time goes by but for example hybrid events are bringing technology closer to customers in general so it will also lower the hurdle to buy meeting room services online. And vice versa of course. The more accustomed users are with tech the likelihood of booking online increases significantly.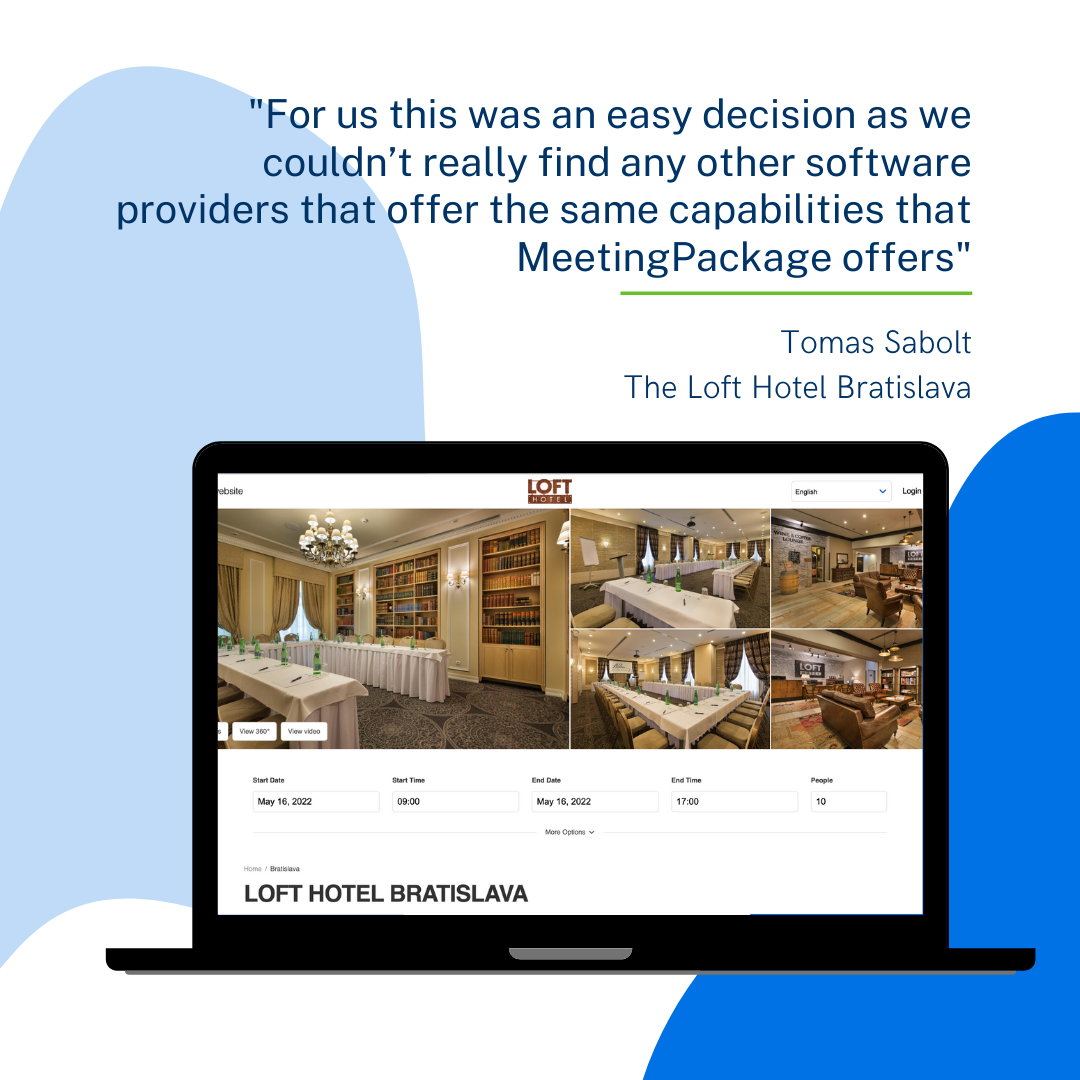 What was your overall experience with regards to the implementation?
For us this was an easy decision as we couldn't really find any other software providers that offer the same capabilities that MeetingPackage offers. The implementation was pretty easy. But to be honest my colleague did the "heavy work". I like that you asked our opinions during the implementation and the customer care has been par excellent.
Any feedback for the MeetingPackage team?
Not much to be fair. Maybe the exporting of the statistics could be a bit better. I like that you regularly ask what features could be improved and do we need any assistance on anything. Clearly it's in your strategy and mentality to involve customers in your product development and help us as much as possible. I appreciate all the new features that have come up and will come up in the future.
What benefit do you appreciate most out of the MeetingPackage services?
Time saving is a big benefit for us. I appreciate that I can move offline enquiries to the online world with the function diary and eProposals. So one of the biggest benefits of MeetingPackage is actually the Venue Sales Management whereas we thought initially it would be the booking engine.
---
Start utilising MeetingPackage software today and
raise the bar how Meetings & Events will be sold in your venue.