We had a chance to chat with a customer of ours from lovely Budapest Hungary. It was an absolute thrill to discuss with Gergely Haris, who is an experienced Meetings & Events professional. Thank you, Gergely, appreciate you joining us...
Can you give us a brief description of Haris Park and what you guys do?
We are an event centre and restaurant complex without accommodation. All this in a heritage building which is a very unique service offering in the Budapest city centre. We really don't have any direct competitors that would have large event facilities, historical surroundings, and restaurant services. We're hosting business events and weddings on the weekend for up to 200 people. So we consider ourselves as a multifunctional event service provider.
Budapest increased its MICE capacity significantly. Many 5 star hotels opened with large meeting facilities, the airport built a new terminal, and the local exhibition centre expanded their capacity. So it's safe to say, before the pandemic, tourism was booming from supply and demand side. We opened in April 2018 so I have not yet seen a normal winter season because of Covid. Curious to see what is the normal "low" season for us.
How did you first hear about the MeetingPackage service?
I'd been to an IDeaS training in Vienna and I met Joonas there as he was doing one of the workshops that MeetingPackage does with their partners like IDeaS. I was immediately interested in the product as I have been working as F&B revenue & distribution manager for an international hotel chain before.

I understood what this product does, and what is the goal and how it removes the friction from the booking process. There are so many extra services and personalisation aspects when booking an event or meeting compared to booking an accommodation that I thought "wow, now we're onto something here".
In relation to the evaluation that you did, what challenges and problems were you forecasting, and what made you choose MeetingPackage?
The biggest asset of MeetingPackage is automation. When there are multiple interchangeable rooms because of their size and their setup it's a very handy tool as it's making the RFP process faster and gives an excellent opportunity to manage the revenue. In our case, we need a human touch in between because our meeting rooms are very different and service offering is so tailored that it does not make sense to sell them solely online. But still MeetingPackage gives the benefits of automation as we don't need to remember deadlines or provisional hold dates as the system will remind us and the customer of any important dates until the actual event.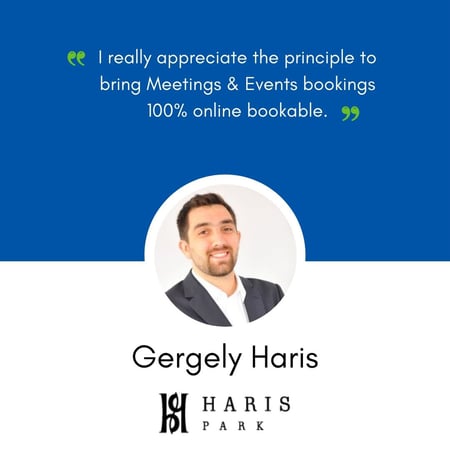 Aside from the Booking Engine was there anything else in the solution that made it stand out over the others that you researched?
What I really like is the seasonal price feature where I can put up a percentage or an amount discount for every room or package element. I have worked in the industry for years so, I'm very comfortable with dynamic pricing. I'm also teaching in the local university about it. The whole logic of dynamic pricing is in baby steps but it's a very good solution for low-seasons like January-February.
I just believe that in about three to five years, the market could be educated in a way that this is the smartest way to book meetings, because it's saving time from sales agents and saving time from the client as well. And of course, all the data which is flowing into the system, is really supporting our sales team.
What are the future trends in the Meetings & Events industry ?
The more tech savvy generation is more and more booking online any services available. It's just common sense that this Generation Y and X is increasingly booking online. Customers that make a booking still call us but I don't see it as a problem. More of a curiosity. Maybe they use the site as a rate shopping tool, fill in the form and then call us to ask for the details. So in a sense, it's diminishing the unnecessary calls if they see that there is no availability for a certain date.
What was your experience with regards to the implementation and introducing the solution to both customers and to Haris Park employees?
We had the introduction webinar with Marcella and David but actually I found the platform pretty intuitive and at the beginning when we joined In 2019, there were still a lot of features which were not ready and a lot of features, which we wanted to use, but just not yet available.
Mostly because of our pricing strategy that we have. We have a room rental price, plus the catering price, but based on the amount of catering consumption, we give an individual discount on the room rental and this pricing logic is quite unique and odd which probably is not used in other venues.
So even though it was not built in the system, MeetingPackage was willing to look into it and find ways that we could do it. We knew it was always a manual process on our side and loading all the data was a lot of effort, but now it's all in and we just have to manually adjust it sometimes and I think it's not too bad.
When I talked with customers that we have a new system to book meeting rooms they mostly liked it and said that it's so "intuitive and easy to use". But still often we need to add some services after the initial request but it's an expected behaviour.
Any feedback for the MeetingPackage team specifically with regards to implementation?
I think it was a very smooth process. My colleague Lea and David from MeetingPackage were on the "hot-line" sort-of-speak. David from MeetingPackage was very helpful, flexible and easy going. So it was more from our side how to move on. MeetingPackage was providing excellent services. There was nothing to add on that side.
Do you have any advanced more tech savvy customers amending the BEO after the booking request or booking has been sent?
Not really as we often need to often take the booking offline due to the nature of our service offering that was mentioned before. But I am a true believer that in the future it will be more and more digitalised. Often customers do ask questions through the platform but not really amending the booking.
What kind of metrics do you use to manage your business?
We're currently amending our Google Analytics processes and framework so I am going to add the booking funnel and all the steps of the booking process. Where do people step away and what are the conversions during the booking process. I am very keen to know that information.
Anything specifically on the productivity and money saving side of the business that we haven't discussed already ?
When it comes to pricing. I really like the fact that you also offer a commission based model to venues. Especially during Covid there was not much business anywhere so it would have been a shame to churn just because there was no business due to business environment issues like global pandemic.
Anything special you like to point out when it comes to MeetingPackage?
I really like the personal account management even for a smaller customer like us. So compliments to all of you who take care of the customers in MeetingPackage. The other thing I really like is the principle to bring M&E bookings 100% online is something I really appreciate. And even so that some of the Fortune 500 companies tried to do it but never managed and then comes a Finnish startup company and actually does it. Hats off to you for that!
Last questions, what direction would you like MeetingPackage evolve to?
What I see is the problem of the financial account because every country probably has their own regulations. So integrateting to financial / invoicing systems is probably going to be a nightmare but if you do have an integration that meets the regulatory requirements of Hungary then please do let us know.
Maybe the CRM connectivity would be an added benefit for MeetingPackage. If this feature can be built to be a bit more robust it would be perfect for SME venues like us. Actually, it would probably make us use MeetingPackage even more.