Edinburgh is the capital of beautiful Scotland and one of the busiest cities of the United Kingdom. Mostly well known for education about medicine and engineering, it is also the second largest financial city of the United Kingdom. And as no surprise, Edinbourgh is also the second most popular tourist destination considering the historical and local attractions.
So for this week, we have selected our top 7 conference and meeting venues in Edinburgh. Relax and enjoy your stay with MeetingPackage.com.
You might also like:
Edinburgh Marriott Hotel - for a luxurious events
The 4-star Edinburgh Marriott Hotel is just next to Gyle Shopping Centre and only 1.5 miles away from the M8 junction. Tourists and guests can reach the hotel within 5 minutes from Edinburgh Airport. All the luxurious facilities such as "The Leisure club", the 15m indoor pool, gym and high class bar are available for guests. Edinburgh International Conference Centre and Princes Street Gardens are also only 5 minutes away from the hotel.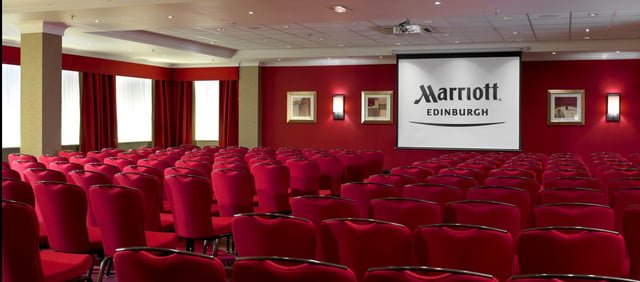 Image Courtesy of Edinburgh Marriott Hotel
Marriot hotel comes with 12 specially equipped meeting rooms for events and conferences with a space of 7642 sqft. With a maximum capacity of 250 delegates and special audiovisual technology, Edinburgh Marriott Hotel will make every second of your event smooth and unforgettable.
Facilities:
Search, view, book and pay instantly for conferences in Edinburgh of up to 30 people within 90 days
Stylish meeting rooms for hire are perfect for training sessions, conferences and much more
All the conference venues feature modern audiovisual technology and high-speed internet access
Take advantage of excellent perks including free parking for meeting guests (up to 300 spaces)
Energize meetings or training attendees with delicious catering, provided by culinary team
POWER UP guests meeting & events in Edinburgh by earning double points and choice of amenities.
Novotel Edinburgh Park Hotel - Stylish conference rooms for all meetings
Novotel Edinburgh Park hotel is only 4 km away from Edinburgh International Airport and only two minutes of walking distance away from the tram and public transport, making it easier for guests to travel to and from the centre of the city. Edinburgh Park Hotel is famous for their "Element Restaurant", which serves creative and modern dishes as well traditional cuisine.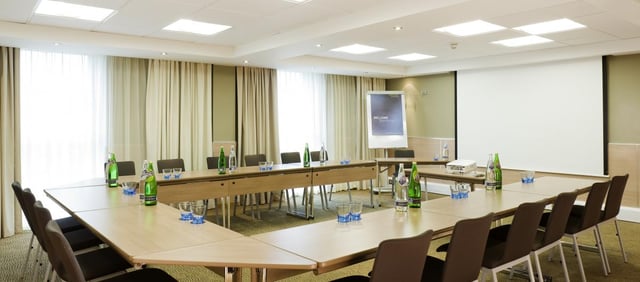 Image Courtesy of Novotel Edinburgh Park hotel
The venue comes with 7 well equipped, spacious and modern conference rooms for meeting purpose and more. The meeting rooms offer a maximum capacity of 150 delegates and you will find free wifi throughout the venue.
DoubleTree by Hilton Hotel Edinburgh Airport - meet & relax
DoubleTree is a fine and cozy 4-star hotel by Hilton Edinburgh Airport, located only 2 minutes from EDI Airport and 16.1 km away from the city centre. The venue offers a shuttle bus service for the guests, allowing them to enjoy the wonderful local attractions including Edinburgh Castle and the Royal Mile.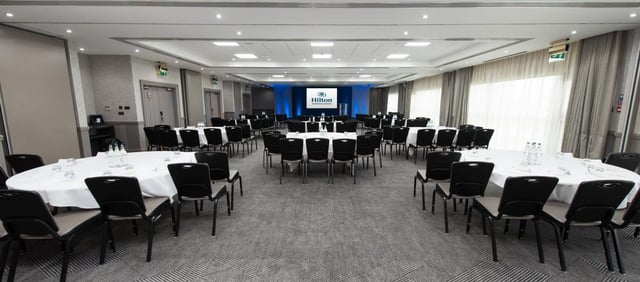 Image Courtesy of DoubleTree by Hilton Edinburgh Airport
DoubleTree by Hilton Hotel Edinbourgh comes with 22 versatile meeting rooms and reception space equipped with all the modern technology you will need. With a maximum of 300 delegates, the hotel provides wifi in all the meeting rooms that can host any type of event including conferences, corporate events, board meetings, recruitment events, exhibitions, associations, car launches, social events and weddings.
Norton House Hotel & Spa - world class business meetings & refreshing stay
Norton House Hotel & Spa is an elegant 4-star hotel is welcoming you to their stunning private country home. Only 5 minutes away from Edinburgh Airport, the hotel provides free car parking for guests. They are well known for their award winning restaurant and their boutique rooms. During their stay, guests can visit Gyle Shopping Centre and Forth Rail Bridge, which are within 5-6 minutes distance from the hotel.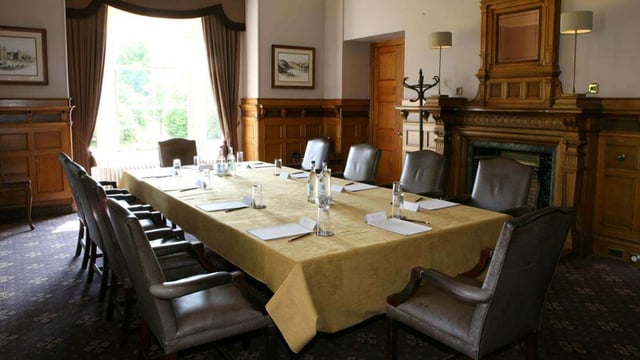 Image Courtesy of Norton House Hotel & Spa  
Norton House Hotel & Spa is well known for their world class business meetings and conferences in Edinburgh. The venue comes with 13 flexible meeting rooms with an average capacity of 300 delegates. All the latest equipment are available with individual decoration for each meeting space. Events of all types can be held at this venue such as conferences and presentations as well as private parties.
Balmoral Hotel - A royal touch for your meetings
Balmoral Hotel is a 5-star hotel and a beautiful and prestigious architectural piece of its time, best known for its stunning old clock tower. Situated in the heart of Edinburgh, the venue is not far away from Edinburgh Playhouse Theatre and Princes Street Gardens (6-minute walk) and the city's airport, which is only a 25 minute drive away from the hotel.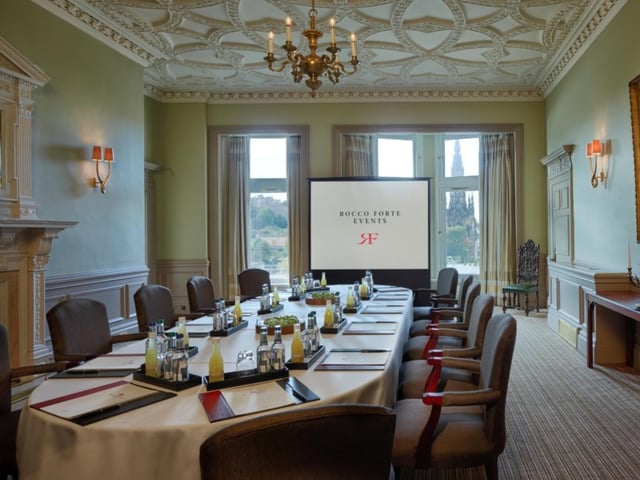 Image Courtesy of Balmoral Hotel 
The venue comes with 10 stunning private meeting rooms with an average of 450 delegates and includes an outstanding view of Edinburgh Castle and the Old Town.
Facilities:
10 private meeting and event suites for 15 to 450 guests
Natural daylight in all suites
Dedicated event planner
The latest audio-visual technology (chargeable)
High speed Wi-Fi (chargeable)
Apex Waterloo Place Edinbourgh - A modern touch for meeting rooms
Waterloo Place is a classic 4 star architectured hotel situated in new town, which is only 7 minutes of walking distance from Edinburgh Playhouse Theatre. The venue comes with elegant design and luxurious bedrooms and their award winning Elliots restaurant serves Scottish cuisine.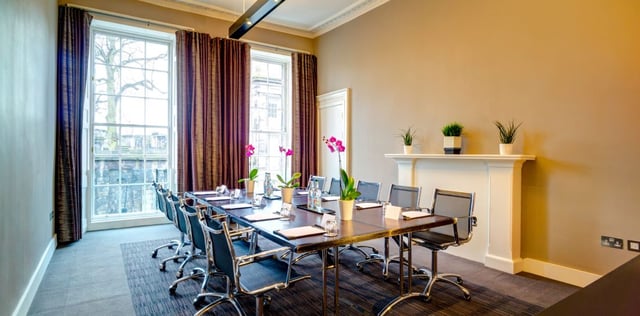 Image Courtesy of Image Courtesy of Apex Waterloo Place Hotel  
Apex Waterloo Place Edinbourgh offers 5 dedicated meeting rooms with a maximum capacity of 180 delegates and including natural daylight and flexible layout for every space.
Facilities:
Natural Daylight
Power Points
Direct Dial Point
Video Conference
Air Conditioning
Wi-Fi
Blackout
TV & Video
Flipchart
TV Point/Arial
OHP
Data Projector
LCD Screen

The Scotsman Hotel - for luxurious and elegant events
The Scotsman Hotel is a 4 star hotel and well known for its history since it used to be The Scotsman newspaper. Situated just next to Prince Street and only 9 minutes' walk from Edinburgh Playhouse Theatre, the venue is decorated with outstanding interior and tastefully furnished rooms.'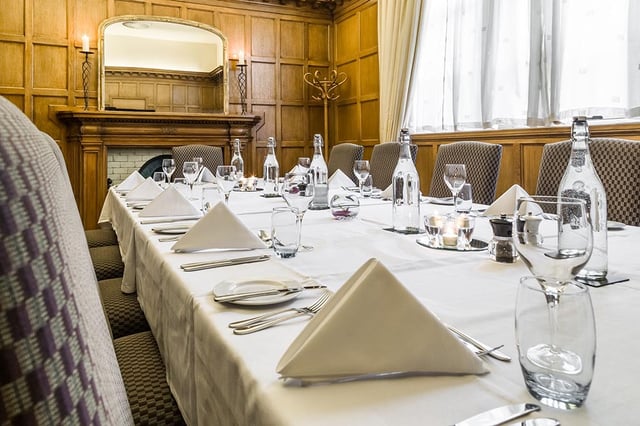 Image Courtesy of Image Courtesy of the Scotsman Hotel  
The Scotsman Hotel offers 4 special event rooms with an average of 60 delegates. All the rooms are flexible and have high speed broadband and are well equipped with the latest technology.
Facilities:
wifi
high spec AV equipment
lecterns
comfortable seating
flip-charts
delegate stationery