Mayfair is an upscale district of elegant Georgian townhouses, exclusive hotels and gourmet restaurants which are bordering in leafy Hyde Park. Mayfair is also famous to be home to numerous galleries, which has given the district a reputation as an international art hub. The Royal Academy of Arts, Fine Art Society, Handel House Museum and The Faraday Museum are the most common names among them.
Mayfair remains one of the most expensive places to live in London and the world. When strolling around in this district, you will find some exclusive shopping opportunities as well as London's largest concentration of luxury hotels and many restaurants particularly around Park Lane and Grosvenor Square. So it is no surprise that we are introducing some prestigious meeting venues in Mayfair, London for this week's blog post.
You might also like:
Millennium Hotel London Mayfair: Elegant hotel, nice location
Featuring 336 elegant guestrooms, Millennium Hotel London Mayfair comes with a traditional charm and luxury with picturesque views overlooking Grosvenor Square. Sightseeing is easy, with numerous attractions and shopping destinations such as Bond Street and Oxford circus on the doorstep.
This upscale hotel is only a 5-minute walk from the U.S. Embassy and Hyde Park, and s 7-minute walk from Bond Street tube station.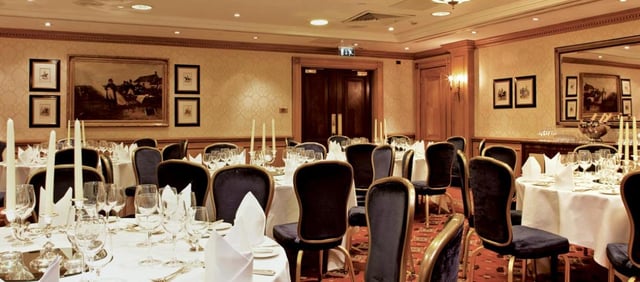 Image Courtesy: Millennium Hotel London Mayfair
Whether you need to organise a cocktail reception, a car launch, or a large-scale conference, London Mayfair offers 7 outstanding meeting and event venues to fit your needs. The venue can accommodate up to 800 people.
Facilities:
• Air-conditioned
• Laundry service
• Business center
• Room service
• Restaurant
• Spa
• Wifi
The Chesterfield Mayfair: Red Carnation's first hotel
Just a few steps from Bond Street, Piccadilly and the Royal Parks, The Chesterfield Mayfair is locaed in the heart of Mayfair. There are several bus stops near to the hotel, so it won't be a problem to reach the hotel for people travelling by public transportation or to discover other parts of this beautiful district.
The Chesterfield Mayfair is an ideal place for Weddings, Meetings and Events!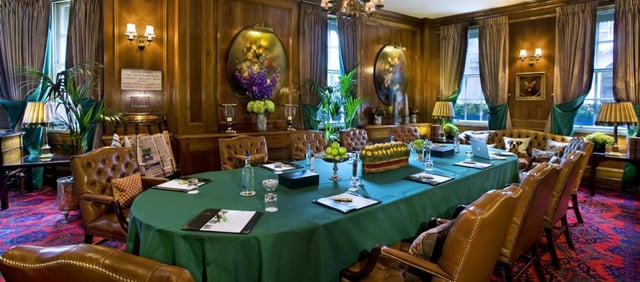 Photo Coutesy : The Chesterfield Mayfair
Each business meeting, conference or social gathering is appreciated by The Chesterfield Mayfair, giving you the opportunity to customize each event accordingly. The hotel has 7 delicately decorated meeting rooms and can accommodate a maximum of 150 deligates.
Facilities:
A comprehensive range of conference menus
State of the art audio visual and conference technology available
Excellent acoustics
ISDN2 for complimentary internet access with Wi-Fi
Fully air-conditioned function suites
Built-in speakers and microphones
Daylight with a blackout facility for slide or film presentation, full multi-lingual secretarial support (advance notice required), overhead projector, screen and flipchart laptop
Syndicate and break out rooms
Grosvenor House Hotel: A JW Marriott Hotel
Situated on one of the most prestigious streets in London, the distinguished Grosvenor House Hotel has a historical aristocratic pedigree stretching back almost 350 years.
Overlooking Hyde Park in posh Mayfair, this refined grand hotel is just a 12-minute walk from your next shopping spree on Old Bond Street, and 1.5 miles from Trafalgar Square.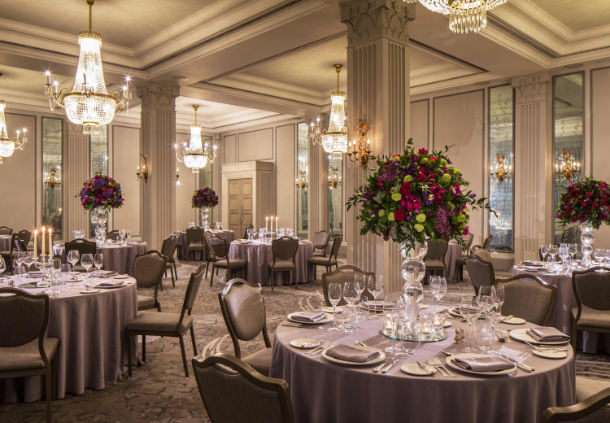 Photo Courtesy: A JW Marriott Hotel
Whether looking to host a boardroom meeting or one of the biggest convention, A JW Marriott Hotel is the perfect venue where you can choose from 26 events rooms, 29 breakout rooms and with a maximum capacity of 2000 people.
Facilities:
• AV equipment
• LCD Panel / LCD projector
• Microphone
• Stage: installed / portable
• Computers
• High-Speed Internet Access
• Videoconferencing
Holiday Inn London Mayfair
A very comfortable place in the heart of London's theatre and shopping districts, within walking distance to the city center, sightseeing sites, restaurants & bars. Green Park Tube station is around the corner, with trains taking you to London Heathrow Airport (LHR) in about 45 minutes.
With 196 rooms, Holiday Inn London Mayfair makes a great base for exploring the city. Piccadilly Circus and Leicester Square are a 10-minute walk away, and it's only a short walk through Green Park to Buckingham Palace.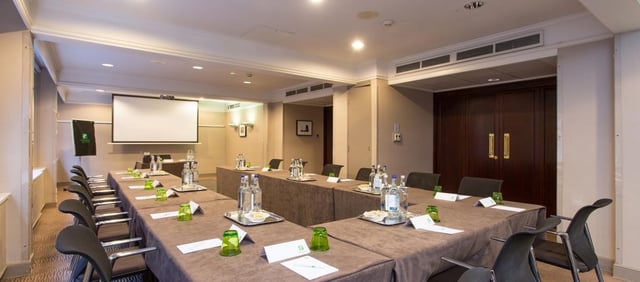 Image Courtesy: Holiday Inn London Mayfair
Holiday Inn London Mayfair offers small meeting and conference rooms to their guests. If guests are interested in experiencing a posh meeting, the hotel can then offer the Buckingham and Stratton suites. Both rooms feature air conditioning and natural daylight and provide meeting space for up to 70 guests, with views over Green Park from the Buckingham Suite.
Facilities:
Flip Chart and Markers
Whiteboards
Pens, Pencils and Pads Provided
35 mm Slide Projector
Digital Projector
Dvd Player
Laser Disc
LCD Projector
Lectern or Podium
Microphone
Modem Lines
Over Head Projector
LCD Television
Plasma Television
Tele-conferencing Equipment in All Meeting Rooms
The Courthouse Hotel
The Courthouse Hotel is located in the heart of stylish Soho and in the old Grade II, listed Great Marlborough Street Magistrates Court building . The hotel has fantastic transport connections and you always are just a short walk away from tourist attractions such as Oxford Street, Buckingham Palace, Piccadilly Circus and Bond Street.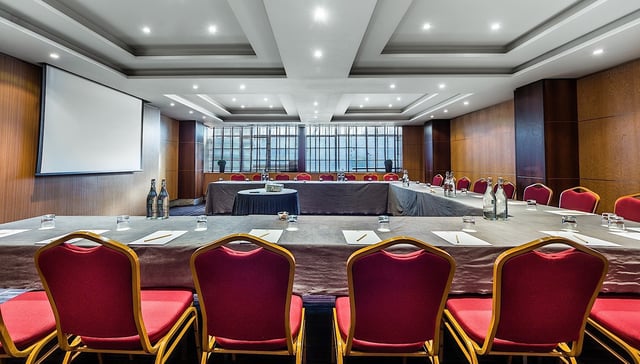 Photo Courtesy:The Courthouse Hotel
The Courthouse Hotel has varied and luxurious event facilities and offers an elegant decor and stylish ambience within their selection of Conference and Banqueting rooms.
Courthouse London's fully equipped meeting & event facilities can be easily configured to accommodate a variety of events such as board meetings, conferences, social banquets and weddings. The hotel's versatile event space can hold up to 150 guests and has a total of 29 event spaces.
Facilities:
42" plasma screen
PA system with 2 hand held microphones
Laptop
Flip chart with papers and markers
HD cam deck
Projector
Screen
Free Wifi
COMO Metropolitan London
As one of the top luxury hotels in Mayfair, COMO Metropolitan London is positioned on a quiet street just off one of the most significant thoroughfares in London—Park Lane. A 1-minute walk from Hyde Park and surrounded by chic bars and restaurants, this posh hotel with a sleek marble facade is also a 10-minute walk from Buckingham Palace.
The uncluttered design and intuitive technology create a heaven of calm and perfect place for business or leisure travel.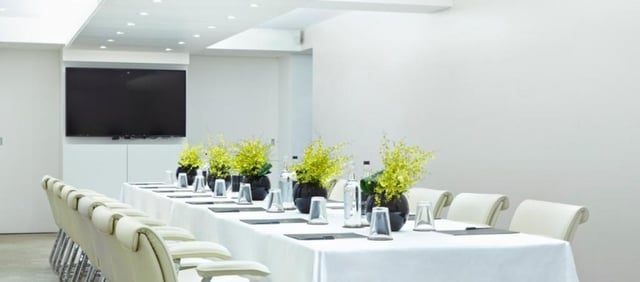 Photo Courtesy of: COMO Metropolitan London
From corporate conferences to roadshows, business lunches to interviews, press days to wedding celebrations, COMO Metropolitan London offers some of the most unique event venues in London, with 7 different spaces to choose from.
Facilities:
• 42" plasma screen (laptop compatible)
• Telephone with DDI line access
• Modem and ISDN line access
• WiFi access
• Interactive TV system
• Technology butler on hand throughout meeting
Amba Hotel Marble Arch
Set in an art deco building, this grand hotel overlooks Oxford Street and Hyde Park. The venue is a 3-minute walk from the Marble Arch tube stop and 1.3 miles from Buckingham Palace and is located dozens of other landmarks just a few steps away. Amba Hotel Marble Arch is in the very heart of London's centre.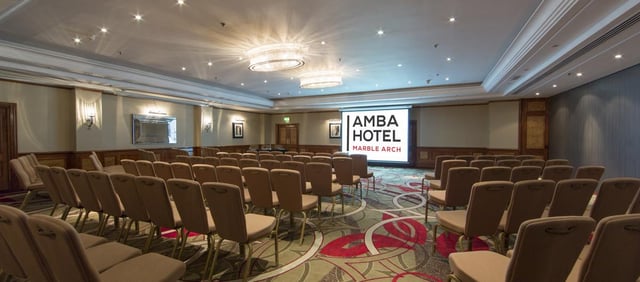 Photo Courtesy: Amba Hotel Marble Arch
Choosing from 12 perfectly equipped meeting spaces with all the latest technology, Amba Hotel Marble Arch can host a meeting for four delegates or a conference for upto 500 delagates.
Facilities:
TVs'

Conferencing equipment

Table-top power sockets

Projectors

Free superfast wi-fi throughout the hotel.