---
Choosing the perfect meeting room in Gatwick International Airport which would suit your budget, and client's preference is not an easy task. Today, we look at top 7 meeting venues near Gatwick Airport that might be ideal for your meetings.
If you are a business traveller coming to London for meetings, chances are you would travel to either Heathrow Airport or Gatwick Airport. Now, a lot of meeting planners would prefer renting a meeting room inside or near the airports in consideration to the weary travellers. We already introduce these 12 excellent meeting rooms and venues near Heathrow International Airport in our post here. This time, we list our top 8 meeting rooms & venues that would be excellent choices for your meeting.

There are two main reasons you should book meeting rooms in venues near Gatwick Airport:

-Gatwick is the second largest airports in the United Kingdom, after Heathrow, and the eighth busiest airports in Europe. In 2016, the airport welcomed 43.1 million passengers, 17% of them were business travellers, received 275.633 flights arriving and departing. The transportation from Gatwick to London Central is excellent. The Gatwick Express non-stop train to London Victoria run every 15 minutes which bring you to London in 30 minutes. Besides, there are non-stop buses and taxis waiting outside of the airport bringing you to your preferred destinations.

For meeting enthusiasts, Gatwick provides excellent venue options both at the Airport and in nearby surroundings. The North and South Terminal has exclusive business lounges available for booking for all travellers. There are several highly regarded brands which provide high-quality services and top-notch meeting facilities such as Regus or Orega. If you fancy luxurious hotels and accommodations for your meeting guests, hotels in Gatwick such as Sofitel or Hilton are also available.

Without further ado, let's take a tour at our top 7 meeting venues and rooms in Gatwick. Preferred by our customers thanks to the lovely decor, high-quality services, and affordable price, these venues will impress you and your meeting delegates.
Check our other lists as well:
---
1. Regus Gatwick South Terminal - Where Meeting Rooms Built for Your Needs

Not many brands can offer a wide range of meeting rooms for different meeting needs, while still maintain top-notch quality services like Regus does. And yet again, not many brands gain the reputation of the most successful office space providers nationally. Instead of spending on other glamorous features, the Regus Express at Gatwick South Terminal focuses on what matters most: the meeting room and the facilities. Located in the South Terminal Arrivals Hall, the venue offers 11 meeting rooms for meetings up to 12 delegates. All rooms are completely secluded and equipped with state-of-the-art technology, including free WiFi, video screen, phone and printers. Whiteboards and markers are also available on request.
Image Courtesy of: Regus Express Gatwick - South Terminal

The rooms are bright thanks to the abundance of natural light as well as the vivid colours in every piece of furniture and design feature. And there is more. For the weary travellers, what could be better to refresh yourself after a long-haul flight? Well, the Regus Express at Gatwick South Terminal provides five showers for those travellers who are in desperate need of a deep cleanse. The showers are available for a reasonable charge.

Meeting Facilities
11 meeting rooms for up to 12 delegates
WiFi: Free high-speed internet
Refreshments: Free tea and coffee
Private workspace: Professional distraction-free workspace
Print, scan, copy: Document station offering business class facilities
Additional facilities: Showers
Does the Regus Express at Gatwick South Terminal's offer impress you? Book your meeting rooms now.
2. Holiday Inn London Gatwick Airport - Flexible Meeting Rooms For All Meetings
Located at Jc9a of the M23, the Holiday Inn London is only half a mile from Gatwick Airport and conveniently connect to the M25, A23, and A217. There is a shuttle bus running 24 hours every day from the Airport to the hotel. Business travellers can travel to London Central via the Gatwick Express to London Victoria leaving every 30 minutes.
Image Courtesy of: Holiday Inn Gatwick Airport

Offering 12 meeting rooms ranging from 10 to 140 meeting delegates, The Holiday Inn Gatwick Airport covers all types of meetings, from board meetings to business seminars, to large conferences. All meeting rooms come with free WiFi and air-conditioners. There are also break-out areas for networking. For meeting planners, the hotel also dedicates an event team to ensure that your meeting is running smoothly.

Meeting Facilities
Internet access for the meeting organiser
Hire of your meeting room
Use of LCD projector and screen
Flip charts and stationery
A dedicated team to support you throughout your event
Is Holiday Inn London Gatwick Airport your cup of tea? Book meeting rooms and meeting packages now.
3. Sofitel London Gatwick - Dedicated Meeting Services for Your Success
The Sofitel London Gatwick is located right outside of the North Terminal. Step out of the aeroplane, and you go into a different world. The soaring atrium welcome you in the four-star hotel with luxurious hotel facilities and services, including complimentary wireless Internet, fitness facilities, and 518 bedrooms and suites with 24-hour room service.
Image courtesy of: Sofitel London Gatwick

With 11 meeting rooms and the capacities up to 300 delegates, the hotel opens up many opportunities to customise your meetings of your unique needs. The Sofitel London Gatwick also offers expert planners to assist you in crafting the available services and facilities in according to your vision.

Meeting Facilities
High-speed Internet
WIFI access
Flipchart
Video conferencing
Audio and video equipment
Daylight
Syndicate rooms
Catering available
Airconditioned meeting room
Slide projector
Copy/print service available
Send an enquiry Now to the Sofitel London Gatwick and receive instant support through MeetingPackage.com
4. Book Meeting Rooms in Hilton London Gatwick Airport - Where Class Prevails
You can travel to the Hilton London Gatwick Airport from the South Terminal in just 4 minutes through a covered walkway or 10 minutes from the North Terminal via the free 24-hour monorail service. With 821 guest rooms & suites, alongside with WiFi in rooms and high-quality services & amenities in the premise, including fitness centre, room services, and concierge; the Hilton London Gatwick Airport provide an excellent option for overnight or two-day meetings.
Image Courtesy: Hilton London Gatwick

The hotel features 21 flexible meeting rooms equipped with WiFi and available AV system. The Ascot Suite is a flexible meeting room which can be split or joined into three separate function rooms to host up to 450 delegates in reception setup. In addition, the hotel offers team building activities such as quad biking or archery on request.

Facilities
21 Spacious meeting rooms
Free WiFi Access
Top-notch A/V equipment
Dedicated Event Executive
Book Meeting Rooms in Hilton Gatwick Airport now.
5. Sandman Signature London Gatwick Hotel - Meeting Rooms with Excellent Facilities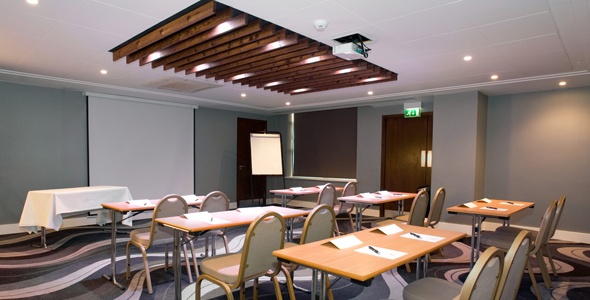 Image Courtesy of: Sandman Signature London Gatwick
The Sandman Signature London Gatwick is just 3 miles away from the Airport and 30 minutes by train to the Central London. For meeting needs, the hotel offers eight chic meeting rooms from intimate board meetings for six delegates to large conferences up to 200 delegates. All meeting rooms feature top-notch facilities and free WiFi. There are complimentary parking spaces with the option of adding projectors, refreshments, accommodation, and entertainment.

Facilities
8 Meeting Rooms Hire
Free WiFi access
In-house A/V equipment
Dedicated Event team
Is this what you are looking for? Book Meeting Rooms in the Sandman Signature London Gatwick Here.


6. Meeting Rooms in Arora Hotel Gatwick/Crawley - A Wide Range of Options
Situated in the heart of Crawley town and has easy access to the M23 and M25 motorways, the Arora Hotel Gatwick/Crawley give you an alternative option for meeting venues near Gatwick Airport. This award-winning four-star hotel provides 432 bedrooms and suites, a restaurant, bars, Health & Fitness facilities and on-site parking spaces.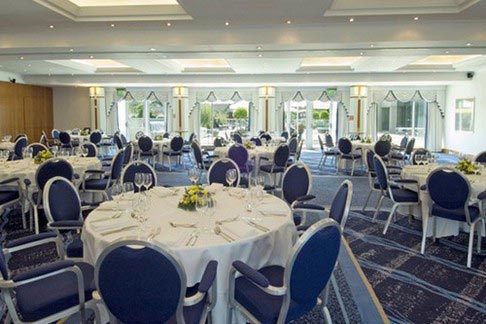 Image Courtesy of: Arora Gatwick/Crawley
The Arora Gatwick/Crawley features 13 meeting rooms with plenty of natural daylight, overlooking the four-storey glass atrium. All meeting rooms are air-conditioned and equipped with state-of-the-art technologies with mood lighting controls, black-out screens, AV equipment and free WiFi. The Longley Suite is the biggest meeting room in the hotel, comprising two separate, soundproofed smaller rooms which can join to create larger spaces, ideally for big conferences and seminars. The room features built-in back projectors, remote console, and surrounding sound system.

Meeting Facilities
13 Air-conditioned Meeting Rooms Hire
A/V equipment
Free WiFi access
Built-in projectors, remote console available in some rooms
Are you impressed? Book meeting rooms in the Arora Hotel Gatwick now.
7. Meeting Rooms in Copthorne Hotel Effingham Gatwick - Top Quality with Elegant Design
With the history that dates back to 1841, the Copthorne Hotel London is the hidden charm in the rural area of West Sussex. Overlooking 100 acres of tranquil woodland, the hotel offers 227 guest rooms and 11 meeting rooms. Besides, the hotel boasts high-class facilities are also included, with a fitness centre, swimming pool, squash courts and beauty houses.


Image Courtesy of: Copthorne Hotel Effingham Gatwick

For large conferences and seminars, the Copthorne Hotel Effingham Gatwick offers the Millenium Conference Centre, which can commodate a maximum of 700 delegates in a banquet and 800 delegates in the theatre style. Together with the Wellington Suite (max. of 120 delegates) and The Bentley Suite (max. of 150 delegates), these three spacious rooms can accommodate everything from seminars to exhibitions, from workshops to Dinner Parties. In addition, there are ten other smaller meeting rooms with the maximum capacity ranging from five to 70 delegates. The meeting rooms have plenty of natural daylight. Alongside with the elegant design, they will definitely impress your meeting guests.

Built on a historic land in Gatwick, there are very much to see and do in the surrounding areas. The local attractions such as The Hawth Theatre, The Bluebell Railway, The British Wildlife Centre are just around the corner. Also, the hotel provides sports facilities for all guests to play and relax before and after the meetings. Only 10-minute drive from Gatwick International Airport, Copthorne Hotel Effingham Gatwick is another excellent option when you search for meeting rooms & venues in the area.

Facilities
11 Meeting Rooms Hire
Natural Daylight
Overhead projectors
A/V equipment
Multifunctional lighting
Want to discover the hidden charm of Gatwick? Book meeting rooms in the Copthorne Hotel Effingham Gatwick now.


---

Over To You
There you have it. These 7 excellent venues definitely impress us with the lovely decor, high quality facilities, and dedicated services from the meeting staffs. We hope that you have the same experiences like we did in your next meetings. If you'd like to look for more options, take a look at our full inventory of meeting rooms and meeting packages available near the Gatwick Airports.
If you are planning to hold meetings in London, search the available meeting rooms and meeting packages now to have the best deals.
Find out other offers for meeting rooms and packages in some polular areas in London
---