Frankfurt is the fifth largest city of Germany and its airport, Frankfurt International Airport is the 4th busiest airport in Europe, welcoming more than 60 million passengers in 2016.
The city is also home to some of the world's leading financial centres such as largest stock exchange. On the other hand, Frankfurt has an amazing and lively social scene with busy nightspots, excellent restaurants and local attractions.
Now you can see why we think that Frankfurt is one of the top meeting destinations. Join us and discover 6 convenient Meeting venues near Frankfurt Airport that offer easy access to and from Frankfurt International Airport.
You might also like:



Park Inn by Radisson Frankfurt Airport Hotel - Convenient meeting space for any type of event 
Park Inn by Radisson Frankfurt Airport Hotel is a modern 3-star hotel, which is located near Frankfurt Airport, 1.6km to be more precise. The hotel comes with 209 guest rooms with LED TV and Wi-Fi coverage. The venue also offers a shuttle bus service for guests to and from the airport. Time for a break? Enjoy seasonal dishes and special grilled food at the hotel's RBG Bar & Grill, with local beer and cocktails.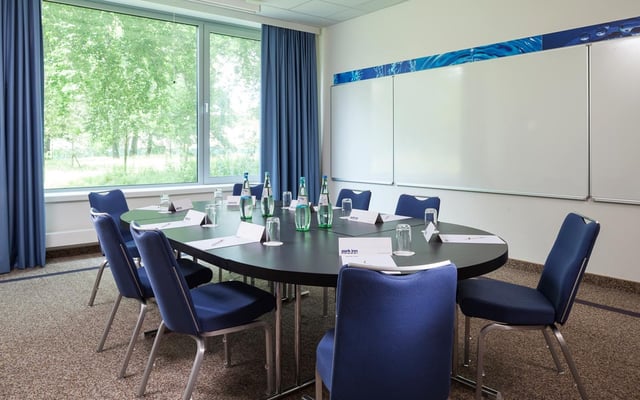 Image Courtesy of Park Inn by Radisson Frankfurt Airport Hotel
Discover 4 dedicated meeting rooms, perfect for both small and large events as well as a business center. The meeting rooms can accommodate a maximum of 70 delegates with natural light facility and equipped with all the latest technology such as audiovisual equipment.
Facility:
Latest audiovisual equipment
Natural lighting in all rooms
Photocopying and fax service
Wireless High-speed Internet included
IntercityHotel Frankfurt Airport – Top notch event space and perfect location
IntercityHotel Frankfurt Airport is a contemporary 4-star hotel, situated just next to the Frankfurt Airport, 3.7km to be exact. Local attractions can be easily reached and the Convention centre is just 15 minutes of driving distance away.
The venue offers 360 classically furnished guest rooms including TV and a modern bathroom. The hotel has their own restaurant called Fluggi restaurant, where international cuisine and fine wines are served (just what most of us could need after a long meeting day). Due to the perfect location of the hotel, many local attractions can be reached within a short time. For instance, St. Paul's Church, Frankfurt Cathedral and the Museum of Modern Art can be reached within 8-10 minutes.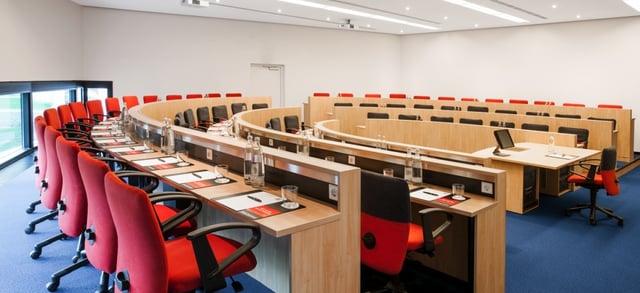 Image Courtesy of IntercityHotel Frankfurt Airport
The hotel offers 14 flexible meeting rooms and all of them have natural light facility and high quality video conferencing system. Accommodating up to 180 delegates, each room is air conditioned.
A professional service team is always on standby for the greater output of guests' events and meetings.
Mövenpick Hotel Frankfurt City - Great choice for travelers and business individuals
Mövenpick Hotel Frankfurt City is a modern 4-star hotel and is situated in the centre of the city, making it easier for guests to get access to the old city of Frankfurt. In the hotel, you will find 288 contemporary rooms, a fitness centre and private restaurant and bar which are open all day long for hotel guests. The great location of the hotel allows guest to visit some of the top local attractions such as the Congress Center Messe Frankfurt, the Senckenberg Museum, and Palmengarten. All of these attractions are within 20 minutes of walking distance. Don't worry, you are never far away from Frankfurt Airport since the hotel is only located about 10km from the airport.
Image Courtesy of Mövenpick Hotel Frankfurt City
In need of a bigger meeting space? The hotel offers 12 flexible and well-furnished meeting rooms, all with natural light facility. The largest room can accommodate a maximum of 200 delegates.
Facilities:
· Air-conditioning
· Break out room(s)
· Coffee break area
· Disabled access
· Flip chart
· Large windows
· LCD projector and screen
· Lectern
· Mini bar
· Onsite Technical Support
· Natural light
· Pillar-free
· Possibility for exclusive hire
· Soundproof
· TV screen
· Black-out curtains / blinds
Hotel Concorde - Dedicated meeting space and delicate designs
Hotel Concorde is a 4-star boutique hotel, situated across from the main railway station. Also, Frankfurt Airport is about 10km away from the hotel. The venue has 45 guestrooms, a business centre and provides Wi-Fi coverage all over the hotel. Due to the hotel location, some local attractions such as the Maintower, the Frankfurt Opera House and the Staedel Museum are all within 15 minutes of distance.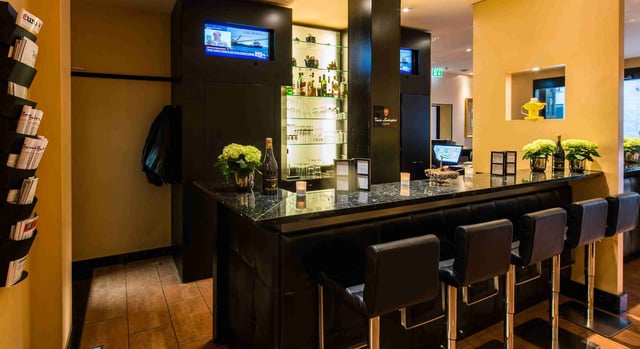 Image Courtesy of Hotel Concorde
The hotel offers two different meeting spaces: one conference room and a business center for private office usage. Accommodating a maximum of 12 delegates, the conference room has all the necessary meeting equipment.
Facilities:
· Computers
· Printers
· high-speed internet connection (DSL)
· Mobile beamer
· Screen and flipchart.
· Data projectors
· Video equipment
· Laptops
Kempinski Hotel Frankfurt Gravenbruch - A touch of nature & luxury to your meeting rooms
Kempinski Hotel Frankfurt Gravenbruch is located in the middle of a green oasis and only 13km from the International Airport Rhein-Main. Discover 225 luxurious guestrooms and 3 private restaurants. The hotel has also both an indoor and an outdoor pool, a fitness centre, a beautiful garden and provides Wi-Fi coverage throughout the hotel. Some of the closest local attractions are the Staedel Museum, the Schirn Art Museum and the Romerberg, which are all only 5 minutes away.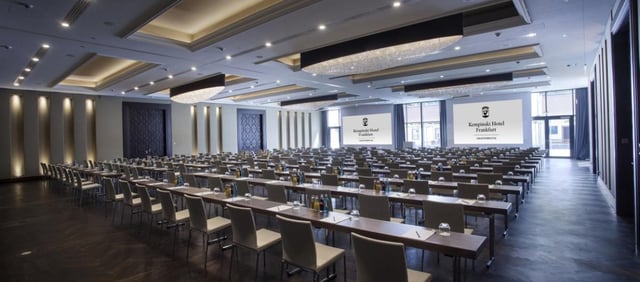 Image Courtesy of Kempinski Hotel Frankfurt Gravenbruch
Choose from 18 conference rooms, spread over two floors. Several rooms can accommodate up to 500 guests in a cocktail layout for large events, whereas other rooms have a maximum capacity of 6 people with a board room layout when in need of more private sessions.
Jumeirah Frankfurt - Elegant meeting spaces
Located in the heart of the city, Jumeirah Frankfurt is an elegant 5-star hotel, situated just 11km from the airport. Find out more about this hotel and its 217 exclusive guestrooms, indoor pool, fitness centre, private restaurants and airport shuttle bus service for guests. Guests can also visit nearby local attractions such as the Zeilgalerie and the St. Paul's Church, which can be reached within 2-6 minutes.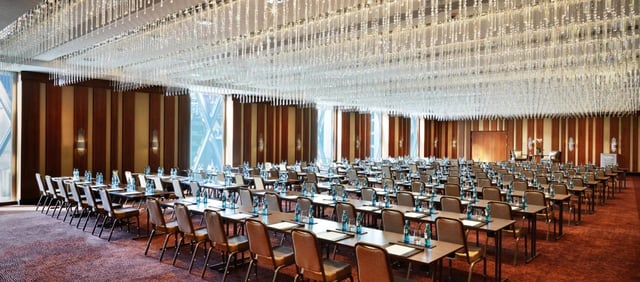 Image Courtesy of Jumeirah Frankfurt
Jumeirah Frankfurt offers 4 versatile event spaces with a total of 730m2 and with a maximum of 50 delegates for the event rooms. The venue can also arrange their event space for non-corporate events as well.
Facilities:
Impressive function room with crystal chandelier
Built-in projector and screen
Built-in LCD flat screen
Flip chart