Three excellent meeting facilities in Gdansk, Poland. The Best Tips from MeetingPackage.com

When planning your meetings, how often have you realised that the total expense does not fit into your budget? Dear meeting planners, we have a solution - we offer transparent prices for a variety of meeting space in Gdansk. There is a reason why Gdansk is called "the sea of possibilities", with its range of high-quality hotels, historic architecture, shopping malls and restaurants.
If you have decided to host your meeting in Gdansk, congratulations – it was an excellent choice! The city is full of historical landmarks and monuments throughout over 1000 years of history, the cradle of solidarity with the third biggest airport in Poland – Lech Walesa Airport, located only 10 km away from the centre of Gdansk.
Let us help you to maximise the experience of your clients by providing world class meeting venues within your budget. Surprise your customer and organise your event by the beach at the Baltic Sea or in the heart of the historic Old Town by the river Motlava.

Let's discover the best options.
1. Hotel Sadova Gdansk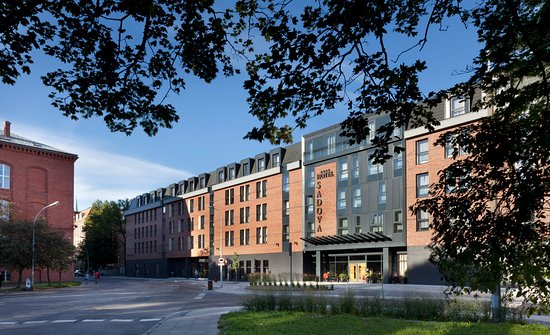 Courtesy of: Hotel Sadova****
Hotel Sadova**** resides in the very centre of Gdansk. Its convenient location enables guests to reach the Old Town on foot in 5 minutes, and the Gdansk Marina in 3 minutes. The venue provides fast, generally accessible free Wi-Fi throughout the premises. Moreover, there are 164 soundproofed rooms for business travellers to work in comfort. All three conference rooms with maximum of 130 delegates, are located on the ground floor, air-conditioned and filled with daylight. There are projectors, screens, flipcharts, microphones, and sound system included in the room rental price.
Other perks include saunas, fitness room and an indoor pool.
Book meeting rooms in Hotel Sadova Gdansk with MeetingPackage.com
2. Golden Tulip Gdansk Residence
Courtesy of: Golden Tulip Gdansk Residence****
Golden Tulip Gdansk Residence**** is located right by a long, sandy beach, close to both the Gdansk Old Town and the Sopot pier. This four-star hotel provides top-notch conference facilities with four fully equipped meeting rooms, featuring PA system, screens, multi media overhead projectors, and other meeting necessities. The total capacity of the meeting rooms is 200 people, and the space is adjustable to individual needs thanks to soundproof, sliding walls. Stayover meeting guests can find comfort among 195 spacious rooms, equipped with kitchenettes, as well as premium rooms with usable mezzanines. Other amenities in the premises include Wellness & SPA centre with a swimming pool, Jacuzzi, dry sauna, steam bath, and SPA parlours.
Book meeting rooms at Golden Tulip Gdansk Residence with MeetingPackage.com
3. Radisson Blu Hotel, Gdansk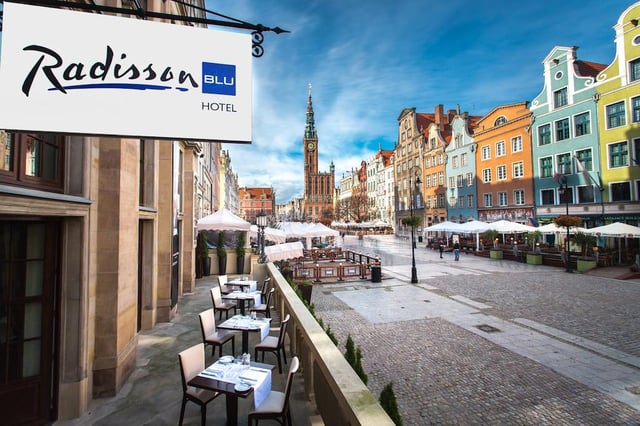 Courtesy of: Radisson Blu Hotel****, Gdansk
Radisson Blu Hotel****, Gdansk is situated in the historical Old Town and offers 134 modern rooms and suites which will guarantee guests the utmost comfort. But once you set foot inside, you would have a pleasant surprise with the contemporary style interior and modern amenities provided by the hotel, such as free high-speed, wireless Internet available throughout the premises. For meetings, The Radisson Blu Hotel, Gdansk presents two functional meeting rooms and one large banquet room which can host up to 200 people. Each meeting space features natural daylight and unbeatable view to the historical Old Town. In addition, meeting necessities such as print, copy, and fax services are all available in the business corners.
Book meeting rooms in Radisson Blu Hotel****, Gdansk with MeetingPackage.com
Do these options sound like a good plan to you?
All three above venues share the same benefit of having dedicated event staff. They are well-trained to handle meetings and events and can respond to your clients' needs rapidly at any hour of the day. Moreover, we understand that size of the rooms does matter, that is why we recommend venues which have enough space for networking and social interaction. Let's not forget about the flexibility of different configuration of breakout sessions. All we want is to make your meetings more efficient and help your delegates to feel well-taken care off. Therefore, the location of the above hotels allows access to dining and evening social activities at a variety of price ranges.
Welcome to Gdansk, the sea of possibilities!

Check out our other excellent blog posts about meetings:
10 Questions Every Manager Should Ask In One-On-One Meetings
5 Reasons to Hold Your Meetings in Singapore
5 Reasons to Hold Your Meetings in Italy