BERLIN - not only the capital of Germany but also a city with numerous facets.
From cultural highlights to culinary experiences... everything united in only one place. You can make so many memories right there. Take a stroll through this beautiful city and experience the feeling of its imposing uniqueness. You will see that the city will captivate you with its many impressive impressions. So it is no coincidence that this historic city has a visitor count of 1,1 million people in 2018!
So why not have your next meeting in Berlin? This could be one of the best ideas for making your meeting a huge success. In the center alone, there are so many unique and extraordinary venues that are made for you.
Just imagine... arriving at Tegel Airport, one of the largest airports in Germany. The connection to the city center is unbeatable. Take the bus 128 towards U Osloer Str. and then change to the underground line 6 towards U Alt-Mariendorf (Berlin). It takes you just about 30 minutes! You can also take a taxi and enjoy the 25 minute ride and collect the first impressions of this unique city.
Be inspired by a few peerless and exclusive event rooms!
1. Steigenberger Hotel Am Kanzleramt -
A Venue that is as High-Quality as Your Business
Then let yourself be taken to the luxurious and sophisticated Steigenberger Hotel Am Kanzleramt. In addition to upscale hotel rooms, it offers you 12 exclusive meeting rooms accounting between 5 and 230 guests - tailored to your individual needs. Almost all options are offered to make your meeting according to your wishes and needs. You do not want hospitality, but you wish to conclude the event with a nice dinner? No problem. You will also find in this hotel a first class restaurant with a particularly nice atmosphere.
See for yourself, which of these lushly event rooms suits your wishes:
2. Soho House Berlin -
Be Inspired by this Attractive, First-Class Venue
Or may it be something more creative and newfangled? Then the Soho House Berlin could be something for you. It is located right next to the Alexanderplatz, which is just a few walking minutes to the famous TV tower. This hotel is chic and trendy at the same time. The meeting venue hosts events ranging from small-group meetings like interviews to large events. The rooms can accommodate from 5 to 400 participants. The Soho House Berlin is particularly inviting for your guests' stress-free journey as it is not only close to the subway, but also to the airport. If you want to travel by car, there are plenty of on-site parking spaces available.
Click through the unique and different venues and see for yourself:
3. Berlin Congress Center - A Venue as Big and Sought-After as the Success of Your Meeting!
But maybe you are longing for something bigger and more pompous? Then the Berlin Congress Center is just right for your pretentious meetings. This magnificent building already impresses from the outside and attracts with its roof, that stretches in a wide and high arc over the auditorium. These spaces will not disappoint you, just enter one of these rooms and you will be convinced! Choose from 20 rooms where between 2 and 1000 participants can join your event. With this conference location, you are sure to make your meeting to success.
Just pick one of these great rooms:
4. The Ritz-Carlton, Berlin -
Let Your Meeting Take Place in a Location which Fulfils all Your Dreams and Aspirations
How about a meeting in a hotel so classy and unique that your meeting attendees will remember it for a long time? Then The Ritz-Carlton, Berlin is just perfect for you! The 12 classy meeting rooms with the associated service will exceed the expectations of you and your 5 to 900 participants. Also enjoy the breathtaking view over Berlin next to your often exhausting meetings in order to find your balance. It invites by its proximity to various attractions, to explore the city better.
It can be so easy and comfortable to have a good meeting:
5. Hotel Novotel Berlin Mitte -

The Ideal Starting Point to Explore the City after Your Meeting
With a location directly between Potsdamer Platz and Alexanderplatz, the Hotel Novotel Berlin Mitte is only a stone's throw away from numerous historical monuments. With an amount of 7 meeting rooms, the hotel is perfect for business events or private functions for up to 280 people. Do you plan a meeting in a smaller circle and would like a good connection to the public transport? Then this sophisticated event venue is definitely the perfect choice for you!
Look and get an own impression of this amazing location:
6. Kempinski Hotel Bristol Berlin -

An Exquisite and Luxurious Place for Your Upcoming Event
Not only the location convinces many guests but also the first class service of the Kempinski Hotel Bristol Berlin leaves an impeccable impression. It offers 10 different excellent meeting rooms available for you to book - for 2 or up to 500 participants. Whether small events or large meetings for banquets, you will be accompanied professionally guaranteed. The venue is in the heart of Berlin, so you can reach it by train or by other public transports easily.
Offer your guests only the best:
7. Hotel Palace Berlin -

Let the Highest Quality Lead to the Success of Your Meeting
With a very large selection of high-quality conference venues, the Hotel Palace Berlin is at your disposal. You can choose between 32 different meeting rooms that are ideal for you and your meeting. Can it be something comfortable? Then the fireplace room is an ideal meeting room to radiate warm and positive atmosphere. But other state-of-the-art or very chic event rooms are convincing in every respect. This property is so centrally located that you can visit a lot of sights around Berlin on foot within only a few minutes!
Browse through the variety of different and first-class meeting rooms:
8. TITANIC CHAUSSEE BERLIN -

This Name is Program, a Hotel for Noble and Exclusive Claims
"Think big and go big" is literally guaranteed in the hotel TITANIC CHAUSSEE BERLIN. So you are planning a big event in the middle of Germany's beautiful capital? Than you're surely in the right place at this venue. This location offers meeting rooms for 5 to 1450 people. This is one of the largest function rooms in the center of Berlin. With these large and lavishly furnished rooms you will certainly have success in your meeting.
Take a look and see for yourself:
9. Sheraton Berlin Grand Hotel Esplanade -

Let Your Meeting Room Play a Central Role in a Well-Known Place
The Sheraton Berlin Grand Hotel Esplanade is very easy to describe in a few words...elegant, exclusive and exquisite. The 12 different rooms invite you to your next meeting. It is not easy to decide between the rooms, as each one guarantees a successful meeting with its upscale and well-equipped interior. The modern meeting venues welcome groups from 2 to 210 participants. It is ideal from small board meetings to large corporate events. In the middle of Berlin, more precisely near the Kurfürstenstr. directly on the Landwehr Canal, the Sheraton is perfect for more than just a meeting with your special guests.
Get an impression of this thoroughly exquisite hotel:
10. Hotel MANI -

Small But Nice and Very Elegant for a Clear Number of Participants
If you are looking for a very elegant and stylish meeting room, Hotel MANI is the place to be. It impresses with a clear and refined atmosphere with a number of participants from 2 to 65. In the 5 rooms high quality and the well-being of your guests are respected. Due to its location near the Alexanderplatz you can catch the view of the TV tower. After a successful meeting, you can indulge in a culinary dinner in the hotel's own restaurant and let the evening fade away.
Choose one of these 5 great rooms, which meets your needs:
11. Hotel am Steinplatz, Autograph Collection -

An Impressive Location Tailored to Your First-Class Needs
The Hotel am Steinplatz, Autograph Collection offers you a stylish mix of old and new. It convinces as a particularly refreshingly modern, high-quality botique hotel. Not only the hotel's own restaurant with its award-winning chef convinces but also the unique atmosphere which brings this historic building with it. Enjoy the offered 2 locations for your 2 to 45 participants far beyond your meeting and be accompanied by professional service.


Just make sure yourself:
12. Hotel de Rome -

Feel a Bit History with Your Meetings
Go on a historical journey through time in the magnificent building of the Hotel de Rome. It is one of the most fascinating buildings in Berlin, known for its high standards and achievements. This unique location offers you, in addition to exceptional hospitality, a first class restaurant, free parking in the immediate vicinity and first class amenities. You can choose from 7 different venues, from the ballroom, where you can receive 100 to 230 guests, or smaller, sumptuous rooms, such as the salons, which can accommodate from 5 to 42 people.
Convince yourself of the beauty of this building:
Still not satisfied with Berlin's diverse event possibilities? Berlin has a much wider selection of luxurious and exclusive conference venues to offer. Take your time and look for the perfect location you have been looking for so long...
Berlin has much more to offer than just exclusive meeting rooms. Enjoy the stay and experience the capital of Germany in all its facets!
Make your stay in Berlin complete with exciting and beautiful memories. Imagine having more to experience together with your participants after your arrival in one of these great venues and a successful meeting. Enjoy the night in your hotel and rest from the many influences. The next morning you can really enjoy the beauty of Berlin. Have breakfast in your hotel or go to one of the numerous cafes for a culinary adventure or to the famous Café Panoramapunkt with a beautiful view over the city. Take your time and start the day in peace!
Afterwards, the city must be explored. Start from the main train station with one of the many S-Bahn lines in the direction of Berlin Ostbahnhof to admire the East Side Gallery and to marvel at a piece of the Berlin Wall and thus a piece of German history. Walk along the artworks and let it take their toll.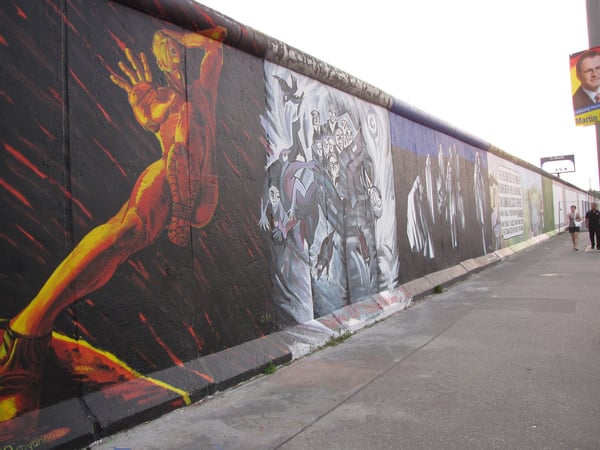 Then drive from Schlesisches Tor with the U1 towards Uhlandstr. to Kurfürstendamm. There you have a large selection of exclusive shops as well as the Berliner Zoo. KaDeWe is Berlin's most famous shopping center, home to numerous shops and delicatessens. As you know, a lot of shopping and sightseeing makes hungry... Therefore we've got the perfect place to go on a culinary journey. Find yourself one of of the numerous restaurants from the Kurfürstendamm lined up and treat yourself to a break. With refreshed energy you continue to the Kaiser Wilhelm Memorial Church. The sight of this church and its history speaks for itself.
From Breitscheidplatz take the bus 100 direction Alexanderplatz to the Reichstag. Here is the seat of the German Bundestag and it is one of the most visited attractions in Berlin. Especially the glass dome impresses with its magnificent sight. Here you can also take part in a guided tour to learn more about the Reichstag.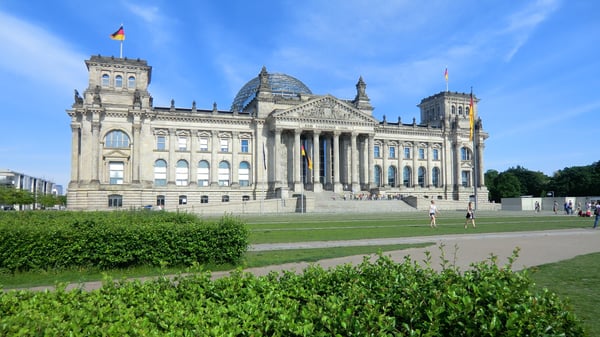 The last stop on this exciting and inspiring day is the Brandenburger Tor which you can reach on foot from the Reichstag. The landmark of Berlin impresses especially at sunset, when the last rays of sun shine between the pillars and flood the Pariser Platz with its special character. With this great impression your day in Berlin ends. At a beautiful dinner, you can process the many impressions and review the last days.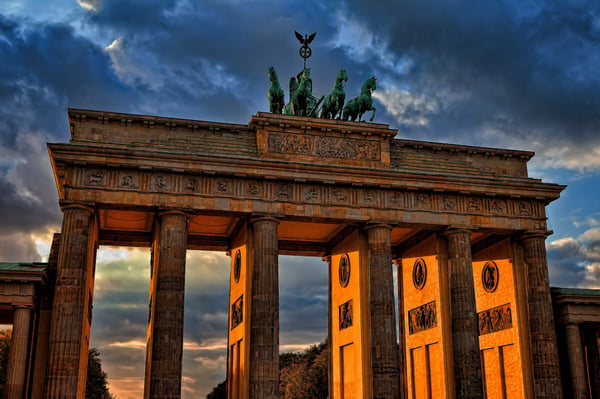 There is a variety of more possibilities...
Berlin convinced you and you want to see more of Germany or Austria and Switzerland? No problem with MeetingPackage you will find a variety of first-class and exclusive meeting rooms!