These days, more and more seem to go into planning a meeting that's not just your average weekly team meeting. Beyond carefully crafting together a list of attendees after deciding on the size of your meeting – or event – you have the important task of setting the mood and tone of the meeting just right. No longer does it cut it to rent any meeting room with white walls and comfortable leathery chairs, but the style and presentation of the meeting space is vital for forming the ever important impressive first impression on whichever business partners you are seeking successful cooperation with. This fact can easily make arranging an event, however big or small, a stressful feat to an organizer. Thankfully the world is full of great meeting rooms, where functionality meets beauty.
Svostrup Kro – Silkeborg, Denmark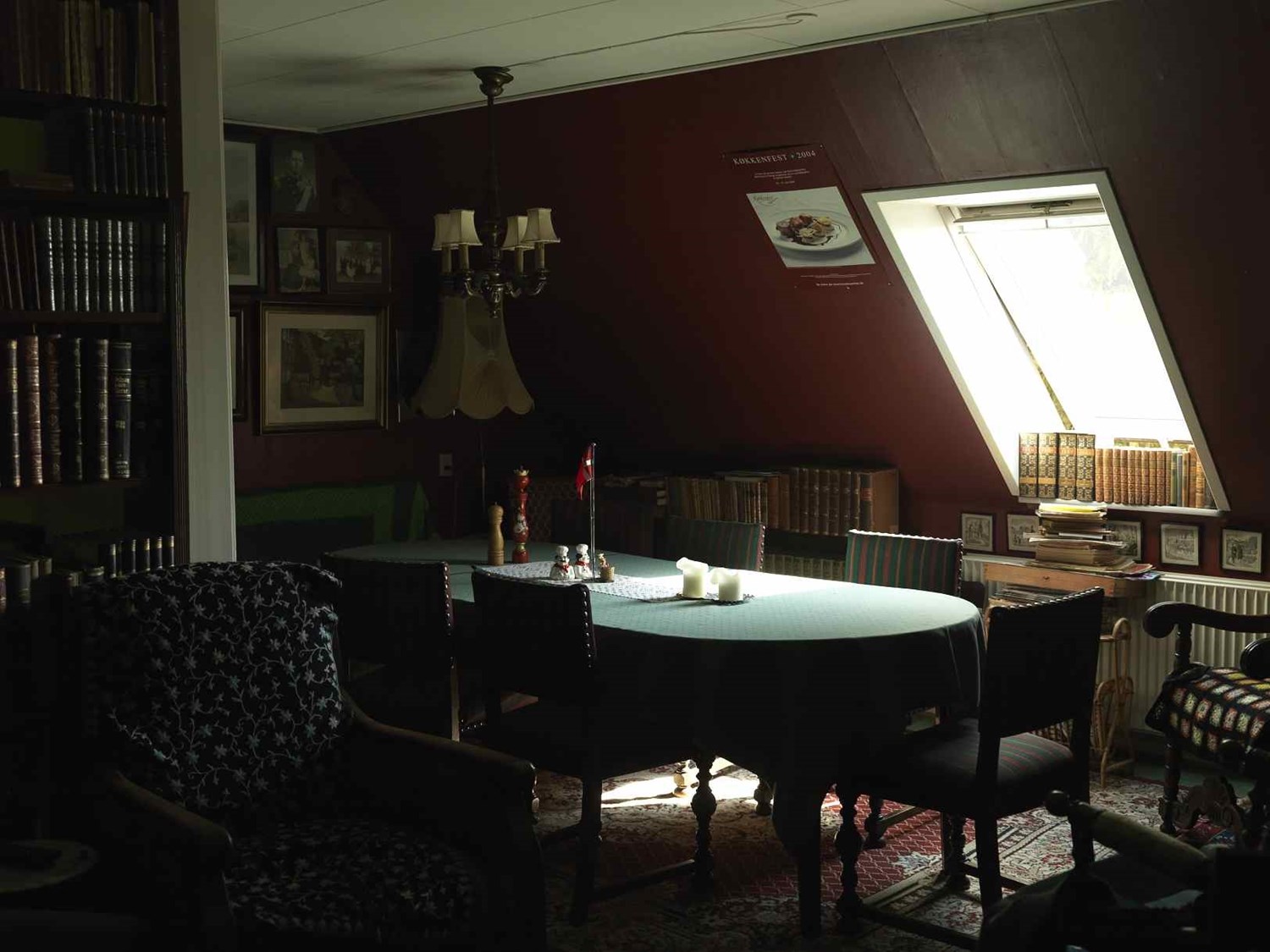 Here you'll have 5 meeting rooms to choose from, all of which have been decorated with attention to detail, turning each room into one filled with charm and nostalgia of the previous centuries. The meeting rooms at Svostrup Kro are perfect for both small and intimate and bigger and diverse business meetings, as well as seminars and conferences where the attendee list is capped at 100. If you want your seminar, conference or meeting to end with a celebration in the form of a cocktail or a dinner event, the venues at Svostrup Kro are especially equipped in style to fit your wishes. The personnel of Svostrup Kro are talented and experienced, promising to take care of the practicalities so that you and your attendees can focus on the important aspects of the business you're conducting, and in case you are interested in offering your attendees a presumptuous meal or snack, catering services are available as well.
Naturhotel Reifenstein – Reifenstein, Germany
The meeting rooms at this hotel can be utilized for both boardroom meetings and business retreats lasting a few days. There are 5 different kinds of meeting rooms to choose from, with all of them having been styled in an impeccably inviting fashion. Whomever you wish to invite as an attendee to your event will be impressed by your chosen location and would happily spend a few days of their week there. The smallest meeting room can accommodate up to 12 people, while the largest one can fit maximum 120 guests at once. There are two meeting rooms, one fitting 30 people and the other 45, that are decorated in a more classic business style, perfect for serious meetings such as client meetings, with the possibility of catering. The hall, which can fit 120 people, is excellent for a gala or a conference. Lastly, you might want to finish whichever type of a business event you're having by reserving your guests a fun night at the hotel's dance bar that's also in your disposal for your business meetings and events.
Apollo Hotel Papendrecht – Papendrecht, Netherlands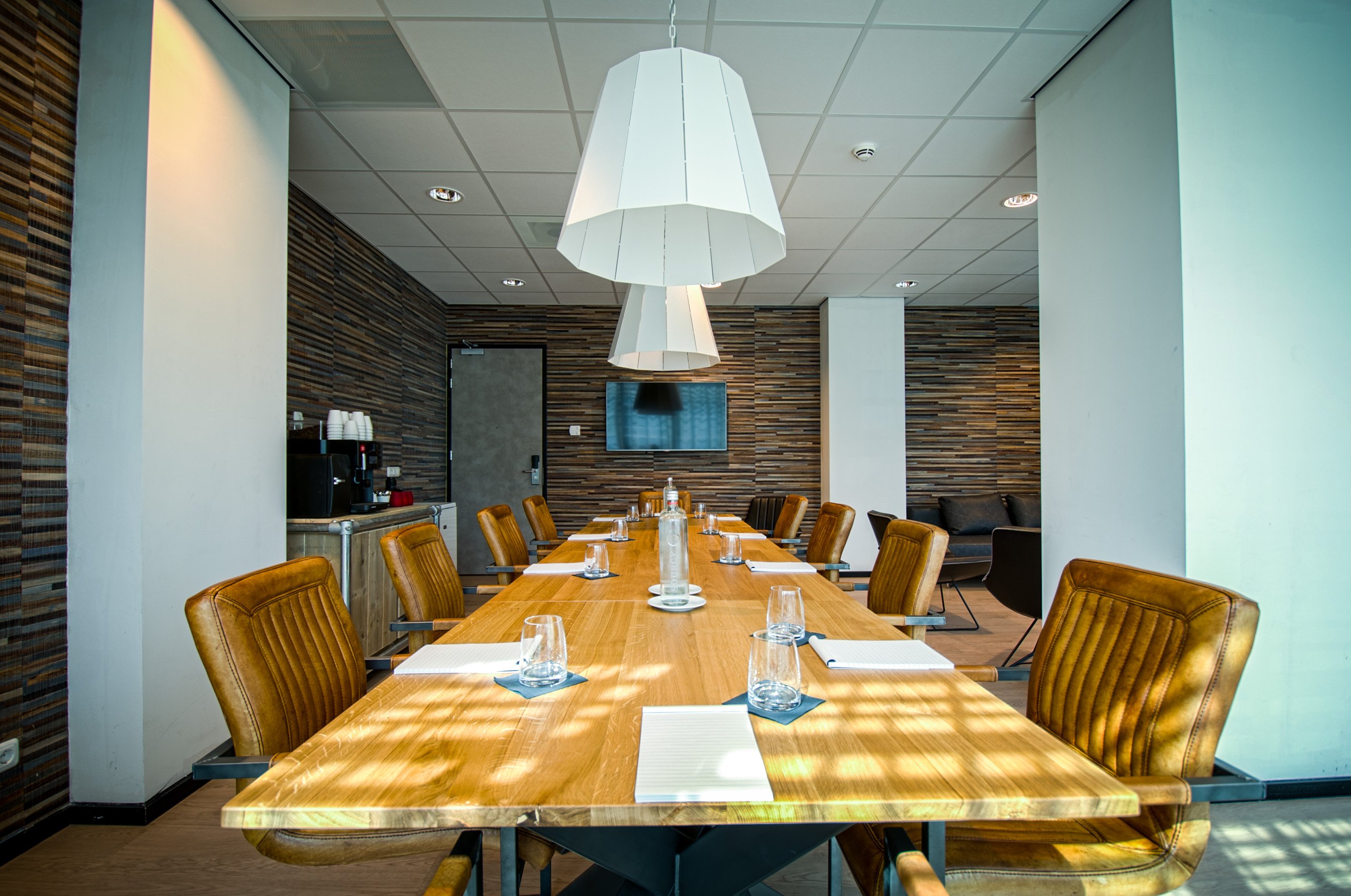 Already the location of the hotel makes it a great choice for a weekend conference or seminar if you wish for your attendees to have an incredible time both in and out of meetings, as near here is where the world famous windmills are located at. Not only that but the hotel's 12 meeting rooms are stylish and creativity inducing, and the facilities are in fact quite perfect to hold a multi-day event, including workshops, in. 9 of the meeting rooms have the capacity for holding a smaller and more intimate business or client meeting of less than 25 people, and for an even tighter meeting for no more than 8 people, there are 3 rooms designed specifically for that purpose. Meanwhile, 11 of the rooms can be perfectly arranged for a workshop-style use. Lastly, 5 of the rooms can host more than 100 people, largest one having the capacity of 350, making your dreams of a big conference possible right here. The largest of the halls also has the ability to hold a 160-guest dinner event.
Best Western Plus West Retford Hotel – Retford, United Kingdom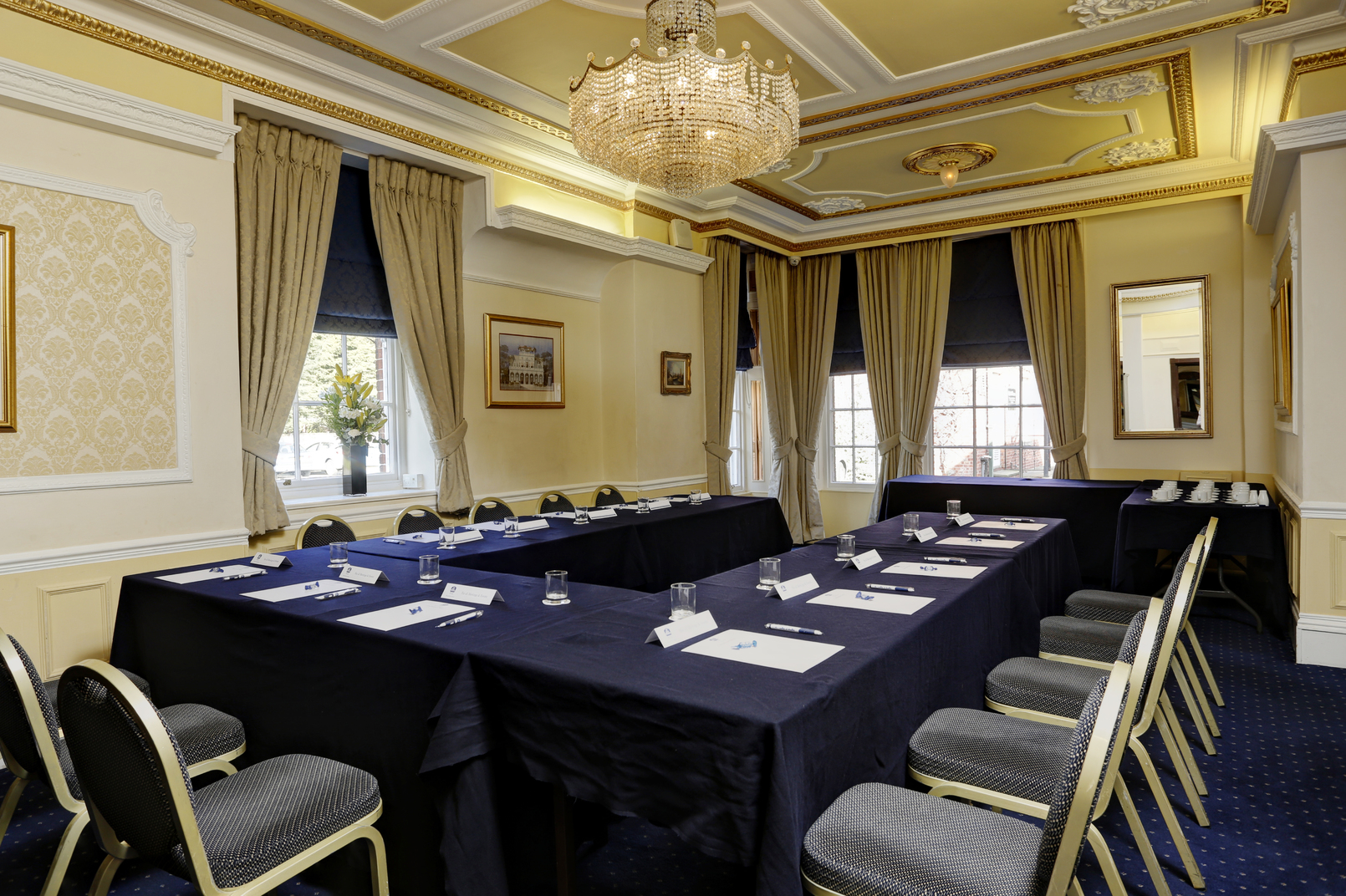 Each of the "suites" aka meeting rooms at the Best Western Plus West Retford Hotel follow the same style and shading of navy blue, making them look professional and stylish in a classic manner where they also don't suffer from having been over decorated to a point where your guests would be too overwhelmed and distracted by the surroundings to focus on the essence of the meeting. Each of the suites are of a different size, with the smallest of the suites ideally fitting just four people, making it one of the most perfect locations for an intimate and private business meeting. Four of the suites are excellent for bigger meetings such as client or boardroom meetings, and the largest one, which has the capacity of accommodating from 160 to 200 attendees, works excellently as a base for a conference or a seminar, and as a cherry on top has a direct access to a patio area as well as the hotel's gardens, where your guests can enjoy their breaks comfortably at.
Scuderie San Carlo – Roma, Italy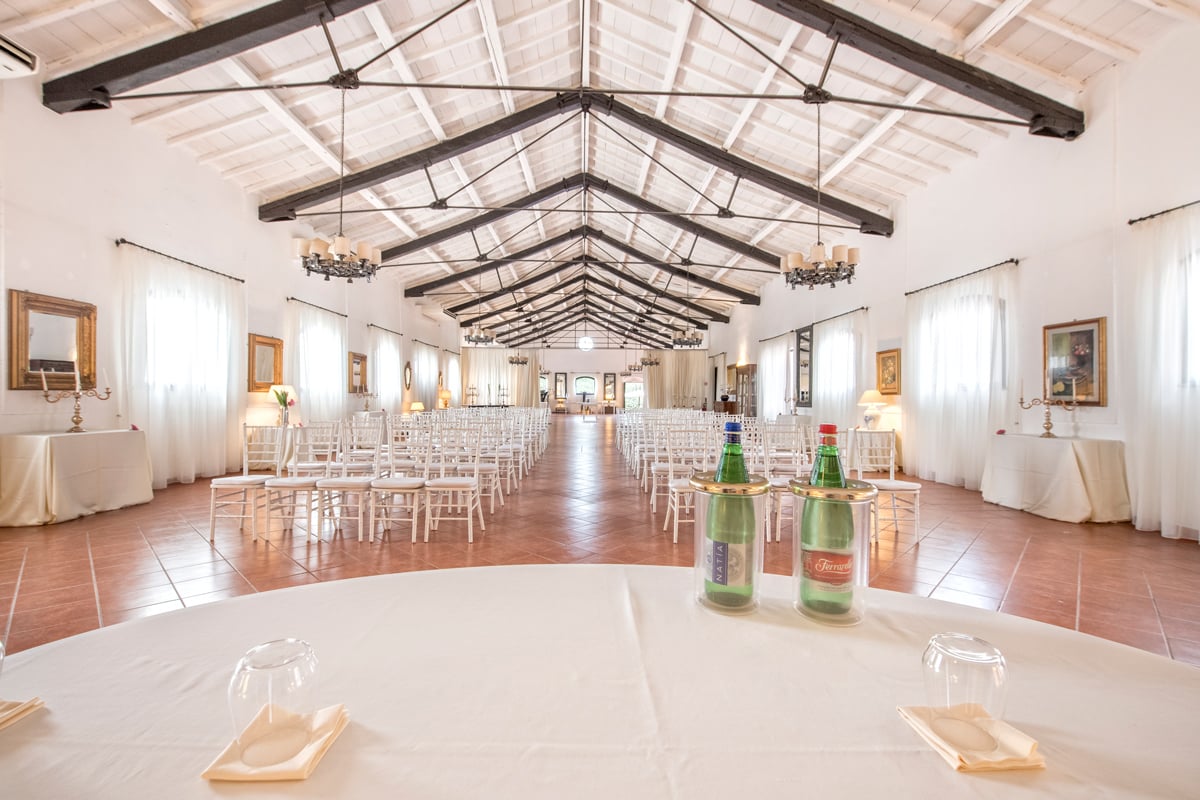 Scuderie San Carlo is a beautiful and charming place to hold many type of business events in. Its main function as a restaurant makes it the perfect spot for an end of the year office party, a gala dinner or another dinner event as a celebration of something special. In addition, with small tweaks you can easily put together an amazing looking convention, seminar or conference here. It can also absolutely be used as a space for board meetings, and you'll surely charm over any prospective clients you invite here for a meeting. Besides just the incredible look of Scuderie San Carlo, you can also trust its food to be of impeccable quality. They use a lot of seasonal produce, and cater to vegetarians, vegans and those with celiac disease as well. It's truly a great package of a beautiful place combined with excellent catering services!
Best Western Golf Hotel Viborg – Viborg, Denmark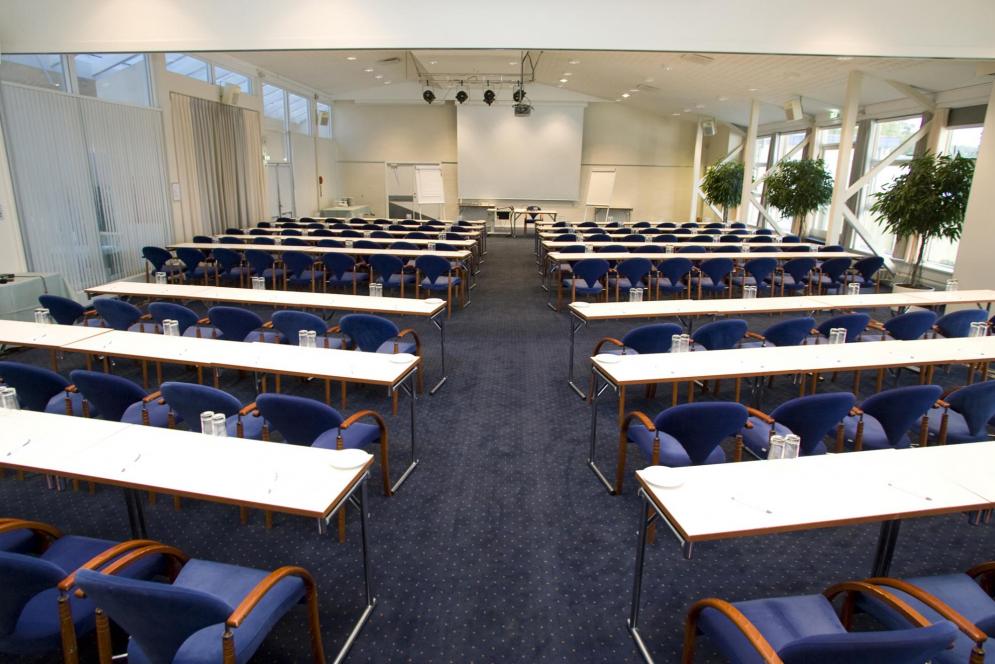 The conference spaces and meeting rooms in this hotel have kept their design and interior simple and minimalistic, but in a way that looks lovely instead of tedious. The inclusion of plants in the space is especially crucial in shaping a positive atmosphere in the room. It's a good location especially for a bigger conference due to the layout and size of its main hall. On the whole, the hotel's minimalistic exterior combined with its proximity to a lake provide a calm and relaxing environment, which in turn can foster positivity and creativity in your attendees. The hotel's dining space, also classically stylish with its design, can be an excellent space to rent out for dining festivities to follow your conference or seminar.
Postillion Hotel Utrecht Bunnik – Bunnik, Netherlands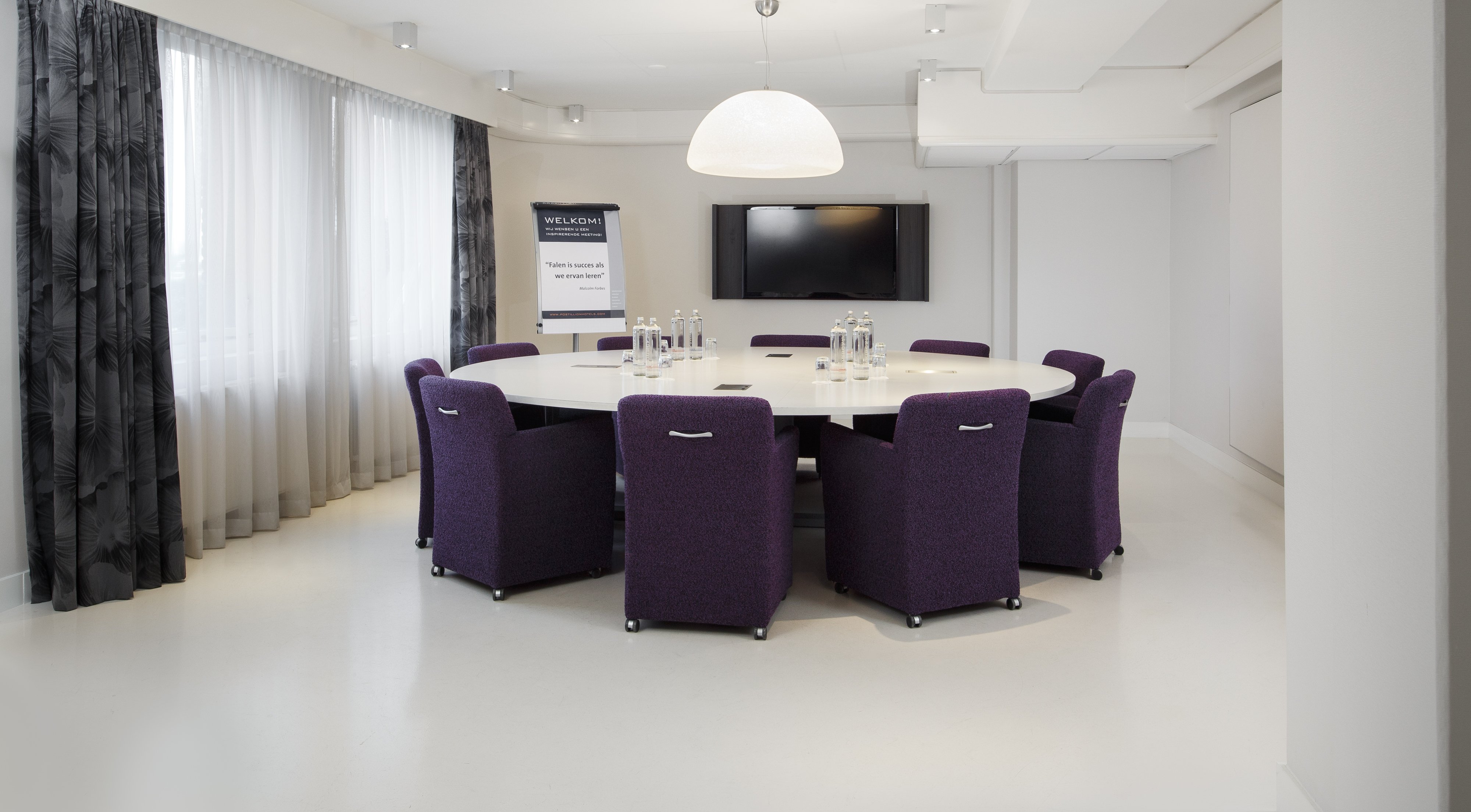 In general, the Postillion Hotel chain's hotels are perfect to accommodate for business, whether you're about to have a small board meeting or a big conference. Postillion Hotel Utrecht Bunnik especially has stylish and classy meeting rooms to hold your intimate business meetings in. Most of the room, from walls to tables, is painted in clear white color, with a touch of black in curtains and a TV screen. This makes the comfortable arm chairs, for which one unified color has been chosen, pop out wonderfully and bring some excitement into what could otherwise be a serious event. This hotel also holds excellent spaces for a big conference, the main hall having the maximum capacity of 500 to 1200 people depending on the room's set up.
Fawsley Hall Hotel & Spa – Northamptonshire, United Kingdom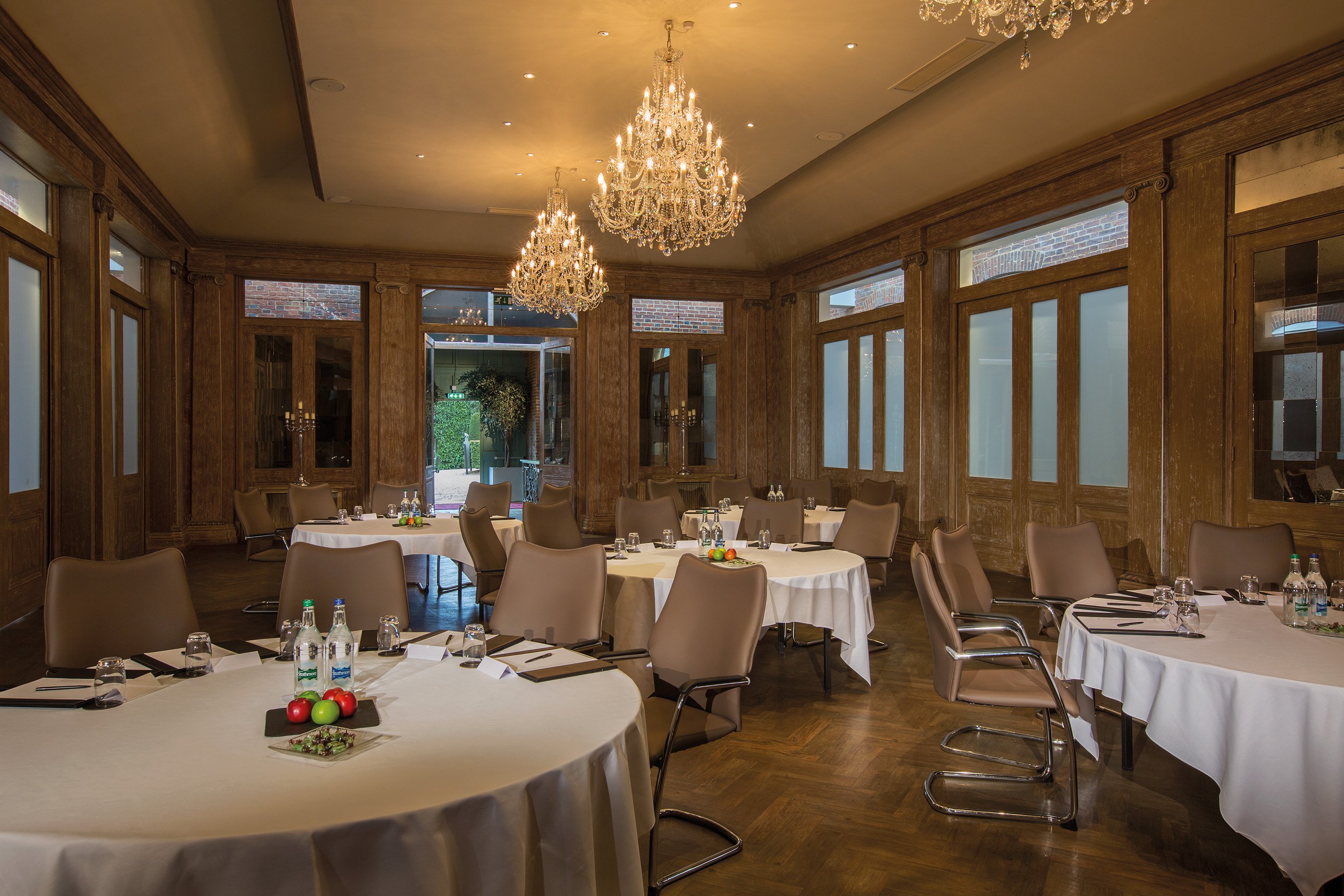 The Fawsley Hall Hotel & Spa has 6 meeting and conference rooms available for booking, all of which are exceptional and exquisite in their design. Using soft lighting and warm colors in the interior has achieved a look with the rooms that is welcoming and cozy, while remaining functional and professional-looking. You can easily arrange dinner galas, conferences, client meetings and corporate events here, with the largest room holding the maximum capacity of 180 people, and two meeting rooms perfect for up to 12 people. In the Knightley Court building, which is adjacent to the main hotel building, you can not only find rooms perfect to hold conferences in, but a bar and lounge space as well as a small cinema that can fit in 29 people. If you choose this location to hold your conference, corporate retreat or intimate business meeting in, you'll be pleasantly surprised by how beautiful, charming and functional the spaces here are.
Hesperia Madrid – Madrid, Spain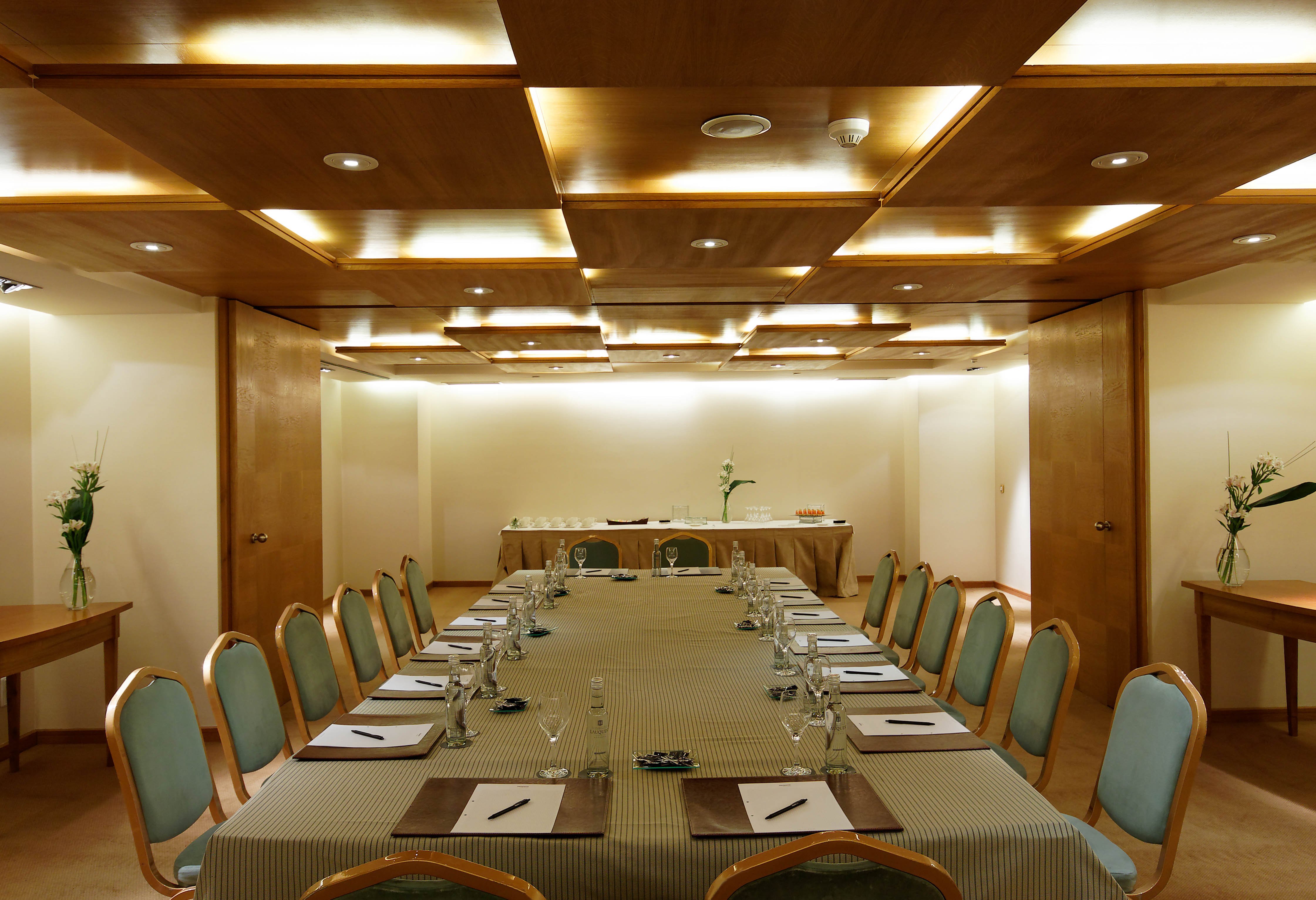 All of the meeting and conference rooms at Hesperia Madrid, big and small, use the same style and color scheme in their interior. Although the colors used are light and muted, their warm tones create a welcoming and inspiring atmosphere. The simplistic layouts and arrangements for the rooms, without too much boasting through accessories, are an excellent choice for your meeting or conference, helping keep your attendees alert and focused. Two of the meeting rooms are perfect for a board meeting or a small workshop, fitting from 5 to 25, and 5 to 35 people respectively. Meanwhile, the smallest of the big halls can host up to 140 people, and by choosing the largest of the halls you can grow your guest list all the way to 550 delegates. Especially for holding a conference or a seminar, these hall spaces are perfect, and in many cases you'll have space for both chairs and tables for your delegates.
H10 Villa de la Reina – Madrid, Spain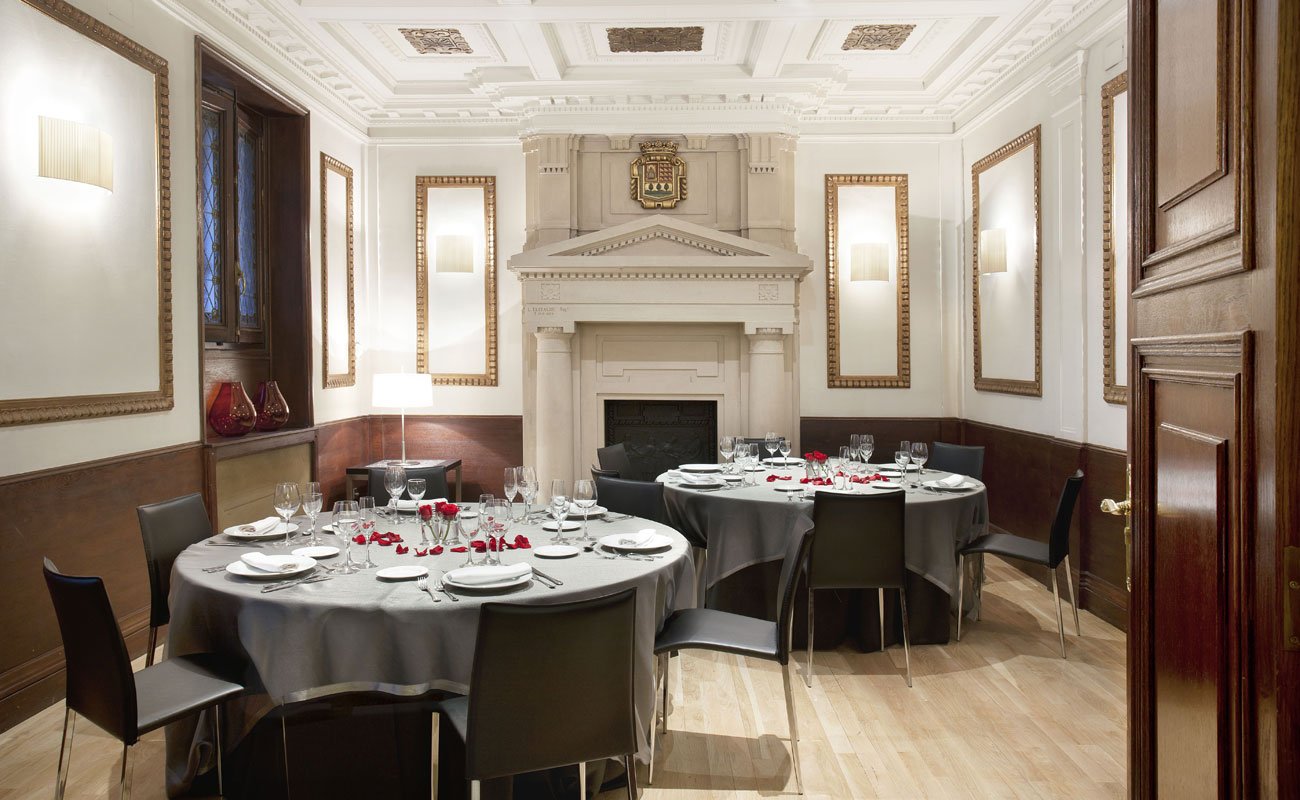 The meeting rooms at this boutique hotel couldn't be a more attractive choice for those wanting to impress their board members or potential clients and partners. Depending on the style you fancy, the meeting rooms are styled slightly different from one another. The largest of the bunch is, with its simple interior, the most ideal choice for a meeting where you want to get right to the core of the business, with no fuss no muss and definitely no distractions. But while simplistic and onto the point with its interior, the dark turquoise panels and doors offer just enough color into the room to take away any threat of tediousness. At its best, this room can hold 50 people, and 24 if you go with a boardroom type of a setting. Meanwhile, the larger of the two small meeting rooms, with its elegant creamy walls and dark wooden panels, and complete with a fireplace and golden frames, is an exceptional choice for warming up and toasting to new clients or partnerships, or even a more intimate meeting between the board members. Capable of holding both a boardroom setting and a banquette setting, each fitting up to 12 people, you'll struggle to find a lovelier and warmer elegant meeting room in Europe.
Hotel de la Ville – Monza, Italy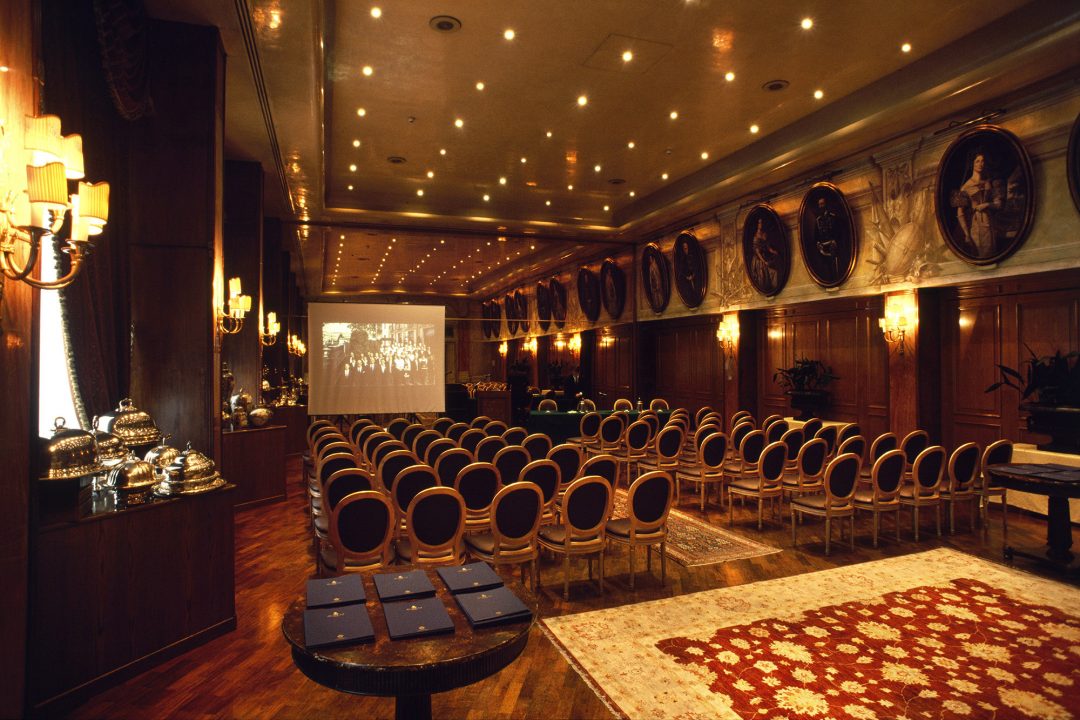 Located between Milan and Lake Como, the location alone of this hotel is magnificent for any type of a corporate event you're thinking of holding. There are 5 conference rooms to choose from, all equipped with the latest technology, and the largest one with a maximum capacity of 180 delegates. Catering is also available for any of these rooms. All of these rooms are also unique in their style and layout. For events where presentations are at the center, they have a gorgeous room filled with dark wooden design all over. For dinner events, however, your best choice is to go with a room that's bright, light and creamy. And for board meetings, they offer an excellent and truly Italian-style room, complete with wall murals.
These are just a few of the many lovely meeting rooms available for you to book for your meeting or event in Europe. Whether you fancy a room that's modern and sleek, or classic and elegant, intimate for your small business meeting, or ambitious for your large conference, you'll be able to find just the right meeting room for your needs. Perhaps you've already found it on this list? Which of these is, in your opinion, the loveliest meeting room in Europe?
---
---
Read also these blogs: