Checkout these excellent meeting venues next to Birmingham Airport
Birmingham is a major international & commercial centre in the West Midlands region of England. During the 1800s, the city has developed into a vital centre of literary, artistic, theatrical and musical activity. Since then, it has been a major point of commercial and tourist spot. Some of the most famous art masterpieces can be found at the Birmingham Museum and Art Gallery, for example.
Birmingham is also a favourite business hub for international visitors. Birmingham Airport is the seventh busiest airport in the United Kingdom. Majority of the travellers are tourists and business people due to the historic attractions and available facilities of this city.
So, for a luxurious stay as well as flexible meeting spaces with fantastic amenities, MeetingPackage.com has picked its top 10 meeting venues.
Holiday Inn Birmingham Airport - Enjoy your classic stay
Holiday Inn Birmingham Airport is only 1.6km away from Birmingham International Airport and 3.2 km from the M42 motorway junction, which provides a classic option for weary travellers. The hotel also offers a free shuttle service for guests to and from the airport or train stations.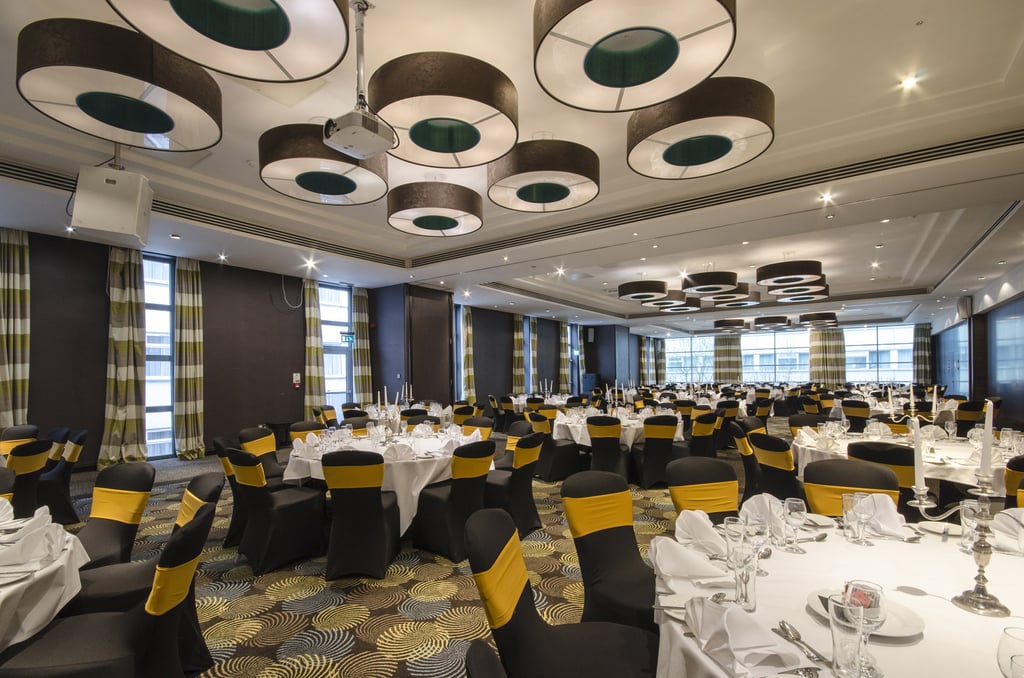 Lancaster Meeting Room - Image Courtesy of Holiday Inn Birmingham Airport
The Aspire conference centre offers 14 exclusive meeting rooms with an average of 600 delegates. A dedicated sales team and experienced operations team will support you to guarantee the success of your event.
FACILITIES
Smoke-Free Facility
Number of Floors: 5
Number of Suites: 7
Number of Accessible Rooms: 5
Connecting Rooms Available
Forest of Arden Marriott Hotel & Country Club- A peaceful and refreshing stay
This luxurious 4-star hotel is only 8km away from National Exhibition Centre and 5.5-minute walking distance from Arena. NEC Birmingham, Genting Arena and other noteworthy attractions are also nearby. Just beside Forest of Arden Bowmen, the hotel holds a perfect location for guests who desire a peaceful stay in a middle of a greenery in a high-end resort.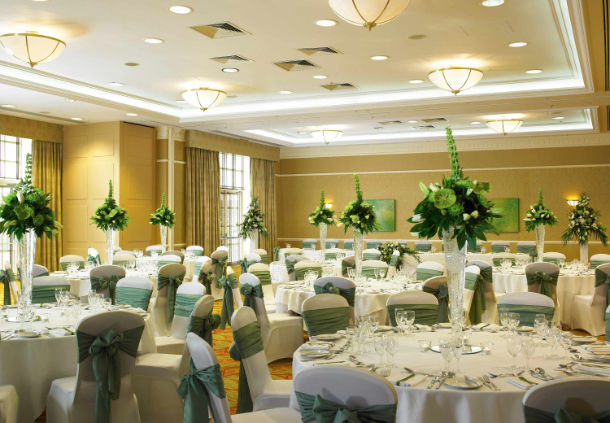 Image Courtesy of Forest of Arden Marriott Hotel & Country Club
Forest of Arden Marriott Hotel & Country Club comes with 18 stylish and versatile meeting rooms with a total space of 11,248 sqft and has a capacity of 350 delegates. The venue provides all types of modern technology needed as well as audiovisual equipment, including microphones, PA systems, lecterns, staging, lighting and technical support that can be hired within 48 hours' notice. Meeting rooms are furnished with built-in drop-down screens, projectors and flipcharts are available on request.
Clayton Hotel Birmingham- Modern meeting rooms for your events
Birmingham Clayton Hotel is only a 5-minute driving distance from M6 motorway and 7-minute walking distance from Bullring Shopping Centre. This hotel is renowned for its modern, stylish and unique design which makes it more attractive.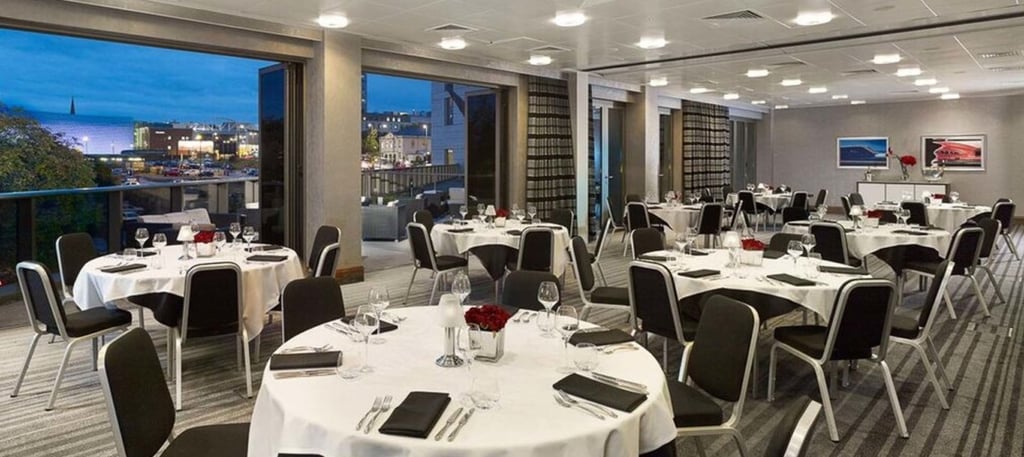 Image Courtesy of Clayton Hotel Birmingham
Clayton offers nine fully equipped meeting rooms on their conference floor for a maximum of 140 delegates. The venue also has an additional informal meeting room on the ground floor with more flexible layouts if needed.
FACILITIES
Optimum internet access
Complimentary Wi-Fi access
AMX touchscreen pad controlling electric blinds, heating and lights
HD screen and audio
DDA compliant induction loops
PA system & microphones
Air-conditioning
Wireless printers
Touchscreen telephone
Flip charts & stationary
Water coolers
Business lounge
Bar for evening functions
New Hall Hotel & Spa- Convenient and flexible meeting spaces for business
New Hall Hotel is considered to be one of the oldest architectural pieces of history. It was originally built by Earl of Warwick as a hunting lodge in the 13th century which is only a 3-minute walking distance away from Sutton park of Birmingham. Experience modern British hospitality and enjoy the prime location of this venue at only 13 km from central Birmingham.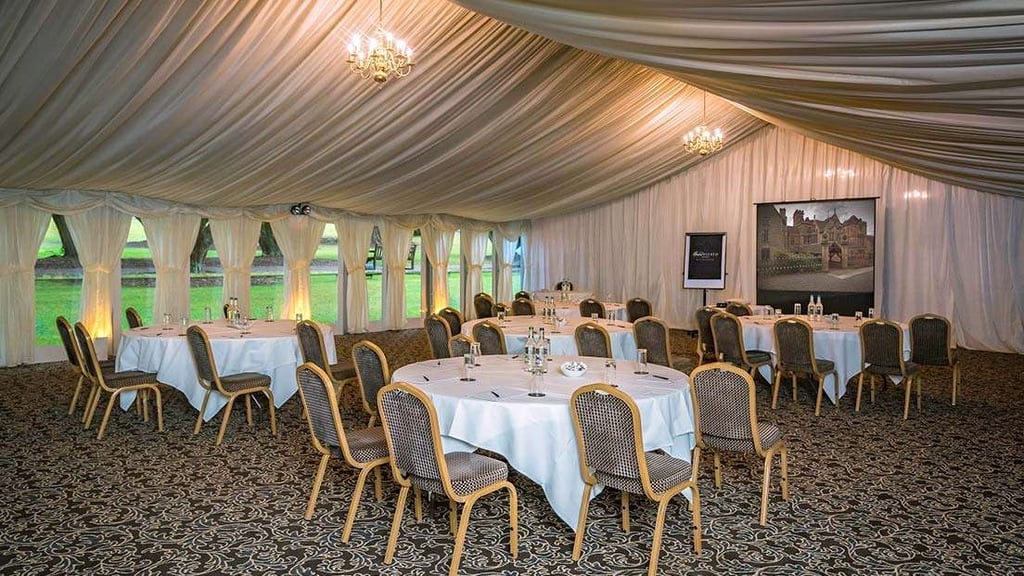 Image Courtesy of New Hall Hotel & Spa
New Hall Hotel & Spa comes with six flexible modern meeting rooms. Equipped with all the latest technology and inspirational surroundings, this hotel showcases all the ingredients for a successful business event.
FACILITIES
Email compatible colour printer
Wireless mouse presenter with laser pointer
Digital clock
Speakers and tabletop power points with USB charging
Complimentary Wi-Fi throughout all properties
LCD projector and screen
Flip-chart, pens and full conference stationery pack
Unlimited tea, coffee and pastries
Mid-morning tea and coffee break with savoury food items local to the area
Still and sparkling mineral water, chilled flavoured water and sweets
Complimentary on-site car parking
Priority reserved car parking for the organiser on the day of the event
Copthorne Hotel Birmingham - The ideal location for your conference in Birmingham
This lively 4-star hotel is located in the centre of Birmingham, not far away from Alexandra Theatre (10-minute walk). Birmingham New Street Railway Station is 5 km, and Birmingham International Airport is only 20 minutes driving distance from the hotel.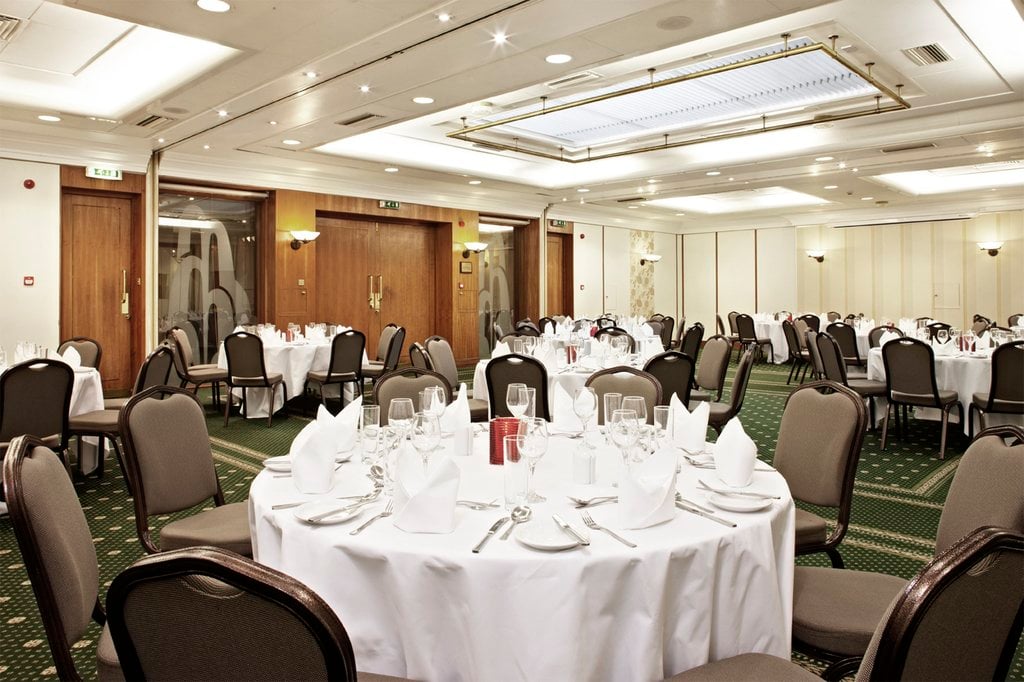 Image Courtesy of Copthorne Hotel Birmingham
Featuring six well equipped, stylish and comfortable meeting rooms with a maximum capacity of 160 delegates, Copthorne Hotel Birmingham can host all types of meetings from corporate meetings to large social events. Plus, the hotel's dedicated events team is always there to help you to impress your clients.
Quality Hotel Coventry- A comfortable stay for your guests
The Quality Coventry hotel is just a short driving distance away from Birmingham airport and also only 6.7 km away from the University of Warwick. This quality hotel is situated in a perfect rural setting, not far away from National Exhibition Centre (12km).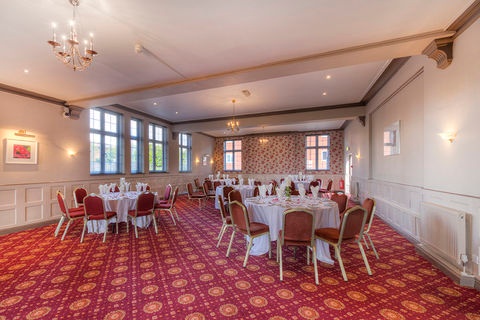 Image Courtesy of Quality Hotel Coventry
Coventry hotel comes with four flexible meeting rooms for up to 140 delegates. All the meeting rooms have natural daylight, external access, screens, flip charts etc.
FACILITIES
Free Wi-Fi
OHP
Screen
LED TV
Whiteboard markers and board
Flipchart and paper
Fax machine and photocopier (reception)
Conference lunch ( if pre-booked in advance)
Tea/coffee service
24 hours bar
Park Regis Birmingham- Ensures a classic and relaxation stay
Park Regis Birmingham is the most attractive and highest hotel in the heart of Birmingham city centre. At only 5 minutes of driving distance from Birmingham New Street Train Station, the hotel offers 110 car park spots, ensuring a safe arrival to the venue. With a modern interior and a cosy boutique atmosphere, Park Regis Birmingham is the perfect venue to find your inner peace.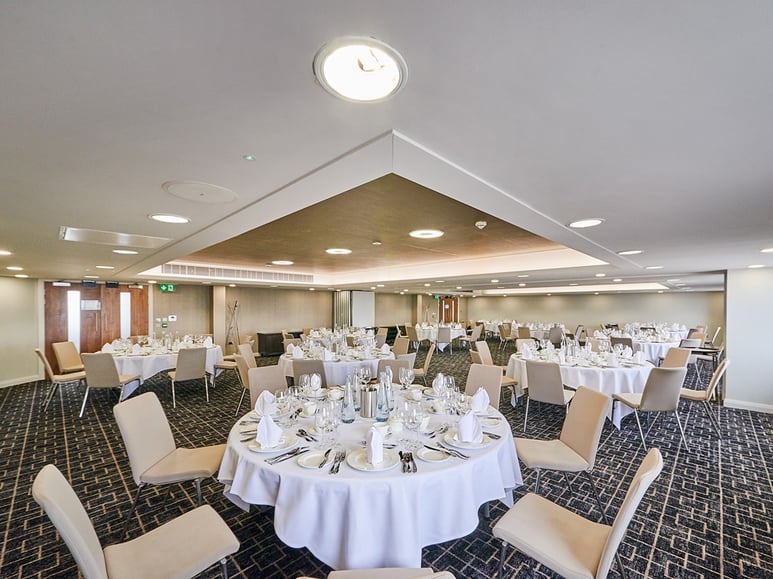 Blumfield Garrad Meeting Room - Image Courtesy of Park Regis Birmingham
Park Regis offers five event rooms fully equipped for any kind of meeting and conference purpose. The panoramic view of the city on every meeting room will be a real treat and probably the main asset when trying to impress your clients. The meeting rooms have a capacity of 30-150 delegates.
FACILITIES
Free Wi-Fi
Screen
LED TV
Whiteboard markers and board
Flipchart and paper
Fax machine and photocopier (reception)
Birmingham Marriott Hotel - Perfect meeting rooms with excellent facilities
This 4-star luxurious hotel is situated in the heart of Birmingham with only a 12-minute walking distance from Birmingham Botanical Gardens. At the venue, customers will have a chance to relax at the unique Brew bar which comes with a comfy atmosphere and where everything is served in British cuisine.
Image Courtesy of Birmingham Marriott Hotel
Birmingham Marriott Hotel offers six extremely well-designed meeting rooms with a total meeting space of 2443 sqft. The meeting rooms are designed to serve several purposes, from small meetings, conferences, training sessions, dinner dances to weddings.
FACILITIES:
LCD overhead projector
Screen
Flipchart
Flipchart pens and pads
High-speed Internet access
CD player, upon request
Microphone, upon request
Business services, upon request
Conference phone with fee, upon request
Moor Hall Hotel & Spa - For a unique and effective meeting arrangement
Moor Hall Hotel & Spa is a wonderful country house, and a 4-star hotel situated 24.1 km from the National Exhibition Centre, with easy access to M6 and M6 toll. On your way to the hotel, you will be welcomed by a stunning tree-lined avenue leading to a modern and delicately decorated Moor Hall Hotel & Spa, which will also give you the opportunity to relax in their award-winning spa where you can pamper yourself for a few hours and leave the stress behind.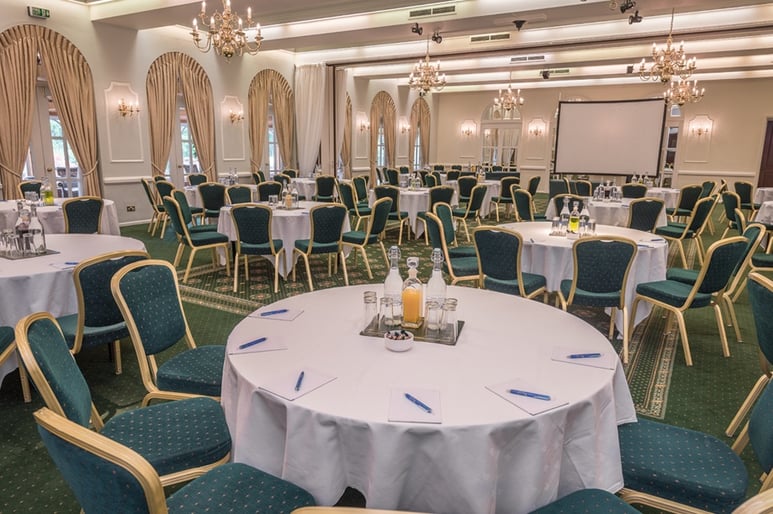 Image Courtesy of Moor Hall Hotel & Spa
Moor Hall Hotel & Spa offers 6 conference rooms with a maximum of 250 seating arrangements and all equipped with the latest technology. Embrace the tranquillity of the country house as well the natural light in all the meeting rooms.
FACILITIES
Unique and tranquil country house setting
Six air-conditioned conference rooms
All with natural light
Cater for meetings from 2 to 250 delegates
Free Wi-Fi internet access in meeting rooms and bedrooms
Essential equipment included in all delegate rates
Unlimited refreshment breaks included in the delegate packages
Outdoor areas for team building activities
Professional meeting organisers offering friendly and well-informed advice.
Copthorne Hotel Merry Hill Dudley- with splendid amenities for your events and stay
This luxurious 4-star corporate hotel is situated in the heart of the historic canal marina, and not far away from famous attractions like Cadbury World and Dudley Zoo. The hotel features a stunning waterfront, modern amenities and free of charge private parking slots for guests.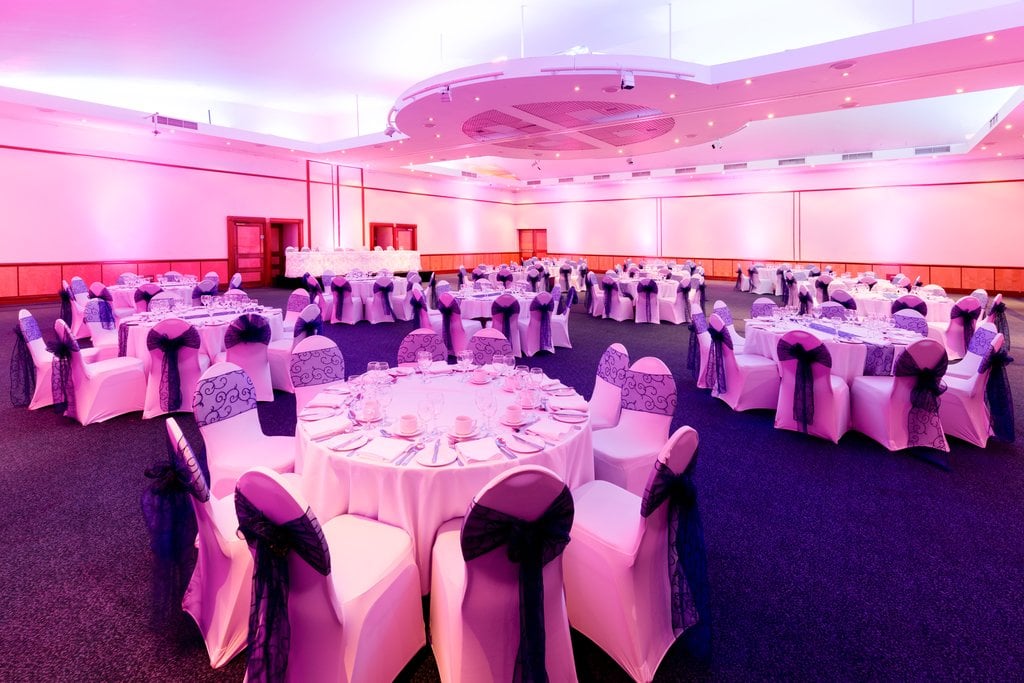 Image Courtesy of Copthorne Hotel Merry Hill Dudley
Copthorne Hotel Merry Hill-Dudley offers 11 elegant and flexible meeting rooms with all the needed modern equipment. With a maximum capacity of 400 delegates, this venue is suitable for business conferences, family celebrations as well as private dinners.
FACILITIES
LCD projector, screen and two flip charts
Complimentary WiFi
Use of hotel Executive Lounge and facilities
Complimentary car parking where available to deliver training materials
Training room
IT assistance during set up and throughout the day
Unlimited tea, coffee, biscuits and mineral water
Fresh fruit in the meeting room
Up to 50 sheets of complimentary photocopying