So, you're thinking of arranging an upcoming intimate business meeting or a large conference. But rather than have it take place in the traditional, and possibly boring, settings, you're after a more inspiring and creativity-provoking way to host it. By organizing your meeting or conference in a spa resort, you can, with ease, combine business with pleasure. And not only that, but by offering your attendees with such relaxing activities outside of business hours, you're encouraging positivity and fostering the formation of unforgettable memories of what will hopefully be one of the most amazing events you've hosted, however big or small in size. Now, to truly make this meeting or conference perfect, you of course need to choose your destination carefully from the vast array of spa hotels available in every part of Europe. Below we've put together a list of 10 beautiful spas in Europe for business and pleasure that we trust and believe to be the key to hosting your next great event.
Tallinn, Estonia – Tallink Spa & Conference Hotel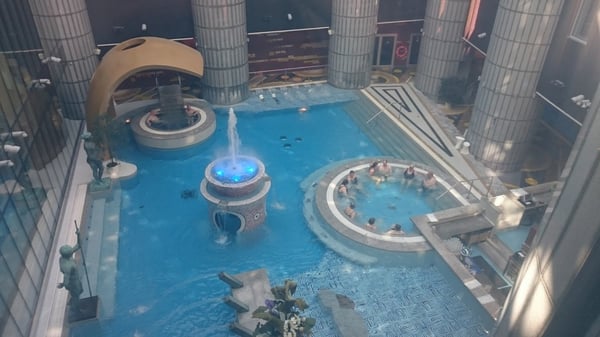 Located right at the doorstep of Tallinn's Old Town, this hotel provides an excellent balance of business and pleasure. The hotel was founded with the exact purpose of creating a hotel where business can meet pleasure, and houses 6 conference rooms, largest of which can accommodate up to 260 people. At the conference rooms, you'll have both modern high-quality equipment and traditional supplies at your disposal. For an additional fee, the hotel can also arrange you with translation services.
At the spa, your guests can choose their enjoyment from a variety of saunas, spas and swimming pools, including a year-round outdoor pool and a Finnish style sauna. For further pleasure, there is a swim-up bar operating at the indoor pool, and the spa has Jacuzzis as well. The spa's beauty and wellness center offers services for hair, nails, body and skin.
And as the cherry on top, the close proximity to Tallinn's Old Town means the gorgeous alleyways, delicious restaurants and unique souvenir shops are all within an easy reach for the attendees outside of meeting hours.
Vilnius County, Lithuania – Esperanza Resort & Spa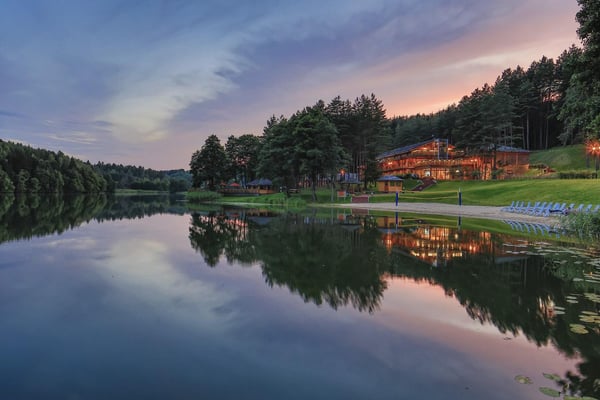 This spa hotel in Lithuania offers 4 conference halls, two of which are especially ideal for holding an intimate business meeting in, while the largest one can house up to 120 attendees. It's a great and stylish location for holding a small conference or seminar. Treat your event guests to beautiful forest views during business hours and end the evening with a wonderful and luxurious meal at one of the resort's restaurants.
Once the meetings for the day have wrapped up, the attendees can easily move onto the spa where they can enjoy relaxation while being surrounded by a forest. There's a wide array of treatments to choose from, including a "Spa Tasting" menu which offers three treatments in one package. Beyond private treatments, your guests can enjoy an indoor pool, a Jacuzzi, a sauna or a steam room - or all of them! Not to mention the Vitamin D & Collagen lamps at your disposal or the possibility to rent a Russian Bath House.
Costa Navarino, Greece - The Romanos, a Luxury Collection Resort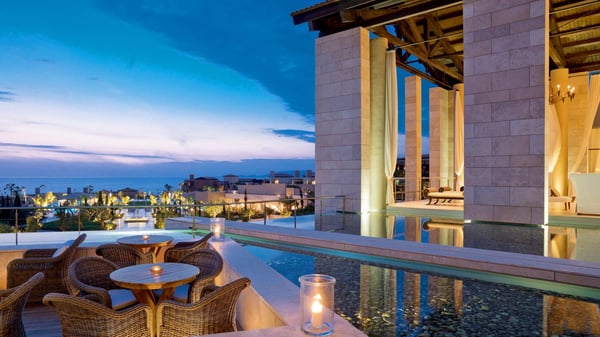 To combine a conference with a truly magnificent hotel stay, this luxury resort in Greece is among one of the most perfect choices as the entire area beyond the resort is pure gold to one's senses. If you truly want to have a big conference, this just might be the ideal spot, as this resort's dozen meeting rooms can overall hold up to 1600 guests at once. The smallest of the meeting rooms are 50m², enabling the possibility to choose this destination for more intimate meetings as well. The facilities themselves are sleek and stylish, and equipped with all the modern technology you might imagine needing for your business meeting.
For leisure, pleasure and relaxation, your guests will love the spa treatments on offer at the Anazoe Spa. On top of the half a dozen signature treatments, there's a range of treatments and massages to choose from. In addition, especially the women among your attendees may fancy one of the beautifying treatments at the salon, including waxing and make-up. And if all of this isn't enough, why not take a break by the golf course?
Ottignies, Chateau De Limelette Seminar Center, Resort & Spa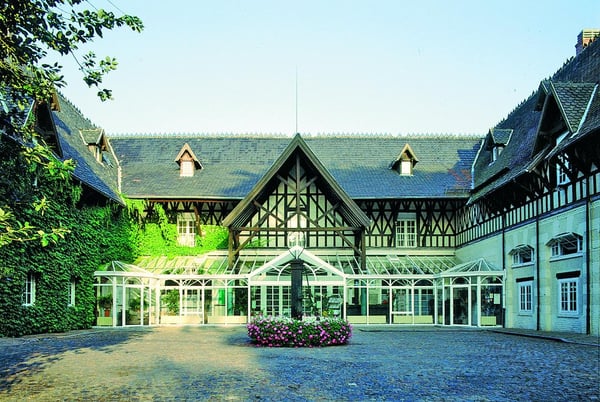 Whether you are going for business or for pleasure, you can expect your stay at Chateau De Limelette to be dreamy. Not only is the hotel itself beautiful but so are its surroundings, with a 3 hectare park and a garden filled with flowers right at your sight as you step out. The hotel has 16 conference rooms and with an 80 bedroom capacity is especially suited for hosting smaller events, meetings or seminars.
The hotel's spa area offers a Turkish hammam, sauna, spa bath, a pool with massaging jets, and a relaxation cocoon for those in need of additional break time. By the indoor pool you can also find a terrace to chill and rejuvenate at, and for the ones looking to spend their time getting active there's a fitness center as well as a tennis court to enjoy.
Luosto, Finland – Lapland Hotels Luostotunturi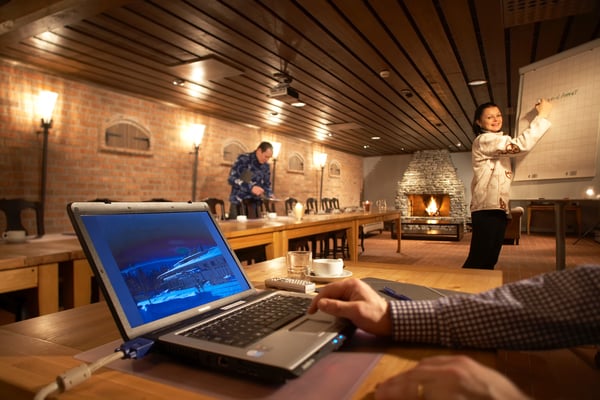 Another truly gorgeous hotel that's perfect for business and for pleasure is the Luostotunturi Hotel, one of the Lapland Hotels chain, located in Luosto, which is very high up in the north of Finland. Guests can choose to accommodate themselves in either a range of hotel rooms, lofts, or a log cabin, of which the last is an especially traditional and beautiful type of Finnish accommodation.
There are 3 different types of meeting facilities to choose from. The first is Kipinä, a beautiful facility styled after a wine cellar, capable of fitting anywhere between 10 to 50 people, and offering WiFi, data projectors, and a flip chart. The next is Parvi, which is a restaurant that can double as a conference facility. It can also fit between 10 to 50 people, and has a data projector, flip chart, WiFi and some additional equipment to offer. For bigger conferences and seminars, it is possible to use the Auditorium which, when used together with Räkkä conference room, can fit up to 160 people. There's a data projector, flip chart, WiFi and speaking stand at your disposal.
The Amethyst Spa offers massages, facial and body treatments, as well as special spa treatments and make-ups for the guests. Besides the spa, it is also possible to enjoy other typical activities of the Lapland region such as downhill skiing and snowmobile safaris.
Dubrovnik, Croatia – Hotel Excelsior Dubrovnik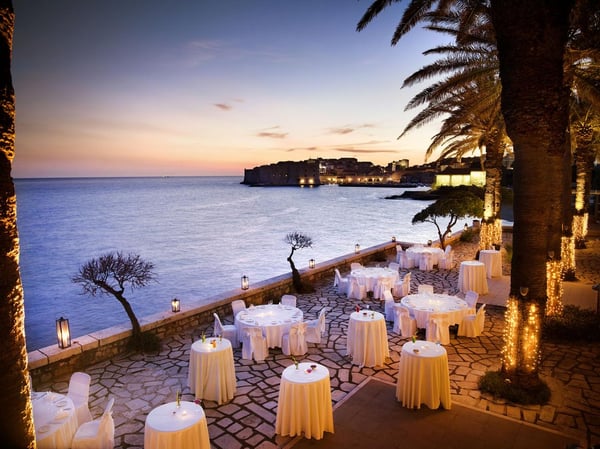 Overlooking the beautiful Old Town of Dubrovnik, this 5-star hotel sure is a luxurious place to stay in. Its largest conference room can fit up to 450 people, and the smallest meeting room, fitting maximum 20 people at once is perfect for small business meetings. During break time, the attendees can enjoy the Palm Terrace, from where they'll have gorgeous views of the Old Town walls and the nearby Adriatic Sea.
You can expect the spa facilities to be exactly as luxurious as everything else in this hotel. Not only are the interiors calming and beautiful, but it provides its visitors with facilities such as a swimming pool, Jacuzzi whirlpools, Turkish and Roman baths, and even a Finnish-style sauna. For further pampering there is a range of body and skin treatments to choose from for both therapeutic and beautifying results. Dubrovnik's Old Town is also wonderful and can be easily explored on foot, and the hotel has 3 own charming restaurants, some with gorgeous traditional interiors and some with amazing panoramic views of the sea.
Madrid, Spain - Senator Gran Via 70 Spa Hotel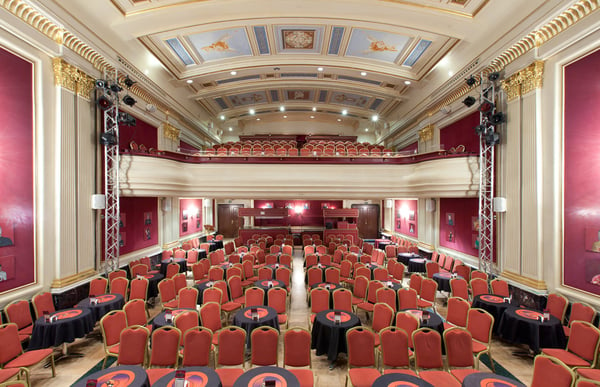 By booking your conference or business meeting at this hotel, you and your attendees have the chance to enjoy a fruitful and yet simultaneously relaxing conference, right in a big city, with much to offer outside of meeting hours, including easy connections to rail, bus and airport. The hotel has two meeting rooms to offer, one of which can accommodate smaller groups as well, and another that can host a maximum of 225 people at once, simultaneously providing a classy and stylish backdrop for your event.
At the hotel's spa center, the guests can enjoy a pool, a sauna or a Turkish bath, in addition to which they can also book body and face treatments as well as massages. For maximum pleasure, the hotel has a rooftop terrace which comes with a hot tub! And if for some reason any of the guests find themselves with the need for additional exploring, many of Madrid's sights are easily reached from the hotel.
Perthshire, Scotland – Knock Castle Hotel & Spa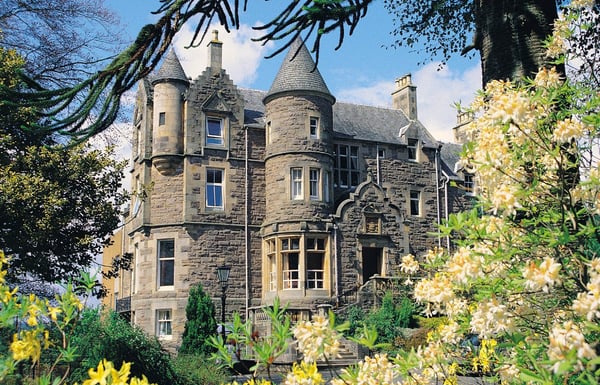 A castle-like hotel, the Knock Castle Hotel & Spa is surrounded by the Perthshire hills and gorgeous views of the woodlands. Here your attendees can easily reach a state of tranquility and stay creative and alert throughout the event. There are 3 conference rooms, with two of them having the capacity to seat 12 to 20 people, with the large room being able to house up to 80 people. The hotel has two delegate packages to offer at this time, both of which are customizable and designed to equip you for your event properly. At the Knock Castle Hotel you can add a delicious event dining experience to your schedule, with the hotel doing the catering, and alternatively they have some corporate activities they can provide as well, such as golf.
The hotel's spa facilities include sauna, a steam room and a spa bath. Their indoor pool is heated and has great views of the nature around you. There are also a range of spa treatments your guests can choose from and a fitness center for those who like to maintain their active lives or use up some excessive energy.
Geilo, Norway – Vestlia Resort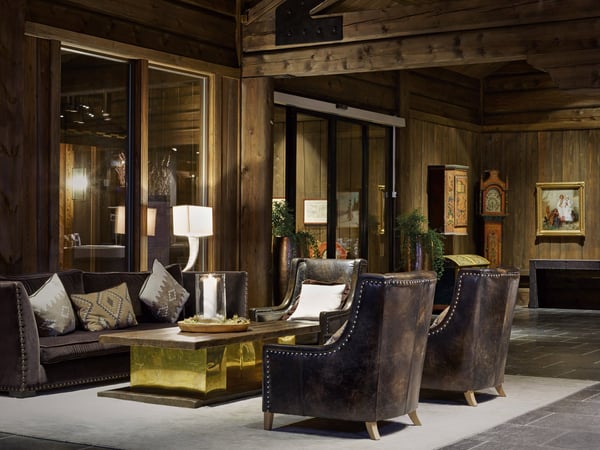 If you are considering having your business event during Europe's winter season, your attendees may find Vestlia Resort in Norway especially attractive for the cause. No matter the type of an event you're hosting, the resort likely has a room or several rooms to accommodate your needs. There are luxury penthouses with impeccably gorgeous and cozy but professional interior that are excellent for intimate business meetings with less than 25 people attending. There are two halls, one with capacity of 40 people and another with capacity of 130 people, that are perfect for hosting an event over lunch or dinner. They also have more classic and plain style meeting rooms that can fit between 55 to 250 people. And last but not the least, the resort's new Vestlia Hall is a beautiful and an ambitious place where you can fit up to 650 people, or 500 if you go for banquet style.
Besides a big pool and a comfortable Nordic style sauna, the guests can enjoy face or body treatments, scrubs and massages. The products used for the treatments can also be bought on location. At the resort's fitness center it is possible to try out the gym, join group classes or even book a session with a personal trainer. There's also the possibility to ski.
Rome, Italy - Rome Cavalieri Waldorf Astoria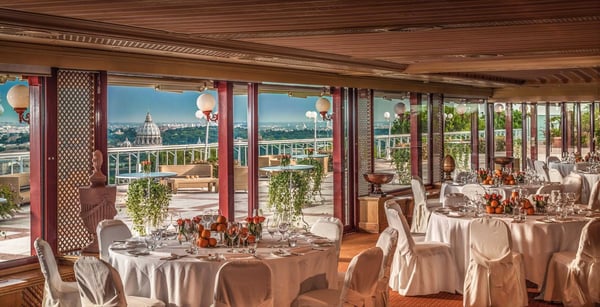 Lastly, choosing the Waldorf Astoria in Rome as your event destination will be an incredible treat to your attendees, and not just because of the 3-star Michelin restaurant the hotel houses. The lobby level has 7 venues to choose your meeting room from, while the garden lobby level has 18 venues. The smallest rooms are perfect for when you're looking to have a cozy and an intimate business session, whereas several of the venues have the capacity to host between 100 to even 500 people if the seminar or conference you're about to host is big. And the Salone dei Cavalieri can fit even 2100 people, making this the perfect destination for a huge event if that's in your sights. The terrace, located partly indoor and partly outdoor, is also a great choice for a cocktail event or something else a little bit more on the relaxed side.
Waldorf Astoria's spa facilities are so beautiful you'll feel all the stress fly away just by entering! However, if you or any of your attendees wish to pamper themselves, the spa provides a variety of body massages and facial treatments, and there is a hair salon available to use as well.
***
Hopefully one of these spa hotels and resorts can provide you with the inspiration and destination idea that you're after. Choose the hotels that most catch your attention and do further research with them to find the one that most perfectly fits your needs and wants for the meeting you're about to host. And then go on and enjoy your great event – and perhaps keep on reading our blog for any additional tips that may be of use in organizing it!