Spoil your guests with a breakfast event in some wonderful venues London.
There are many reasons to kick start your day with a breakfast event. To begin with, it usually happens before your busy working hours and hardly interrupts your personal lives. Secondly, a breakfast event is the best way to invigorate your brains. Research have shown that our working memory, alertness, and concentration also gradually improve after waking up and peak at mid-morning, right about time for important tasks.
For event planners, there are some "must-have" items you should take into consideration when planning a breakfast event:

1. The fundemental thing in a breakfast event is, obviously, the food. It is a "no-no" to offer your guests a buffet breakfast for two reasons. Firstly, it creates an unnecessary hassle when people keep moving in and out the event space. Secondly, it's better to have something light and quick for breakfast. A good setup is a platter of sandwiches and fruit choices on each table, which guests can easily grab a bite without interruptions during the event.

2. Coffee and Tea is another "must-have". Several studies have pointed out that caffeine in coffee helps to reduce Adenosine in your brain structure which causes sleepiness and tiredness. On the other hand, it also stimulates the production of Adrenaline hormone, and as a result, improves our mental performance, especially on alertness, attention and concentration.

3. The location. The essence of a breakfast event lies in its mobility and fast pace nature. Therefore, the venue must be easy for commuting or ideally close to the centre. So without further ado, we introduce to you ten venues which are ideal for hosting your next event in the centre of London. Let's check them out!
Check our other posts about meeting rooms in London.

Lutyens - Various Dining Options For Your Event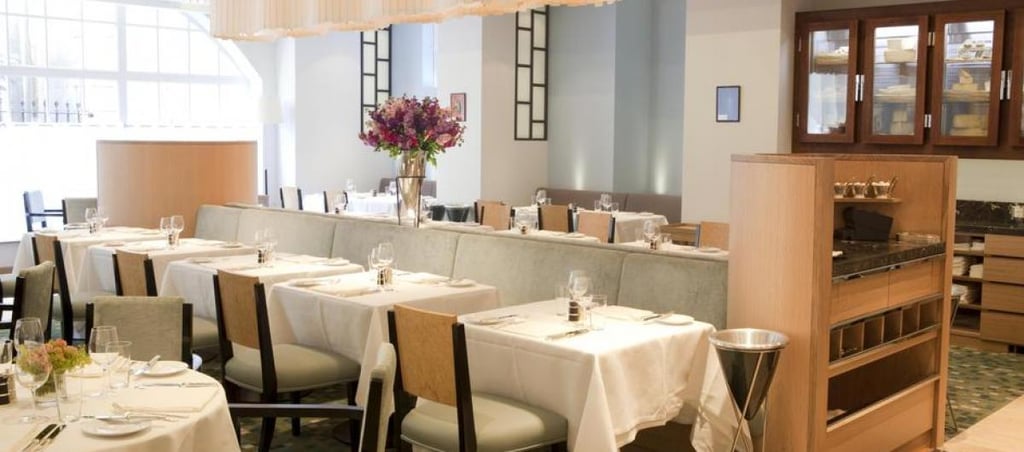 First on our list is the Lutyens on the Fleet Street. Lies next to the St.Bridge Street and on the opposite of the Daily Express Building, this chic restaurant offers five private rooms suitable for interviews, breakfast meetings, or private dining. The restaurant also introduces the PEPYS ROOM which can accommodate up to 100 delegates in a drinking reception.
The Lutyens provides some sweet offers for an idea breakfast event with private room hired, coffee/tea and fresh snacks on arrival, and continental breakfast packages. Book now for only for £40 / delegate.

InTuition House - Ideal for a Quick Come And Go Event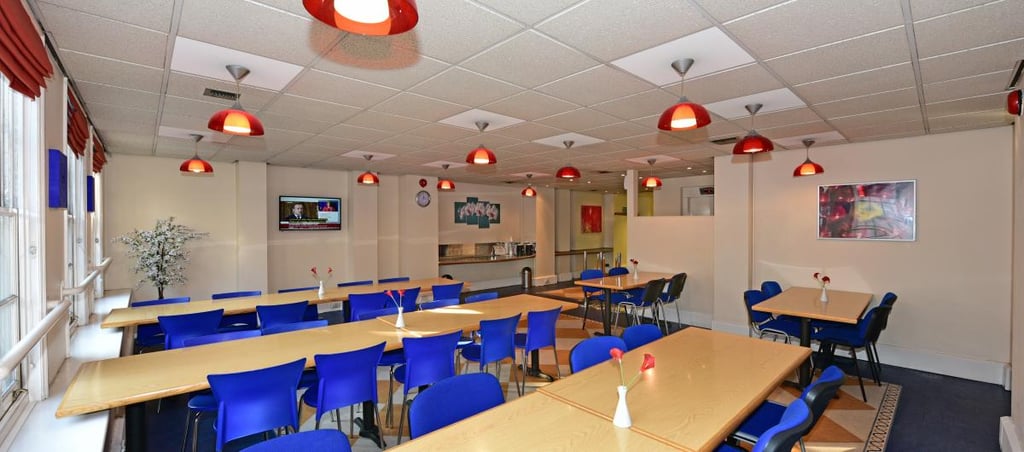 Located on Borough High Street and next to the Borough Tube Station, the seven private meeting rooms in the InTuition House are perfect for a quick come and go Event up to 40 delegates. Rooms are bright and modern, equipped with multi-media AV equipment and projector screen. Besides, you get assists from the experienced event team to provide a hosting service of highest quality.

Book a meeting package in Intuition House for £39 / delegate, including room hire, coffee and refreshment on arrival and lunch buffet. You can specifically request breakfast and extra amenities by using MeetingPackage.com Internal Booking management.



Eccleston Square Hotel London - High-class Event Services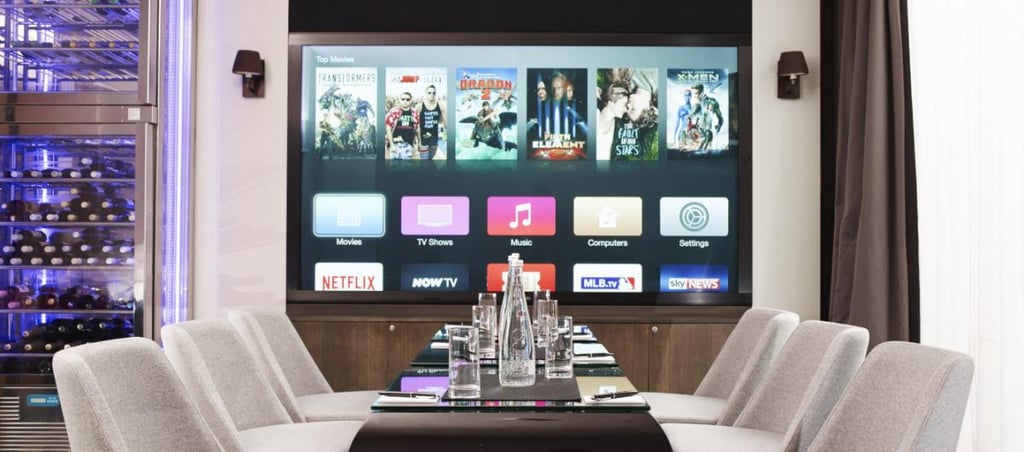 If you are looking for an excellent venue near the City of Westminster, the elegant Eccleston Square Hotel London might be the right choice. Sits on the award-winning Eccleston Square Park, it is close to Victoria Coach Station and Victoria Bus Station. Plus, the Knightsbridge Station and Hyde Park Corner Underground Station are only 1 mile away.
For meetings and events, the Eccleston Square Hotel London offers the top-class Media Lounge which can accommodate up to 30 delegates. A meeting packages of £37 / delegate includes a light-filled meeting room with high-class equipment; featuring a 103" screen, and high-speed WiFi. Plus, coffee/tea station, mineral water and sandwich platters served with crisps and side salad are also included in the package.

Book a meeting package in Eccleston Square Hotel London now.
Artist Residence London - Cosy Room for An Intimate Event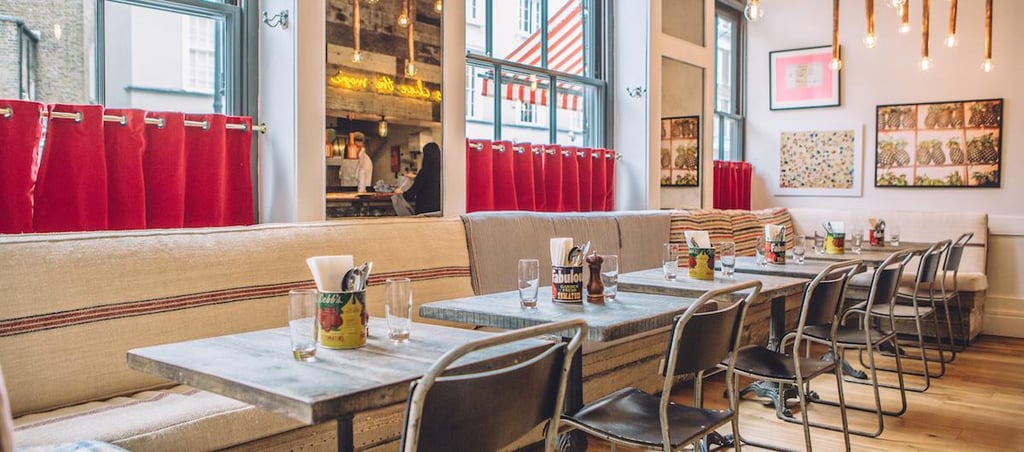 Located on the Cambridge Street in Pimlico and just five minutes walk to the Victoria Station, this elegant boutique hotel provides a cosy ambience for an eclectic early breakfast event. There are three private meeting rooms in the house, which can accommodate up to 35 delegates in a standing reception. Additionally, The Club Room can conjoin with the adjacent Ping Pong room to create a larger space for 45 delegates.

Book a half-day package in the join Club Room and Ping Pong Room for £37 / delegate, and you get meeting room hire, basic meeting room equipment, and catering services.



Rydges Kensington Hotel London - Designed and Modern Event Rooms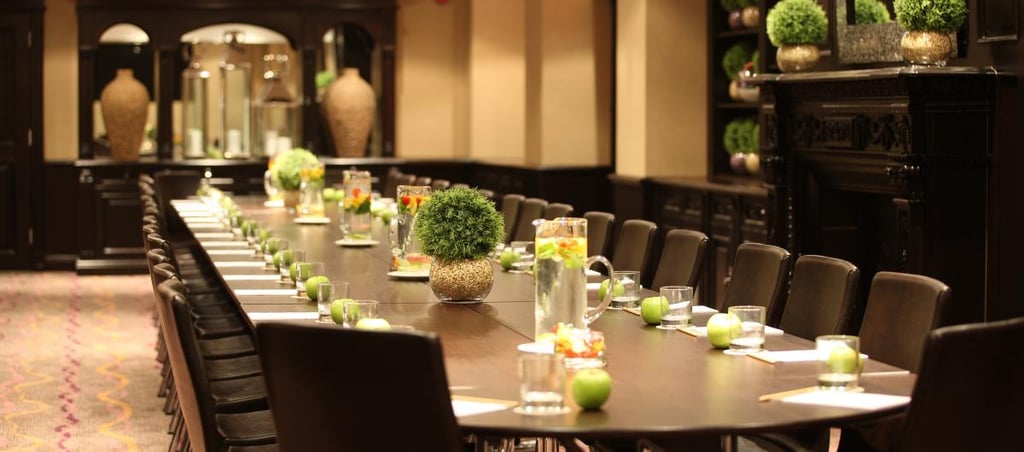 Rydges Kensington Hotel London is ideally close to many of London's attractions; including Hyde Park, Kensington Garden, and the vibrant SoHo district. Getting to the hotel is easy; the tube station in the Gloucester Road is right outside of the front door.

For hosting breakfast events, Rydges Kensington Hotel London offers three modern meeting rooms which can accommodate up to 60 delegates. All meeting rooms come with distinctive designs and a wide range of modern facilities, including the latest multimedia technology, and high-speed WiFi. There are three options of half-day meeting package in the hotel for your choosing. All include room hire and meeting equipment, delegate stationary, mineral water, wrapped sweets, and WiFi access. For catering services, there is unlimited tea/coffee with one serving of refreshments, and a selection of sandwiches, chips and fruit salad served in the Jam Cupboard Restaurant.


Book meeting packages in the Rydges Kensington Hotel London with MeetingPackage.com now.

Breakfast Event in The Colonnade Hotel London - The Perfect Hide-Out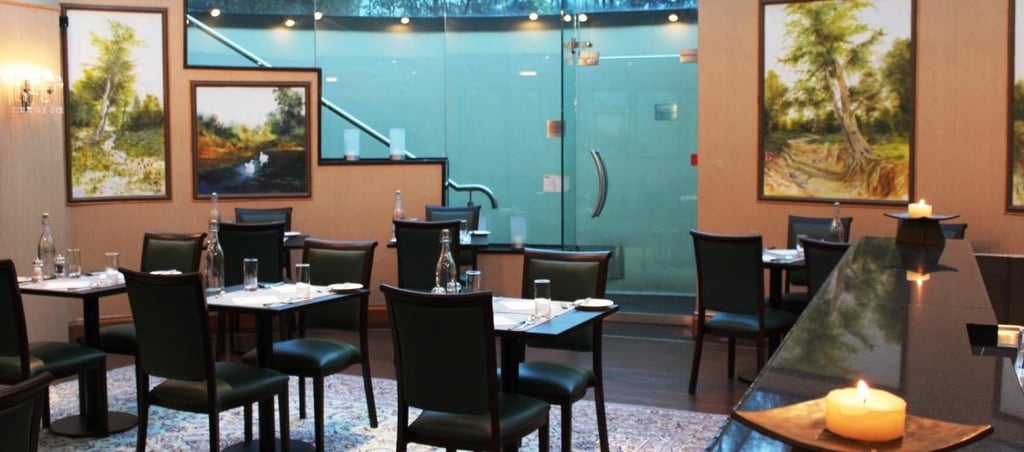 Located on the three-way junction of the Warrington Cres., Formosa Street, and Castellain Road, the four-star Colonnade Hotel London offers a perfect hide-out from the hustles and bustles of central London.

The hotel has a 20 square metre of private meeting rooms, which is ideal for meetings and events up to 15 delegates. For £50 / delegate, you get a Half-Day meeting package in The Colonnade Hotel London including room hire and meeting equipment, coffee/tea break, and catering service. An interesting fact, this upscale venue is the birthplace of English computer scientist, mathematician, logician, cryptanalyst and theoretical biologist Alan Turing.
Book a meeting package in Colonnade Hotel London Now.

Hotel Novotel London Wembley - Everything You Need For A Succesful Event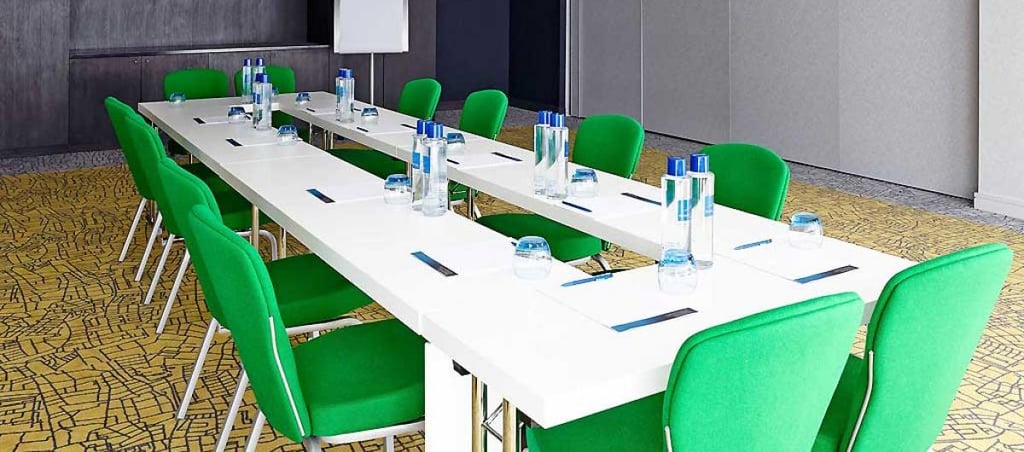 Just a 2-minute walk from Wembley Park tube station or 0.6 miles from Wembley Stadium, this modern hotel offers two meeting rooms for up to 70 delegates.

For a Half-Day Meeting Package of £42 / delegate, you can book a meeting room featuring an LCD projector, screen, ceiling speakers for audio, flipchart, stationery box and plenty of daylight, air conditioning and free Wifi. Additionally, Tea and coffee are served with freshly baked pastries upon arrival, and mineral water, and three-course lunch for networking afterwards.
Book meeting packages in Hotel Novotel London Wembley with MeetingPackage.com.
Holiday Inn London-Kingston South - Modern Meeting Faclities Near the Airports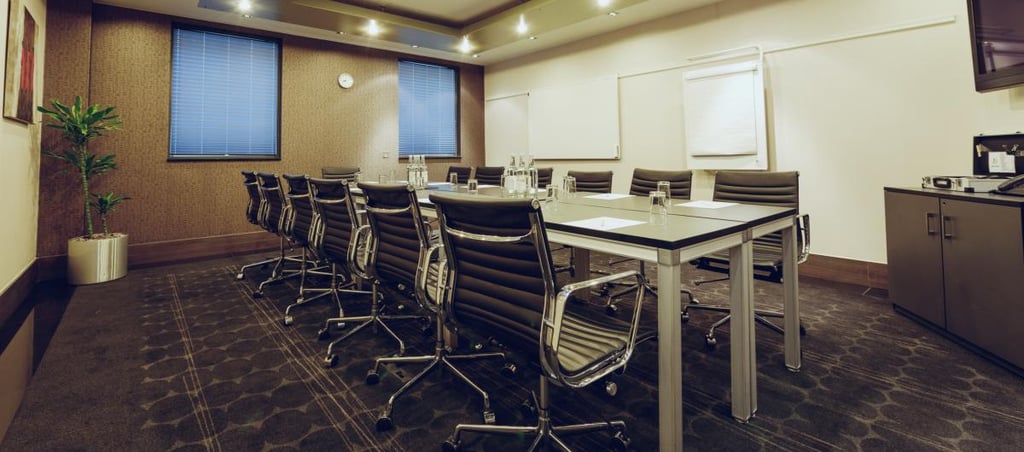 If you are looking for a meeting venue near the airports, you might well consider Holiday Inn London-Kingston South. Just 35 minutes away from Gatwick Airport and 25 minutes from Heathrow International Airport, this hotel offers comfort for business travellers. For meetings and events, Holiday Inn London-Kingston South provides 4011 square feet of event spaces in the form of six functional meeting rooms. In addition, the hotel also provides experienced event teams to take care of your every needs.
A half-day meeting package in Holiday Inn London-Kingston South offers the meeting room hire and the latest meeting technology; including a LED or Plasma screen projector, and free WiFi. Other perks featured in the package include available stationery in the meeting room, and complimentary parking on a first come first served basis. For food options, guests are offered sandwich & chip buffet lunch in the restaurant or foyer. There is unlimited coffee and tea served throughout the event.

Book a meeting package for £35 / delegate in Holiday Inn London Kingston-South with MeetingPackage.com.

Breakfast Event in The Athenaeum Hotel - Where Taste Prevails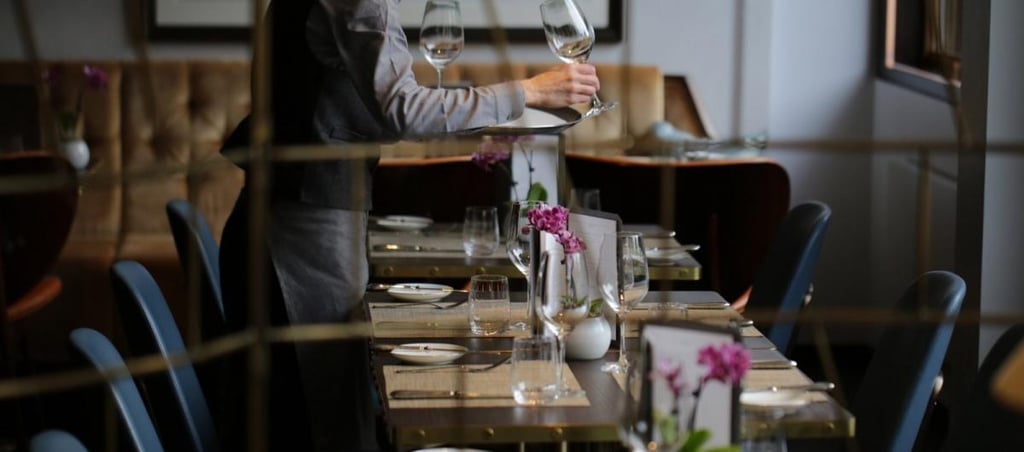 The Athenaeum Hotel impresses with its top class catering services thanks to a range of dining options created by Michelin-starred chefs Chris and Jeff Galvin. In the heart of Mayfair, you will easily find this elegant five-star hotel on the Piccadilly Street; with the direct view to the tranquil Green Park.

When it comes to business meetings and events, The Athenaeum Hotel offers four private meeting rooms which can accommodate up to 26 meeting delegates and one large meeting suite - The Hyde Park - for larger events and conferences up to 100 delegates. All rooms have natural daylight in abundance, with views over Mayfair's leafy Green Park. And if you book a meeting package for £60 / delegate at The Athenaeum, you also have a range of five-star services and amenities with large screen TVs, DVD, high-speed Wi-Fi, and dining choices.
Book a meeting package in The Athenaeum with MeetingPackage.com to have the best rate.
Hold An Event in Grange White Hall Hotel - Wonderful Location In the Heart Of London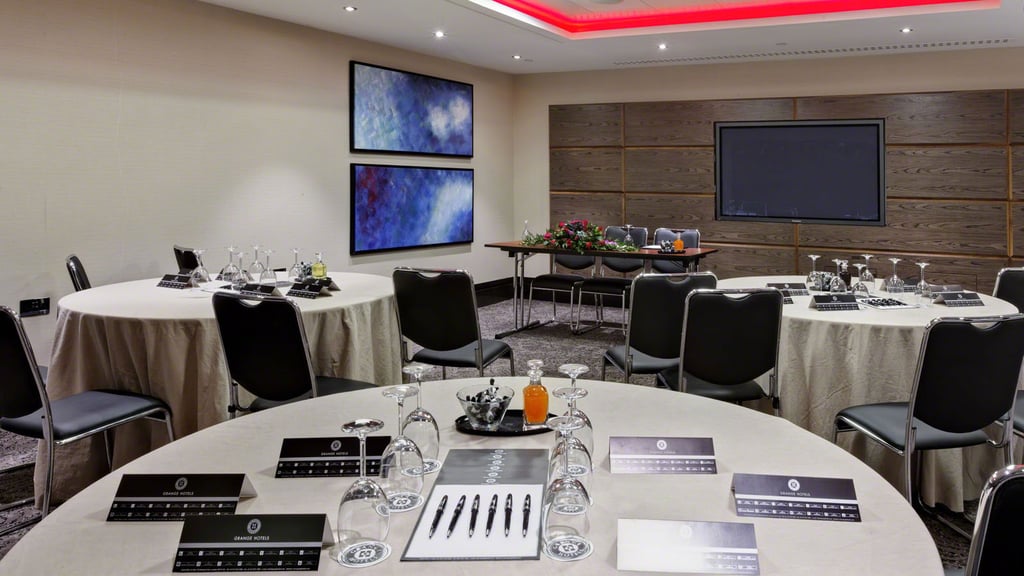 The Grange White Hall Hotel is on the Montage Str., overlooking the world famous British Museum. Though located in a quieter part of the London's West End, there is no shortage of public transportations by all means. It is only about 1 mile away from the Oxford Circus Station and Charing Cross Underground Station.

Guests in a breakfast event can take advantage of one of six versatile conferences and syndicate suites flooded with natural daylight and the exclusivity in the hotel's private gardens. Meeting packages at The Grange White Hall Hotel include meeting room hire, an LCD projector, screen, high-speed WiFi and flipchart, conference room stationery, presenter box. Tea, coffee and pastries are served three times during the meeting and there is a two-course buffet lunch option.
Book A half-day meeting package at the Grange White Hall Hotel is available for £54 / delegate.


---

Over To You
There you have it, 10 wonderful venues in London which provide various options for a succesful breakfast event. Now it's time to select your ideal venues and book your meetings. If you still don't find a suitable choice, we have plenty of other options for you to choose. Check out MeetingPackage.com now!


---